Malachite Sunbird
This large sunbird is found in hilly fynbos, protea and aloe habitat and cool montane and coastal scrub, up to 2,800 m altitude in South Africa. It also occurs in parks and gardens. It is resident, but may move downhill in winter. Frequently found nesting in suburban gardens of the Highveld.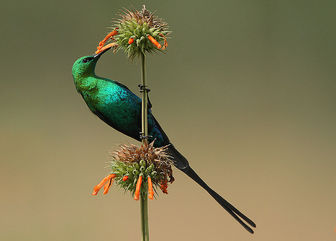 Picture of the Malachite Sunbird has been licensed under a Creative Commons
Attribution
.
Original source
: Malachite Sunbird (Nectarinia famosa)
Author
: Steve Garvie from Dunfermline, Fife, ScotlandCamera location
The Malachite Sunbird is classified as Least Concern. Does not qualify for a more at risk category. Widespread and abundant taxa are included in this category.

The Malachite Sunbird, Nectarinia famosa is a small bird with two subspecies. The nominate N. f. famosa occurs mainly in South Africa, Lesotho and western Swaziland, although its range just extends into southern Namibia and Zimbabwe. N. f. cupreonitens breeds in the highlands from Ethiopia south to northern Mozambique. This large sunbird is found in hilly fynbos, protea and aloe habitat and cool montane and coastal scrub, up to 2,800 m altitude in South Africa. It also occurs in parks and gardens. More
Malachite Sunbird is often double-brooded, but may be parasitised by Klaas's Cuckoo or Red-chested Cuckoo. Description The breeding male Malachite Sunbird, which has very long central tail feathers, is 25 cm long, and the shorter-tailed female 15 cm. The adult male is metallic green when breeding, with blackish-green wings with small yellow pectoral patches. More
Note: In this photograph the male Malachite Sunbird is in the process of changing to the vibrant metallic plumage typical of breeding season. Best viewed LARGE. More
Malachite Sunbirds (Nectarinia famosa, 1766, Cape of Good Hope, South Africa ) are beautiful little emerald jewels on flurry wings. Attracted by the rich colourful proteas and many other flowering species in my garden, I have a couple of them breeding and it's not rare they even come into my Studio… the event being an absolute highlight for MadMad, my hunter-hearted cat! It really gets the adrenaline up on all sides. . . More
The breeding male Malachite Sunbird, which has very long central tail feathers, is 9.8 inches long, and the shorter-tailed female 6 inches. The adult male is metallic green when breeding, with blackish-green wings with small yellow pectoral patches. In non-breeding (eclipse) plumage, the male's upperparts are brown apart from the green wings and tail, the latter retaining the elongated feathers. The underparts in eclipse plumage are yellow, flecked with green. More
malachite sunbirds feed on nectar and insects, and both male and female have thin, long, curved bills which they use to probe into flowers for food. Insects are also seized in flight. The oval nest, consisting of grass and leaves, and bound together with spider web, is built by the female. The nest is fixed to a drooping branch that often overhangs a road, stream or steep bank. More
* Malachite sunbird A male on a branch, Sani Pass road. South Africa (ssp famosa) Fran Trabalon 10 November 2008 22 weeks ago 3.7 Sounds 1 recording * A male calling from the top of a tree on Lost City Trail. 13:01. More
The Malachite Sunbird – or so-called Green Sugarbird – is endemic to the Cape Peninsula, right at the tip of Africa. It depends on the many nectar-producing plant species and the insects attracted to them on which they feed – especially the sugarbush Protea, the Pincushion Protea Leucospermum and Pagodas Mimetes, as well as Eucalyptus trees, Agave americana, and the New Zealand Christmas Tree (Metrosideros excelsa) – all of which I grow in my garden here in Noordhoek. More
A hardy Malachite Sunbird finds water in a giant senacio = Mt Kilimanjaro vegetation. A feature of high altitude alpine vegetation, the surreal senecios are found in valley bottoms and beside streams at high elevations. Their tall stems provide life giving water reservoirs for birds such as this Malachite sunbird. More
stock photo : Beautiful Malachite Sunbird feeding on nectar from an Aloe plant beautiful malachite sunbird... stock photo : Malachite sunbird malachite sunbird stock photo : female malachite sunbird on protea flower female malachite sunbird on... stock photo : female malachite sunbird on protea flower female malachite sunbird on... More
of Malachite Sunbirds Nectarina famosa Pair Sitting on Flowers Western Cape Province, South Africa4927336Add Image to LightboxAdd Photo to CartRoyalty Free ImageCalculate Image Price1896R-1712Marico Sunbird Cinniris mariquensis on a Plant Stalk Kruger National Park, Mpumalanga Province, South Africa4473895Add Image to LightboxAdd Photo to CartRights Managed ImageCalculate Image Price1890-50537Greater doublecollared sunbird Nectarinia afra, Greater Addo National Park, South Africa, Africa2078084Add Image to LightboxAdd Photo to CartRoyalty Free ImageCalculate Image Price1491R-1014614Lesser Double Collared Sunbird1024871Add Image to LightboxAdd Photo to CartRights Managed ImageCalculate Image Price1558-09042 2117349Add Image to LightboxAdd Photo More