Plain-throated Sunbird
The Brown-throated Sunbird is a relatively large, heavy sunbird with a thick bill. Measuring some 14 centimetres in length, it has a mass of 7.4–13.5 g , with males averaging slightly larger than females.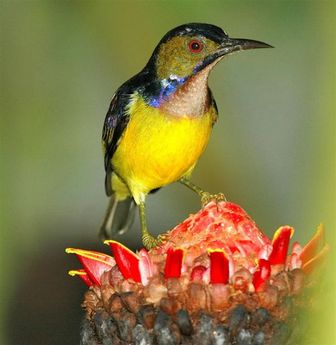 Picture of the Plain-throated Sunbird has been licensed under a Creative Commons
Attribution
.
Original source
: Flickr here
Author
: Flickr user NatureAtYourBackyard . Photo uploaded to commons by user ltshears
The Plain-throated Sunbird is classified as Least Concern. Does not qualify for a more at risk category. Widespread and abundant taxa are included in this category.

Plain-throated Sunbird, is a species of bird in the Nectariniidae family. It is found in a wide range of semi-open habitats in south-east Asia, ranging from Myanmar to the Lesser Sundas and west Philippines. The Grey-throated Sunbird found in the remaining part of the Philippines is often considered a subspecies of the Brown-throated Sunbird, but the two differ consistently in measurements and plumage, and there is no evidence of intergradation between them. More
Plain-throated Sunbird Anthreptes malacensis = Described by: Scopoli (1786) Alternate common name(s): Brown-throated Sunbird, Lesser Sunda Sunbirds, Gray-throated Sunbird, Grey-throated Sunbird Old scientific name(s): None known by website authors Photographs Penang Botanic Gardens, Penang, Malaysia - Dec, 2003 More
The female Plain-throated Sunbird in her duller coat….life's unfair isn't it? 3. They both have long and slim bills adapted for collecting nectar from flowers. Indeed, the similarities in Sunbird and Hummingbird morphology (form and shape of the animal) can be explained by evolution convergent, whereby two unrelated groups of animals acquire similar physical trait(s) due to them occupying similar ecological niches. More
Plain-throated sunbird (Anthreptes malacensis)Plainfin midshipman (Porichthys notatus)Plains pocket gopher (Geomys bursarius)Plains spadefoot toad (Spea bombifrons)Plains viscacha (Lagostomus maximus)Plains zebra (Equus burchellii)Plains-wanderer (Pedionomus torquatus)Plate-billed mountain toucan (Andigena laminirostris)Plateau pika (Ochotona curzoniae)Pleustes platypaPlicate nerite (Nerita plicata)Plum-throated cotinga (Cotinga maynana)Plumatella fungosaPlumbeous forest falcon (Micrastur plumbeus)Plumbeous sierra-finch (Phrygilus unicolor)Po'o-uli (Melamprosops phaeosoma)Pointed-tongue floating frog (Occidozyga lima)Polar bear (Ursus maritimus)Pollock (Pollachius virens)Polyorchis penicillatusPolypodium hydriformePolystoma integerrimumPompano dolphinfish (Coryphaena equiselis)Pomphorhynchus laevisPond slider (Trachemys scripta) More
The Plain-throated Sunbird is the rather uninspiring English name for a little avian gem, at least in the case of the male. Some 14 centimeters long with a slender, down-curved bill typical of Sunbirds, the male Plain-throated has a bright yellow belly, dark upper parts with green and violet iridescence and a metallic-purple border to that plain throat. The female is, as usual amongst Sunbirds, much dowdier. More
Plain-Throated Sunbird by Mary M Peterson = Plain-Throated Sunbird by Mary M Peterson by mmp86.Hat Yai, Thailand Plain-Throated Sunbird (Anthreptes malacensis) Male To take full advantage of Flickr, you should use a JavaScript-enabled browser and install the latest version of the Macromedia Flash Player. More
Brown-throated Sunbird Plain-throated Sunbird 0 comments have been posted about this photo To comment, visit Flickr's page for this photo. More
Plain-throated Sunbird Anthreptes malacensis = Singapore Botanic Gardens, Singapore - 2002 More
Plain-throated Sunbird Common Kingfisher Collared Kingfisher Ashy Tailorbird Pied Fantail Red-legged Crake Click to view the next photo photographer Paul Huang. More
>> Plain-throated Sunbird ( Anthreptes malacensis ) tree view | thumbnails | slideshow Plain-throated Sunbird ( Anthreptes malacensis ) - sighted -cg/mcp/mrp/MOG *common bird - Brown-throated, also known as the Plain-throated Sunbird (Anthreptes malacensis) previous page pages 1 2 ALL next page DSC_5789_filtered.jpg DSC_5789_filtered.jpg DSC_3837.jpg DSC_3837.jpg DSC_3895.jpg DSC_3895. More
>> Plain-throated Sunbird ( Anthreptes malacensis ) tree view | thumbnails | slideshow Plain-throated Sunbird ( Anthreptes malacensis ) - * shooting_gears (10) * Sigma 300-800 mm f/5.6 EX DG IF HSM APO (20) * Sigma APO 120-400mm F4.5-5. More
This female plain-throated Sunbird always came close to about five meters from my windows at work eating those parasite plant when it flowers. I managed to catch this one and her colorful partner. The bird is very small and very difficult to capture a good one in the open. More
Fine capture of a Plain-throated Sunbird: though it is a bit soft, the details are seen and it's in a good pose taken from an excellent POV. On our visit to the Singapore Botanical Gdns., I noticed that Strelitzias attract sunbirds and I saw the Crimson and Olive-backed but not this species, so it's nice to see this shot. More
Plain-throated Sunbird, Anthreptes malacensis Nectariniidae (SUNBIRDS & SPIDERHUNTERS) Plain-throated Sunbird, Anthreptes malacensis This photo was taken in: Thailand This photo was taken with: Nikon Coolpix 4500 and Leica APO Televid Notes on this photo: Also known as Brown-throated Sunbird The photo was taken by: Mark Piazzi Birdtours.co.uk Birdwatching trip reports Thailand Reports Reports from birdtours.co. More
Plain-throated Sunbird (Anthreptes malacensis malacensis) Plain-Throated Sunbird (Anthreptes malacensis) Male Plain-throated Sunbird - male Plain-throated Sunbird Plain-throated Sunbird - female Locations for recordings with GPS coordinates page 1 Plain-throated Sunbird song Anthreptes malacensis (0:14) David Farrow XC19615 270703, Thailand Plain-throated Sunbird song Anthreptes malacensis malacensis (0:16) Sander Pieterse & Ben Wielstra XC20486 More