Green-tailed Sunbird
It is found in Bangladesh, Bhutan, China, India, Laos, Myanmar, Nepal, Thailand, and Vietnam. Its natural habitats are temperate forests and subtropical or tropical moist montane forests.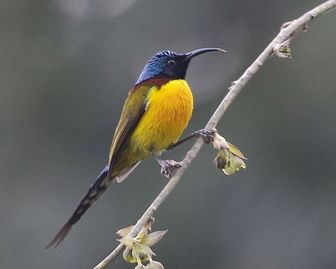 Picture of the Green-tailed Sunbird has been licensed under a Creative Commons
Attribution-Share Alike
.
Original source
: originally posted to Flickr as Green-tailed Sunbird (Aethopyga nipalensis)
Author
: Lip Kee YapPermission(Reusing this file)This image, which was originally posted to Flickr.com, was uploaded to Commons using Flickr upload bot on 10:28, 21 May 2010 (UTC) by Alastair Rae (talk). On that date it was licensed under the license below. This file is licensed under the Creative Commons Attribution-Share Alike 2.0 Generic license.You are free:to share – to copy, distribute and transmit the work
The Green-tailed Sunbird is classified as Least Concern. Does not qualify for a more at risk category. Widespread and abundant taxa are included in this category.

The Green-tailed Sunbird (Aethopyga nipalensis) is a species of bird in the Nectariniidae family. It is found in Bangladesh, Bhutan, China, India, Laos, Myanmar, Nepal, Thailand, and Vietnam. Its natural habitats are temperate forests and subtropical or tropical moist montane forests. References - * Media related to Aethopyga nipalensis at Wikimedia Commons * BirdLife International 2004. Aethopyga nipalensis. More
Green-tailed Sunbird Forward | Print | Individual message | Show original | Report this message | Find messages by this author * * *Common Name :* Green-tailed Sunbird *Scientific name:** Aethopyga nipalensis* *Status in the Region:* Common & Resident *Place:* Lama Camp, Eaglenest Wildlife Sanctuary, Western Arunachal Pradesh, alt.approx: 2000 mts *Site Habitat:* Degraded tropical evergreen Broadleaved Forest with dense secondary undergrowth…. More
Green-tailed Sunbird Aethopyga nipalensis - Green-tailed Sunbird Aethopyga nipalensis copyright Sumit K Sen; Lava India Size: ?14cm ?10cm Description: Male has yellow breast and belly streaked with red, metallic blue-green crown and tail, with iridescent blue sub-moustachial stripe. The mantle is crimson red. Female sports a long graduated tail with white tips, otherwise plain greenish all over. More
Green-tailed Sunbird, which is resident on the mountain, is extremely common. During the winter months, it may be seen alongside the somewhat similarly-marked Gould's Sunbird, which is a migrant visitor. One of the greatest treats in store for the observer in February or March is to watch both these "living jewels" feeding on the nectar of the beautiful blood-red flowers of Rhododendron delavayi, one of the many species of flowering plants for which Doi Inthanon is the only station in Thailand. More
Green-tailed Sunbird (male) - Aethopyga nipalensis = Green-tailed Sunbird (male) - Aethopyga nipalensis by Mike (NO captive birds) in Thailand.Doi Inthanon, Thailand (approx 2,500m). I understand that this bird is unique to the summit of Doi Inthanon! To take full advantage of Flickr, you should use a JavaScript-enabled browser and install the latest version of the Macromedia Flash Player. More
Green-tailed Sunbird, Aethopyga nipalensis Nectariniidae (SUNBIRDS & SPIDERHUNTERS) Green-tailed Sunbird, Aethopyga nipalensis This photo was taken in: Thailand Notes on this photo: Location: Doi Inthanon national park, Thailand The photo was taken by: Aathit Tripathi , Thailand Reports Reports from birdtours.co.uk Birdtours.co. More
Green-tailed Sunbird Aethopyga nipalensis = * Home Expand Log in Menu item Register Menu item Log out Menu item Change login details Menu item Why register? Expand UK & Ireland Menu item Birding sites More
related to the Green-tailed Sunbird than it is to Tyrannosaurus. And Tyrannosaurus, in turn, shares a common ancestor with the sunbird which it does not share with Iguanadon, or Stegosaurus, or Diplodocus. It's an extraordinary thought. » I didn't want to get too sidetracked because the details are complicated and I'm only getting most of this stuff from Wikipedia myself, but just a couple of pedantic points. More
Green-tailed Sunbird Aethopyga nipalensis - Adult male Green-tailed Sunbird Photographer : More
Green-tailed Sunbird, subspecies angkanensis, Thailand, Doi Inthanon NP 16 March 2007 © Garry Bakker Distinctive subspecies endemic to the summit of Doi Inthanon Green-tailed Sunbird, subspecies angkanensis - green-tailed sunbird, thailand, doi inthanon 24/02/2006 © Vincent Mouret & Celine Garrigue olivier chaline, alban guillaumet, vincent mouret green-tailed sunbird - Green-tailed Sunbird, India, Eaglesnest WS April 2007 © James Eaton/ Birdtour Asia Birdtour More
Green-tailed Sunbird Aethopyga nipalensis = Doi Inthanon, Chiang Mai Province, Thailand - 2003 More
Stamps showing Green-tailed Sunbird Aethopyga nipalensis Green-tailed Sunbird Aethopyga nipalensis Bargain of the day! Green-tailed Sunbird Links will open countrypage in new window - Vietnam 05.08. More