White-flanked Sunbird
Its natural habitat is subtropical or tropical moist montanes.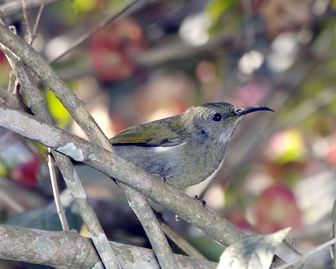 Picture of the White-flanked Sunbird has been licensed under a Creative Commons
Attribution
.
Original source
: White-flanked Sunbird (Aethopyga eximia)
Author
: Lip Kee Yap from Singapore, Republic of SingaporeCamera location
The White-flanked Sunbird is classified as Least Concern. Does not qualify for a more at risk category. Widespread and abundant taxa are included in this category.

The White-flanked Sunbird (Aethopyga eximia) is a species of bird in the Nectariniidae family. It is endemic to Indonesia. Its natural habitat is subtropical or tropical moist montanes. male References - * BirdLife International 2004. Aethopyga eximia. 2006 IUCN Red List of Threatened Species. Downloaded on 25 July 2007. Stub icon This Nectariniidae-related article is a stub. More
Results for: white-flanked sunbirdTranslations 1 - 30 of 923 English English Finnish Finnish white-flanked sunbird jaavanmedestäjä, Aethopyga eximia white-flanked antwren valkokuvemuuranen, Myrmotherula axillaris chestnut-flanked white-eye ruskokylkirilli, Zosterops erythropleurus white-bellied sunbird valkovatsamedestäjä, Cinnyris talatala red-flanked lorikeet punakylkilurikki, Charmosyna placentis brown-flanked tanager perunpilvitangara, Thlypopsis pectoralis chestnut-flanked sparrowhawk More
White-flanked Sunbird The White-flanked Sunbird (Aethopyga eximia) is a species of bird in the Nectariniidae family. It is endemic to Indonesia. Its natural habitat is subtropical or tropical moist montanes. See more at Wikipedia.org... This article uses material from Wikipedia® and is licensed under the GNU Free Documentation License Wikipedia Português A enciclopédia livre Download this dictionary Aethopyga eximia Aethopyga eximia é uma espécie de ave da família Nectariniidae. More