Mount Apo Sunbird
Its natural habitat is tropical moist montane forest. The species is not yet threatened by habitat loss, and is common within its range, but it is listed as Near Threatened due to its tiny range.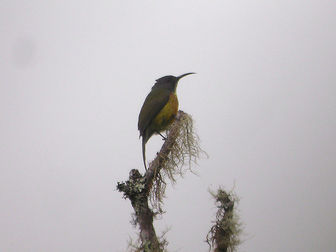 Picture of the Mount Apo Sunbird has been licensed under a Creative Commons
Attribution-Share Alike
.
Original source
: markaharper1
Author
: markaharper1
The Mount Apo Sunbird is classified as Near Threatened (NT), is close to qualifying for or is likely to qualify for a threatened category in the near future.

* Mount Apo Sunbird (Aethopyga boltoni) - we had to work for this but eventually tracked down a cracking male on Kitanglad. Nominate race. * Flaming Sunbird (Aethopyga flagrans) – lots of females and, eventually, a cracking male. Check out the low-level, red flowers for these beauties on Mt.Makiling. More
Mount Apo Sunbird, Aethopyga boltoni Conservation status: Lower risk (nt) Lina's Sunbird, Aethopyga linaraborae Conservation status: Lower risk (nt) Flaming Sunbird, Aethopyga flagrans Conservation status: Lower risk (lc) More