Fairy Flycatcher
It is an endemic resident breeder in southern Africa in Botswana, South Africa, Lesotho and Namibia, and a vagrant to Zimbabwe and Swaziland.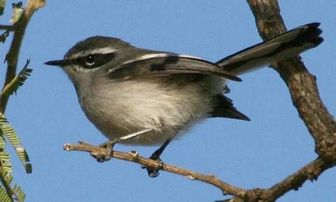 Picture of the Fairy Flycatcher has been licensed under a Creative Commons
Attribution-Share Alike
.
Original source
: Alan Manson
Author
: Alan Manson
The Fairy Flycatcher is classified as Least Concern. Does not qualify for a more at risk category. Widespread and abundant taxa are included in this category.

The Fairy Warbler or Fairy Flycatcher, Stenostira scita, is a small passerine bird. Formerly placed in the Old World flycatcher family, Muscicapidae, it is now separated with some other "odd flycatchers" as the new family Stenostiridae (Beresford et al. 2005, Fuchs et al. 2006). It is the only member of the genus Stenostira. It is an endemic resident breeder in southern Africa in Botswana, South Africa, Lesotho and Namibia, and a vagrant to Zimbabwe and Swaziland. More
This Fairy Flycatcher Plaque is the perfect way to complete your Bravo Delta mahogany replica. The plaque measures approximately 3 inches x 1 inch, and is made from metal with a soft vinyl covering. *Please note, the image is for display purposes only. The plaque you will receive will bear the name of the plane you have chosen.* Product code: BDP059 Available If ordered today Estimated despatch - 10-14 days £12. More
a picture of the Fairy Flycatcher on page 720. The Fairy Flycatcher belongs to the family of birds classified as Sylviidae. According to the Percy FitzPatrick Institute of African Ornithology the Fairy Flycatcher is also known by these other names: Fairy Warbler. The map of the Kruger you see on this page shows the areas (coloured orange) where this bird has been identified. The basic information was provided by the Avian Demographic Unit based at UCT and I created the maps from that information ... More