White-starred Robin
The White-starred Robin gives a range of calls that vary geographically. The diet is dominated by insects, although some fruit is taken as well. It is a territorial and seasonal breeder that lays up to three eggs in a domed nest.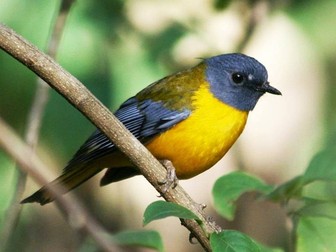 Picture of the White-starred Robin has been licensed under a Creative Commons
Attribution-Share Alike
.
Original source
: originally posted to Flickr as White-starred Robin (Pogonocichla stellata)
Author
: Alan MansonPermission(Reusing this file)This image, which was originally posted to Flickr.com, was uploaded to Commons using Flickr upload bot on 21:52, 14 February 2009 (UTC) by Ltshears (talk). On that date it was licensed under the license below. This file is licensed under the Creative Commons Attribution-Share Alike 2.0 Generic license.You are free:to share – to copy, distribute and transmit the work
The White-starred Robin is classified as Least Concern. Does not qualify for a more at risk category. Widespread and abundant taxa are included in this category.

into the more open ground - which is where the White-starred Robin is found, and where the Narina Trogon sadly wasn't. Oh well…The robin is best looked for just by wandering in circles until you find it. When perched it's almost invisible - and the species does seem to spend a great deal of time sat in cover endlessly preening (it has good reason to be pleased with the way it looks though, so why not…). I've not heard it call incidentally, though it must do so occasionally. More
The beautiful White-starred Robin Pogonocichla stellata is related to old-world flycatchers and monotypic within the genus Pogonocichla. An African endemic found from eg Burundi and Democratic Republic of the Congo, east to Kenya, and south to Malawi, Mozambique, and South Africa, Sudan. Its natural habitats are subtropical or tropical moist montanes, subtropical or tropical dry shrubland, subtropical or tropical moist shrubland, and subtropical or tropical high-altitude shrubland. More
The White-starred Robin gives a range of calls that vary geographically. The diet is dominated by insects, although some fruit is taken as well. It is a territorial and seasonal breeder that lays up to three eggs in a domed nest. More
A fact from White-starred Robin appeared on Wikipedia's Main Page in the Did you know? column on 5 April 2010 (check views). The text of the entry was as follows: "Did you know * ... that female White-starred Robins (pictured) in Malawi migrate away from their breeding grounds while the males remain in their territories?" Wikipedia Retrieved from "http://en.wikipedia. More
The White-starred Robin (Pogonocichla stellata) is a species of bird in the Old World flycatcher and chat family Muscicapidae. It is also sometimes more simply called the Starred Robin. It is monotypic within the genus Pogonocichla. There are around twelve subspecies. The species is found in East and Southern Africa. It is a forest species, occurring in montane forest in the north of its range but closer to sea level further south. More
png Search for photos of White-starred Robin in the BirdForum Gallery Retrieved from "http://www.birdforum.net/opus/White-starred_Robin" Categories: Birds | Pogonocichla Advertisement * This page was last modified 16:45, 11 February 2009. * This page has been accessed 1,109 times. * Privacy policy * About Opus * Disclaimers Search the net with ask. More
White-starred Robin measured by Terry Oatley (Robins of Africa, 1998). East Coast Akalat Nest The nest was placed in the leaf litter on the forest floor. With small territories, it is understandable that the volume of their song is relatively subdued. Singing birds in neighbouring territories are often only 30 – 40 m away. More
White-starred Robin Show machine tags (0) Hide machine tags (0) Additional Information All rights reserved Anyone can see this photo * * Taken with a Canon EOS 40D. More