Blue-fronted Redstart
It is found in Bhutan, China, India, Laos, Myanmar, Nepal, Pakistan, Thailand, and Vietnam. Its natural habitat is temperate forests.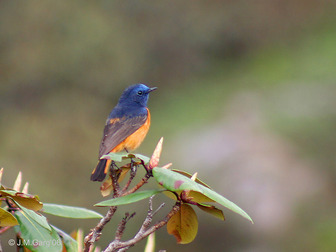 Picture of the Blue-fronted Redstart has been licensed under a
GFDL
Original source
: Own work
Author
: J.M.Garg
Permission
: GNU Free Documentation License
The Blue-fronted Redstart is classified as Least Concern. Does not qualify for a more at risk category. Widespread and abundant taxa are included in this category.

The Blue-fronted Redstart (Phoenicurus frontalis) is a species of bird in the Muscicapidae family. It is found in Bhutan, China, India, Laos, Myanmar, Nepal, Pakistan, Thailand, and Vietnam. Its natural habitat is temperate forests. References - * Media related to Phoenicurus frontalis at Wikimedia Commons * BirdLife International 2004. Phoenicurus frontalis. 2006 IUCN Red List of Threatened Species. Downloaded on 26 July 2007. More
Blue-fronted Redstart Forward | Print | Individual message | Show original | Report this message | Find messages by this author Blue-fronted Redstart Saat Taal, Uttarakhand, India 27th February, 2010 - Best regards, Satyendra Sharma http://satie.co.in - You received this message because you are subscribed to the Google Groups "delhibirdpix" group. To post to this group, send email to delhibirdpix@googlegroups.com. More
Blue-fronted Redstart Forward | Print | Individual message | Show original | Report this message | Find messages by this author A Blue-fronted redstart (*Phoenicurus frontalis*) Sattal, Jan '10 Cheers, Rajneesh http://www.naturechronicles.com LADAKH SAMPLER, Best fares for an all inclusive package Redstart,BlueFronted 8275_fcw.jpg 127K Download Forward You must Sign in before you can post messages. More
Blue-fronted Redstart Phoenicurus frontalis = Described by: Vigors (1832) Alternate common name(s): Blue-breasted Redstart Old scientific name(s): None known by website authors Photographs India - 1997 More
Blue-fronted Redstart Phoenicurus frontalis - Adult male Blue-fronted Redstart Photographer : More
Blue-fronted Redstart Phoenicurus frontalis - Blue-fronted Redstart Phoenicurus frontalis copyright J. M. Garg; 22 June 2006; Himachal Blue-fronted Redstart Phoenicurus frontalis copyright J. M. Garg; 22 June 2006; Himachal COPYRIGHT: delhibird - The Northern India Bird Network. All rights reserved. More
* Blue-fronted Redstart, Phoenicurus frontalis * Ala Shan Redstart, Phoenicurus alaschanicus * Common Redstart, Phoenicurus phoenicurus * White-throated Redstart, Phoenicurus schisticeps * Hodgson's Redstart, Phoenicurus hodgsoni * Daurian Redstart, Phoenicurus auroreus * White-winged Redstart, Phoenicurus erythrogaster More
Blue-fronted Redstart Phoenicurus frontalis = * Home Expand Log in Menu item Register Menu item Log out Menu item Change login details Menu item Why register? Expand UK & Ireland Menu item Birding sites More
Blue-fronted Redstart (Phoenicurus frontalis) is a local resident in Himalayas of India and Bhutan. More
Blue-fronted Redstart Phoenicurus frontalis 2009 IUCN Red List Category (as evaluated by BirdLife International - the official Red List Authority for birds for IUCN): Least Concern Justification This species has an extremely large range, and hence does not approach the thresholds for Vulnerable under the range size criterion (Extent of Occurrence 30% decline over ten years or three generations). More
Rezultati za: Blue-fronted RedstartPrijevodi 1 - 2 of 2 Engleski Engleski Norveški Norveški blue blå dark blue mørkeblå Vrijeme pretrage: 0.003 sec. O projektu - EUdict (European dictionary ili Europski rječnik) je skup više online rječnika za jezike koji se govore u Europskoj uniji ili u onim državama koje će tek postati članice Europske unije. More
BLUE-FRONTED REDSTART (FEMALE) * Phoenicurus frontalis * 15 cms previous Click here to comment on this image next Site Map Oriental Bird Club Copyright of all images is retained by Vijay Cavale and respective copyright owners. More
Blue-fronted Redstart Phoenicurus frontalis = Erlang Mountain, Sichuan Province, China - Oct 8, 2008 More
Blue-fronted Redstart, India, Sat Tal 20 February 2005 © Mike Buckland Blue-fronted Redstart - Blue-fronted Redstart, Thailand, Doi Inthanon summit from boardwalk 21 February 2008 © John Furse A very brief view of this species, possibly the 1st confirmed for Thailand since 2000 Blue-fronted Redstart - Blue-fronted Redstart, Bhutan, Thimpu Jan 05 © Ben Lascelles Commonest redstart Blue-fronted Redstart More
Blue-fronted Redstart, Phoenicurus frontalis Muscicapidae (OLD WORLD FLYCATCHERS) Blue-fronted Redstart, Phoenicurus frontalis This photo was taken in: India The photo was taken by: Steve Bird , Birdseekers Birdseekers Birdseeker tour company Birdseekers Tour reports Birdwatching Holidays around the world Birdseekers Tour reports Birdwatching Holidays around the world Birdseekers photo's taken by Tony Crittenden Identification More