Capped Wheatear
This wheatear is found in open dry sandy and stony habitats and short grassland with a few bushes and termite mounds in Africa, from Kenya and Angola south to the Cape. It is largely non-migratory, but undertakes seasonal movements.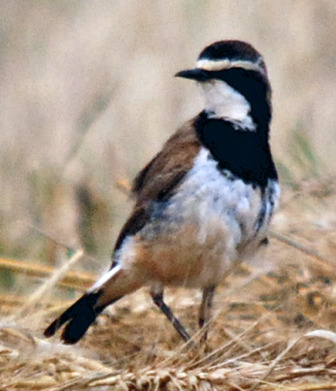 Picture of the Capped Wheatear has been licensed under a Creative Commons
Attribution
.
Original source
: Capped WheatearUploaded by Richard001
Author
: Patty McGann
The Capped Wheatear is classified as Least Concern. Does not qualify for a more at risk category. Widespread and abundant taxa are included in this category.

One of 17 species of wheatear found in Africa, the Capped Wheatear is a large, striking species found from southern Kenya to the Cape. Typically found on barren, sandy, or stony areas in flat country throughout South Africa, Capped Wheatears are characterful birds often seen scanning their territories from fence-posts. The last photo in this gallery shows a young bird being fed by an adult next to the entrance to an underground nest in the village of Kgomo-kgomo. capped wheatear Adult, Cape Province, July. More
One of 17 species of wheatear found in Africa, the Capped Wheatear is a large, striking species found from southern Kenya to the Cape. More
Corncrake Ovenbird White Helmet Shrike Capped Wheatear African Mourning Dove Black-tailed Godwit Globe Skimmer Streaky Seed-eater Danaid Egg-Fly Mocking Cliff-Chat Barn Swallow Chestnut-bellied Sandgrouse Beesley's Lark Von der Decken's Hornbill Patas Monkey Speckle-fronted Weaver Broad-tailed Warbler Purple Grenadier Brown-chested Alethe White-throated Bee-eaters Wheatear Eastern Chanting Goshawk Chestnut Weaver Albatross Wandering Glider Tree Pipit Beesley's (Maasai) Lark Scuacco Heron Violet-backed Starling Hildebrandt's Starling Ruppels Robin Chat White-spotted Flufftail Eastern Olivaceous Warbler Usambara Akalat Chestnut Sparrow Red-tailed Bristlebill White-tailed Ant-trush More
The Capped Wheatear, Oenanthe pileata, is a small insectivorous passerine bird that was formerly classed as a member of the thrush family Turdidae, but is now more generally considered to be an Old World flycatcher, Muscicapidae. This wheatear is found in open dry sandy and stony habitats and short grassland with a few bushes and termite mounds in Africa, from Kenya and Angola south to the Cape. It is largely non-migratory, but undertakes seasonal movements. More
Distribution of Capped wheatear in southern Africa, based on statistical smoothing of the records from first SA Bird Atlas Project (© Animal Demography unit, University of Cape Town; smoothing by Birgit Erni and Francesca Little). Colours range from dark blue (most common) through to yellow (least common). See here for the latest distribution from the SABAP2. Predators and parasites It has been recorded as prey of the Black-footed cat (Felis nigripes). More
For the purposes of our bird news services, Capped Wheatear is classed as Ungraded: species which are unlikely to appear as wild birds in Britain or Ireland hide section Most recent photos of Capped Wheatear (3) Lamberts Bay, North-west, South Africa Lamberts Bay, North-west, South Africa10/10/2008 Lamberts Bay, North-west, South Africa 10/10/2008 Lamberts Bay, South Africa Lamberts Bay, South Africa10/10/2008 Lamberts Bay, South Africa 10/10/2008 Cape Town Area, Western Cape, South Africa More
Capped Wheatear | Osugat - the Lark Plains» add new comment Syndicate content what is birdman seeing? - Twitter Updates - follow me on Twitter topics - Climate wintering birds Raptors migration ITCZ Ecological Survival Birding Site reports Safari Decline of Gyps Vultures Larks Wildlife Gardening places - Lake More
Capped Wheatear by Ian Fulton Photographer: Ian Fulton Location: Etosha National Park Date Taken: 23/Oct/2004 Upload On: 14/Sep/2009 Rating: ****** Photographer: Ian Fulton Capped Wheatear by Ian Fulton Location: Etosha National Park Date Taken: 23/Oct/2004 Upload On: 01/Sep/2009 Rating: ****** Capped Wheatear by Trevor Hardaker Photographer: Trevor Hardaker More
capped wheatear kruger national park birds The Capped Wheatear (Latin name Oenanthe pileata) is described in Roberts Birds of Southern Africa, 7th Edition. This bird has a unique Roberts number of 587 and you will find a full description of this bird on page 950 also a picture of the Capped Wheatear on page 961. The Capped Wheatear belongs to the family of birds classified as Muscicapidae. The map of the Kruger you see on this page shows the areas (coloured orange) where this bird has been identified. More