Rufous-bellied Niltava
It is found in Bangladesh, Bhutan, China, India, Laos, Myanmar, Nepal, Pakistan, and Thailand. Its natural habitats are subtropical or tropical moist lowland forests and subtropical or tropical moist montane forests.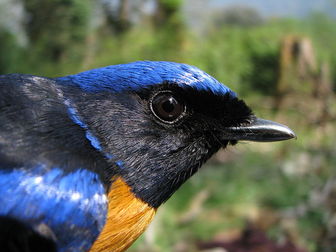 Picture of the Rufous-bellied Niltava has been licensed under a Creative Commons
Attribution-Share Alike
.
Original source
: Umeshsrinivasan
Author
: Umeshsrinivasan
The Rufous-bellied Niltava is classified as Least Concern. Does not qualify for a more at risk category. Widespread and abundant taxa are included in this category.

The Rufous-bellied Niltava (Niltava sundara) is a species of bird in the Muscicapidae family. It is found in Bangladesh, Bhutan, China, India, Laos, Myanmar, Nepal, Pakistan, and Thailand. Its natural habitats are subtropical or tropical moist lowland forests and subtropical or tropical moist montane forests. References - * BirdLife International 2004. Niltava sundara. 2006 IUCN Red List of Threatened Species. Downloaded on 26 July 2007. More
Rufous-bellied Niltava Forward | Print | Individual message | Show original | Report this message | Find messages by this author Roing-Mayudia Road, Arunachal Pradesh, India on 14/3/2010 DSC_07411.jpg 208K Download Forward You must Sign in before you can post messages.To post a message you must first join this group.Please update your nickname on the subscription settings page before posting.You do not have the permission required to post. More
For the purposes of our bird news services, Rufous-bellied Niltava is classed as Ungraded: species which are unlikely to appear as wild birds in Britain or Ireland hide section Most recent photos of Rufous-bellied Niltava (1) Doi Ang Chang, Thailand Doi Ang Chang, Thailand03/03/2008 Doi Ang Chang, Thailand 03/03/2008 View all pictures of Rufous-bellied Niltava View all pictures of Rufous-bellied Niltava show section External Links (0) We currently have no external links for this species. More
Rufous-bellied Niltava (Niltava sundara) is a resident in Himalayas and north-east India. More
Rufous-bellied Niltava (male)by Carl-Johan Svensson 1 year ago 1 year ago: Fri, Apr 17, 2009 2:47am EST (Eastern Standard Time) More More See all Show meCarl-Johan Svensson's videos * Carl-Johan Svensson's videos * Staff Picks 19. Eye-browed Thrush by Carl-Johan Svensson11 months ago 18. Kalij Pheasant (male displaying to female) by Carl-Johan Svensson11 months ago 17. Blue-winged Leafbird (male) by Carl-Johan Svensson11 months ago 16. More
Chiang Dao held a male Blue Pitta and a Rufous-bellied Niltava in a gulley, whilst the trail beyond DYK provided views of a mixed flock of birds with a number of Grey-headed Parrotbills. A Russet Bush Warbler was also seen in thick grass just before DYK. A single Grey-sided Thrush was the only thrush positively identified amongst many at the Km 37.5 jeep track on Doi Inthanon on the 26th January and a Dark-sided Thrush appeared outside Mr Daeng's kitchen on the 25th. More