Blue-capped Rock Thrush
The male is bright blue and black on the upperparts with a prominent white wing mirror. The underside is rufous brown. The female is dark olive and appears barred on the underside.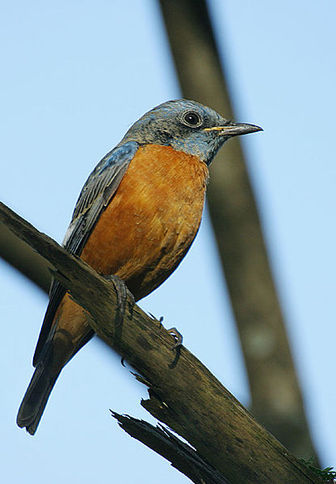 Picture of the Blue-capped Rock Thrush has been licensed under a Creative Commons
Attribution
.
Original source
: Blue headed Rock Thrush. Monticola cinclorhynchus en . Photograph by Clement Francis M. at Nandi Hills, Bangalore, India. November 2005 . For higher resolution images or other uses please contact
The Blue-capped Rock Thrush is classified as Least Concern. Does not qualify for a more at risk category. Widespread and abundant taxa are included in this category.

For the purposes of our bird news services, Blue-capped Rock Thrush is classed as Ungraded: species that are unlikely to appear as wild birds in Britain or Ireland hide section Most recent photos of Blue-capped Rock Thrush (4) Eravikulam NP, Kerala, India Eravikulam NP, Kerala, India24/01/2010 Eravikulam NP, Kerala, India 24/01/2010 Lingmethang Road, Mongar, Bhutan Lingmethang Road, Mongar, Bhutan13/04/2008 Lingmethang Road, Mongar, Bhutan 13/04/2008 Lingmethang Road, Mongar, Bhutan Lingmethang Road, Mongar, Bhutan13/04/2008 More
Blue-capped Rock Thrush sits frozen on a branch. Like other thrushes, they fly up into trees and tend to freeze when disturbed. This work is licensed under a Creative Commons Attribution-Noncommercial-Share Alike License. More
Blue-capped Rock Thrush (Monticola cinclorhynchus) Filmed at Molem, Goa, India November 1997 using Canon EX1 Hi8 and Sigma 400mm lens. Blue-capped Rock Thrush (Monticola cinclorhynchus) Filmed at Molem, Goa, India November 1997 using Canon EX1 Hi8 and Sigma 400mm lens.all » Blue-capped Rock Thrush (Monticola cinclorhynchus) Filmed at Molem, Goa, India November 1997 using Canon EX1 Hi8 and Sigma 400mm lens.« Download video - iPod/PSPDownload is starting. Save file to your computer. More