White-tailed Rubythroat
It is found in Afghanistan, Bangladesh, Bhutan, China, India, Kazakhstan, Myanmar, Nepal, Pakistan, Russia, Tajikistan, Thailand, Turkmenistan, and Uzbekistan. Its natural habitat is temperate forests.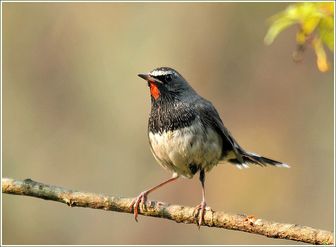 Picture of the White-tailed Rubythroat has been licensed under a Creative Commons
Attribution-Share Alike
.
Original source
: Own work
Author
: Rakeshkdogra
The White-tailed Rubythroat is classified as Least Concern. Does not qualify for a more at risk category. Widespread and abundant taxa are included in this category.

The White-tailed Rubythroat (Luscinia pectoralis) is a species of bird in the Muscicapidae family. It is found in Afghanistan, Bangladesh, Bhutan, China, India, Kazakhstan, Myanmar, Nepal, Pakistan, Russia, Tajikistan, Thailand, Turkmenistan, and Uzbekistan. Its natural habitat is temperate forests. References - Search Wikimedia Commons Wikimedia Commons has media related to: Luscinia pectoralis * BirdLife International 2004. Luscinia pectoralis. More
White-tailed Rubythroat Luscinia pectoralis White-tailed Rubythroat Photographer : More
White-tailed Rubythroat Forward | Print | Individual message | Show original | Report this message | Find messages by this author After the very shy Siberian Rubythroat, this Himalayan/White-tailed Rubythroat (*Luscinia pectoralis*) posed a different problem by coming just too close and within the MFD. My dear friend even shooed it once but to no avail. More
White-tailed Rubythroat - Luscinia pectoralis Rossignol à gorge rubis = Rossignol à gorge rubis Comment : At Harsil, near Gangotri, Uttaranchal, India on 3rd June, 2005. More
White-tailed Rubythroat Luscinia pectoralis = Described by: Gould (1837) Alternate common name(s): Himalayan Rubythroat, Black-breasted Rubythroat, Rubythroat Old scientific name(s): Erithacus pectoralis Photographs Tien Shan Mountains, Kazakhstan - Jun 6, 2007 More
White-tailed Rubythroat, Luscinia pectoralis Muscicapidae (OLD WORLD FLYCATCHERS) White-tailed Rubythroat, Luscinia pectoralis This photo was taken in: Kazakhstan This photo was taken with: Nikon Coolpix 4500 and leica APO Televid The photo was taken by: Mark Piazzi Kazakhstan reports Birdwatching trip reports from Kazakhstan Birdwatching trip reports from around the world Identification Notes: More
Results for: white-tailed rubythroatTranslations 1 - 30 of 1112 English English Finnish Finnish white-tailed rubythroat himalajansatakieli, Luscinia pectoralis white-tailed valkohäntä white-tailed jay tumbesinnärhi, Cyanocorax mystacalis white-tailed robin sinileppälintu, Myiomela leucura white-tailed sabrewing muurahaissapelikolibri, Campylopterus ensipennis white-tailed shrike valkopyrstölepinkäinen, Lanioturdus torquatus white-tailed warbler valkopyrstökerttu, Poliolais More
White-tailed Rubythroat Luscinia pectoralis - - White-tailed Rubythroat White-tailed Rubythroat © A. R. More
White-tailed Rubythroat (Luscinia pectoralis) by Jan Hein van Steenis. More
White-tailed Rubythroat Luscinia pectoralis = Tien Shan Mountains, Kazakhstan - Jun 6, 2007 More
White-tailed Rubythroat Forward | Print | View thread | Show original | Report this message | Find messages by this author Location- Kakragad, Rudraprayag,Uttrakhand. Date- 06/04/10. Best regards -A- - You received this message because you are subscribed to the Google Groups "delhibirdpix" group. To post to this group, send email to delhibirdpix@googlegroups.com. To unsubscribe from this group, send email to delhibirdpix+unsubscribe@googlegroups.com. More
White-tailed Rubythroat Luscinia pectoralis IUCN Red List history Year Category 2009 Least Concern 2008 Least Concern 2004 Least Concern 2000 Lower Risk/Least Concern 1994 Lower Risk/Least Concern 1988 Lower Risk/Least Concern Range Estimate More
Sutibut, IndianRoller) � White-tailed Rubythroat at Nam Kham Nature Reserve, Chaing Saen Pages: « previous next » Print Author Topic: White-tailed Rubythroat at Nam Kham Nature Reserve, Chaing Saen (Read 938 times) 0 Members and 1 Guest are viewing this topic. More