Indian Blue Robin
The Indian Blue Robin is a small bird found in South Asia. Formerly considered a thrush, it is now considered one of the Old World flycatchers in the family Muscicapidae. It was earlier also called the Indian Blue Chat. It is migratory, breeding in the forests along the Himalayas in India and Myanmar. They winter in the hill forests of the Western Ghats of India and in Sri Lanka.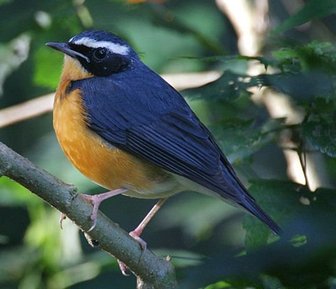 Picture of the Indian Blue Robin has been licensed under a Creative Commons
Attribution
.
Original source
: Indian Blue Robin Luscinia brunnea wintering Nandi Hills, Bangalore December 2005. Photograph by Clement Francis M.
The Indian Blue Robin is classified as Least Concern. Does not qualify for a more at risk category. Widespread and abundant taxa are included in this category.

The Indian Blue Robin (Luscinia brunnea) is a small bird found in South Asia. Formerly considered a thrush, it is now considered one of the Old World flycatchers in the family Muscicapidae. It was earlier also called the Indian Blue Chat. It is migratory, breeding in the forests along the Himalayas in India and Myanmar. They winter in the hill forests of the Western Ghats of India and in Sri Lanka. More
Indian Blue RobinThe Indian Blue Robin (Luscinia brunnea) is a small passerine bird that was formerly classed as a member of the thrush family Turdidae, but is now more generally considered to be an Old World flycatcher, Muscicapidae. It, and similar small species, are often called as chats. The bird is also known in the Indian subcontinent by its older name of Indian Blue Chat (Erithacus brunneus). Distribution / Range It breeds in the Himalayas in India, and in Myanmar. More
Indian Blue Robin (Luscinia brunnea) breeds in Himalayas and winters in north-east and south India. More
Indian Blue Robin Luscinia brunnea copyright Clement Francis M; Nandi Hills, Karnataka Indian Blue Robin Luscinia brunnea copyright Ramki; Nandi Hills, Karnataka COPYRIGHT: delhibird - The Northern India Bird Network. All rights reserved. More
Indian Blue Robin (female) Forward | Print | Individual message | Show original | Report this message | Find messages by this author Real challenge shooting this Indian blue robin female on the ubiquitous white/green stone in the nursery area at Nandi Hills. Btw, Clement, I think you have mixed up the labeling here: http://www.indianaturewatch.net/displayimage.php?id=147866 as this looks like the same bird. Clicked on 10 April 2010. More
different species: a female Indian Blue Robin which unfairly disappeared into thin air from right in front of me while I tried to photograph it (from too close if I'm honest), a couple of Olive-backed Pipits Anthus hodgsoni striding quickly in and out of the shade making photography impossible, a flock of Oriental White-eye Zosterops palpebrosus, Magpie Robins Copsychus saularis, more Blyth's Reed and Greenish Warblers, and - on the second visit - a feeding party of warblers that included a Hume's Yellow-browed and another small More
Message from discussion Indian blue robin at Nandi Hills, Bangalore The group you are posting to is a Usenet group. Messages posted to this group will make your email address visible to anyone on the Internet.Your reply message has not been sent. More
already spotted an Indian Blue Robin hopping around on the pots. Then came around a Common Tailorbird and a Warbler whose specific name I forget. We also spotted a Blue Rock Thrush female at this point (click the picture to enlarge it and you can see a small bird in the centre). Blue Rock Thrush, F All this while, under the canopy a Common Buzzard sat with remarkable composure unfazed by our presence. Its stance commanded a lot of awe. More
On 23rd Jan i sighted an Indian Blue Robin Male in Anaikatty hills in coimbatore District a few Kilometers from Kerala Boarder. Managed to take a photograph good enough to establish its id regards rajesh ramnarayan Coimbatore. The INTERNET now has a personality. YOURS! See your Yahoo! Homepage. http://in.yahoo.com/ > - All rights reserved. This design was created by hw. Thank you for using the site. More
Indian Blue Robin right in the garden of our Ooty hotel. Later the same day, after a teasing encounter with our first Painted Bush-quail, we were enjoying the delights of birding in the shola forests around this famous hill station, among them strutting Gray Junglefowl, our first demure Nilgiri and secretive Black-and-orange Flycatchers, an extremely cooperative male Kashmir Flycatcher, and a Nilgiri Blue Robin. And then there were the troops of Nilgiri Langurs. More