White-throated Robin
This species is larger than the European Robin, having a length of 16 cm and a wingspan of 28 cm. The breeding male has lead-grey upperparts, a black face with a white throat and supercilium, and orange underparts. The tail is black, as is the strong bill. The male's song is a fast twittering given from a bush or in flight. The call of this species is a chis-it like Pied Wagtail. Females are plainer, mainly grey apart from a black tail, hints of orange on the flanks, and some white throat streaks.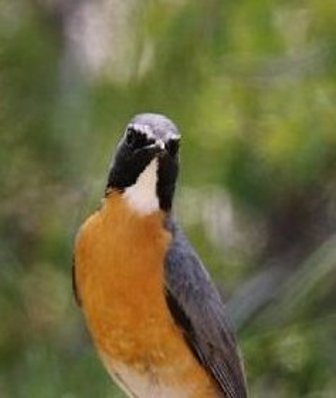 Picture of the White-throated Robin has been licensed under a
GFDL
Original source
: Transferred from en.wikipedia; transferred to Commons by User:Josve05a using CommonsHelper.
Author
: Original uploader was Lusinemarg at en.wikipediaPermission(Reusing this file)CC-BY-SA-3.0-MIGRATED; Released under the GNU Free Documentation License; Licensed under the GFDL by the author.
Permission
: GNU Free Documentation License
The White-throated Robin is classified as Least Concern. Does not qualify for a more at risk category. Widespread and abundant taxa are included in this category.

The White-throated Robin (Irania gutturalis) is a small passerine bird that was formerly classed as a member of the thrush family Turdidae, but is now more generally considered to be an Old World flycatcher, family Muscicapidae. It, and similar small European species, are often called chats. Description - This species is larger than the European Robin, having a length of 16 cm and a wingspan of 28 cm. More
The White-throated Robin is generally known as an Old World flycatcher. This species typically migrates to east Africa and rarely Western Europe during winter months. Preferred breeding grounds include southwestern Asia, including areas spanning from Turkey through Afghanistan. Diets consist largely of insects and small invertebrates, caught in-flight or found on the ground. Breeding habitats include dry and rocky slopes with some vegetation, such as sporadic bushes, shrubs or low trees. More
The White-throated Robin breeds in dry rocky slopes with some bushes, often at some altitude. It nests in a shrub, laying 4-5 eggs. Description This species is larger than the European Robin. The breeding male has lead-grey upperparts, a black face with a white throat and supercilium, and orange underparts. The tail is black, as is the strong bill. More
White-throated Robin: Native of Mexico; has been spotted twice in the lower Rio Grande Valley in southernmost Texas in winter. Prefers riparian forests. Breeding and Nesting White-throated Robin: Two to four gray and red brown flecked, light blue or white eggs are laid in a cup nest made of rootlets, grass, moss, and mud, with a lining of finer materials. Incubation ranges from 12 to 14 days and is carried out by the female. More
May that the only record of White-throated Robin this year was seen at Ipsilou. See, good birds do still turn up outside the main spring weeks! I've heard very little of what has been seen since I left the island on 15 May. Here are just a few of the more notable sightings - 21 MayKalloni Saltpans flooded fields - Spoonbill 3, Glossy Ibis 9, Mediterranean Gull (2nd winter), Whiskered Tern 2, Mallard 4 (all male), Garganey 1, Citrine Wagtail 1 (female). More
White-throated Robin Irania gutturalis = * Home Expand Log in Menu item Register Menu item Log out Menu item Change login details Menu item Why register? Expand UK & Ireland Menu item Birding sites More
White-throated Robin-chat = From Wikipedia, the free encyclopedia Jump to:navigation, search White-throated Robin-chat Conservation status Least Concern (IUCN 3. More
Information on the white-throated robin is currently being researched and written and will appear here shortly. Environment Agency - Abu Dhabi is a principal sponsor of ARKive. EAD is working to protect and conserve the environment as well as promoting sustainable development in the Emirate of Abu Dhabi. Authentication - This information is awaiting authentication by a species expert, and will be updated as soon as possible. More
White-throated Robin White-throated Robin White-throated Robin Irania gutturalis Irania gutturalis Irania gutturalis More
* White-throated Robin (this page) * Male Crimson-collared Grosbeak * Female Crimson-collared Grosbeak * Streaked Backed Oriole White-throated Robin = A White-throated Robin at Frontera Audubon Sanctuary, Weslaco, TX 14 Feb 2005 Field guide depictions of the rare Mexican robins are inconsistent. More
Description: White-throated Robin Muscicapidae Irania gutturalis Passeriformes 6570 For...(More)White-throated Robin Muscicapidae Irania gutturalis Passeriformes 6570 For more info and to see all my videos and much more go to http://worldbirds.netfirms.com/(Less) Channel: youtube Related Videos Quick search Quicklist (0) No videos on quicklist playStart playing clearClear saveSave This list is temporary even if You are logged in. More
White-throated Robin Irania gutturalis Black Redstart Phoenicurus ochruros ochruros Common Redstart Phoenicurus phoenicurus samamisicus Güldenstädt's Redstart Phoenicurus erythrogaster erythrogaster Whinchat Saxicola rubetra European Stonechat Saxicola rubicola rubicola Siberian Stonechat Saxicola maura armenica Isabelline Wheatear Oenanthe isabellina Northern Wheatear Oenanthe oenanthe libanotica Eastern Black-eared Wheatear Oenanthe melanoleuca Finsch's Wheatear Oenanthe finschii Persian Wheatear Oenanthe chrysopygia Rufous-tailed Rock Thrush Monticola saxatilis Blue Rock Thrush Monticola solitarius More
White-throated RobinI was joined by Vincent De Boer who came down from Gamla in northern Israel to sample some desert birding in the Arava in Spring. We started the day at km33 flats. The morning was cool and windless, but an hour or so yielded only Short-toed Larks, and Yellow Wagtails migrating north over the valley. 2 distant Bar-tailed Larks were nice, but the birds were few and far between. 1 young male Pallid Harrier is worth mentioning. More
Stamps showing White-throated Robin Irania gutturalis White-throated Robin Irania gutturalis White-throated Robin Irania gutturalis 208.011 White-throated Robin IOC v2.4: 8471 Links will open countrypage in new window - Isle of Man 18.02.1994 Calf of Man bird observatory - United Arab Emirates 18.11.1996 Birds - NO IMAGE PRESENTED - United Arab Emirates 24.06. More
White-throated Robin Irania gutturalis Other Names Records Books & Links Order: Passeriformes Family: Turdidae BTO Codes: , WHTRO EURING No: 11170 Number in Britain: Fewer than 20 records Conservation Status: More
Though MULTIPLE SIGHTINGS of White-throated Robins were reported during the winter season 2004-2005, by February many were becoming unreliable. Once again, the Frontera Audubon Thicket became THE PLACE to sight your Lifer and mega-rarity. Rare Birds from Winter 2005 included Crimson-collared Grosbeak, Blue Bunting, Elegant Trogon, and of course, this Robin. Frontera Audubon Thicket, near Frontera, TX. February-2005. Canon EOS-10D, EF 100-400mm F4.5-5.6L IS USM Lens. Speedlight 580 EX. More
The following photos of White-throated Robin were taken at Sulaibikhat Bay in 22/04/2003 الصور التالية التقطت في منطقة امغرة وهو على شجرة الغردق (الغرغد) بتاريخ 15/03/2002 The following bird was photographed on 15/03/2002 in Judaliyat area Hit Counter حقوق الطبع محفوظة ص ب 49272 العمرية، الكويت 85153 لأي استفسار الرجاء إرسال More
White-throated Robin-chat (Cossypha humeralis) = French: Cossyphe à gorge blanche German: Weißkehlrötel Spanish: Cosifa Gorgiblanca Other common names: White-shouldered Robin-chat Taxonomy: Dessonornis humeralis A. Smith, 1836, banks of the Marico River, western Transvaal, South Africa. Previously placed in genus Bessonornis. Proposed race crepuscula (from N & E of range) considered indistinguishable. Monotypic. Distribution: Zimbabwe and SE Botswana E to S Mozambique and NE South Africa. More