Palawan Flycatcher
Its natural habitat is subtropical or tropical moist lowland forests. It is threatened by habitat loss.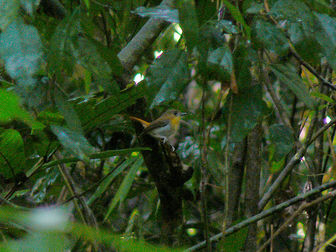 Picture of the Palawan Flycatcher has been licensed under a Creative Commons
Attribution-Share Alike
.
Original source
: markaharper1
Author
: markaharper1
The Palawan Flycatcher is classified as Vulnerable (VU), considered to be facing a high risk of extinction in the wild.

The Palawan Flycatcher (Ficedula platenae) is a species of bird in the Muscicapidae family. It is endemic to the Philippines. Its natural habitat is subtropical or tropical moist lowland forests. It is threatened by habitat loss. References - * BirdLife International 2004. Ficedula platenae. 2006 IUCN Red List of Threatened Species. Downloaded on 25 July 2007. More
The Palawan flycatcher is believed to occupy the forest understorey up to 10 metres from the ground, with a preference for rattan and understorey palms, although it is possible that this small species has simply gone unobserved in the canopy (3) (4). Biology - This shy, secretive bird is easily overlooked and little is known about its biology. More
Birds: Palawan Flycatcher was found in trashed bamboo about 400m down the road from the KM35 marker towards Puerto Princesa after playing its song. It hesitatingly responded to playback but soon fell silent. It came in to tape reluctantly after playing its song for several minutes and eventually afforded good views. More