Narcissus flycatcher
Narcissus Flycatcher males are very distinctive in full breeding plumage, having a black crown and mantle, a bright orange throat with paler chest and underparts, an orange-yellow eyebrow, black wings with a white wing patch, an orange-yellow rump, and a black tail. Non-breeding males have varying levels of yellow. Females are completely dissimilar, with generally buff-brown coloration, with rusty-colored wings, and a two-toned eyering.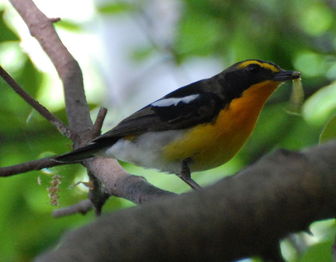 Picture of the Narcissus flycatcher has been licensed under a Creative Commons
Attribution-Share Alike
.
Original source
: originally posted to Flickr as Narcissus Flycatcher
Author
: KuriboPermission(Reusing this file)This image, which was originally posted to Flickr.com, was uploaded to Commons using Flickr upload bot on 19:35, 8 May 2008 (UTC) by Arthena (talk). On that date it was licensed under the license below. This file is licensed under the Creative Commons Attribution-Share Alike 2.0 Generic license.You are free:to share – to copy, distribute and transmit the work
The Narcissus flycatcher is classified as Least Concern. Does not qualify for a more at risk category. Widespread and abundant taxa are included in this category.

The Narcissus Flycatcher (Ficedula narcissina) is a passerine bird in the Old World flycatcher family. It is native to east Asia, from Sakhalin to the north, through Japan across through Korea, mainland China, and Taiwan, wintering in southeast Asia, including the Philippines and Borneo. It is highly migratory, and has been found as a vagrant from Australia in the south to Alaska in the north . More
* Unusual Narcissus Flycatcher in South Korea analysis in Birds Korea * Narcissus Flycatcher in Avibase * Narcissus Flycatcher song files This entry is from Wikipedia, the leading user-contributed encyclopedia. More
The Narcissus Flycatcher (Ficedula narcissina) is a passerine bird in the Old World flycatcher family. The name of the bird is a reference to the yellow color of many varieties of the narcissus flower. Distribution / Range It is native to east Asia, from Sakhalin to the north, through Japan across through Korea, mainland China, and Taiwan, wintering in southeast Asia, including the Philippines and Borneo. More
The Narcissus Flycatcher has a large range, estimated globally at 100,000 to 1,000,000 square kilometers. Native to Asia, the Russian Federation, and the United States, this bird prefers forest and shrubland ecosystems, though it can live in rural and urban areas. The global population of this bird has not been determined, but does not show signs of decline that would necessitate inclusion on the IUCN Red List. For this reason, the current evaluation status of the Narcissus Flycatcher is Least Concern. More
Narcissus Flycatcher males are very distinctive in full breeding plumage, having a black crown and mantle, a bright orange throat with paler chest and underparts, an orange-yellow eyebrow, black wings with a white wing patch, an orange-yellow rump, and a black tail. Non-breeding males have varying levels of yellow. Females are completely dissimilar, with generally buff-brown coloration, with rusty-colored wings, and a two-toned eyering. This species primarily feeds on insects, and lives in deciduous woodlands. Breeding males sing in repeated melodious whistles. More
vues kmotoha — 12 mai 2007 — narcissus flycatcher was singing on the top of the tree,I could'nt see her.She is my favorite singer.きびたきが高い木のテッ... kmotoha — 12 mai 2007 — narcissus flycatcher was singing on the top of the tree,I could'nt see her.She is my favorite singer. More
Unusual Narcissus Flycatchers in South Korea: nominate narcissina, owstoni or elisae? Birds Korea: Updated June 2005. Originally posted 2002, and updated with additional comments Dec 2004. - Introduction This note on an "odd-looking" Narcissus-type flycatcher was originally posted in early 2002, and as further unusual individuals have been seen, and as better information and images have become available, it has evolved a number of times. More
(formerly known as Chinese Narcissus Flycatcher), at which time they also realised the full significance of the record, ie. that it was the first for Hong Kong. The following description was taken at the time of observation. - - Both C.W. Melgar and R.J.L. Kemp made field-sketches, of which R.J.L. Kemp's is reproduced below. Figure 1. Male Green-backed Flycatcher Ficedula elisae at Tai Po Kau, Hong Kong 11th April 1996. More
'Forever, or The Love of Narcissus Flycatcher' by Josse De Pauw was translated and read by Michael Blass. The series Radio Books is an initiative of the Flemish-Dutch Huis de Buren in Brussels, in association with the Flemish radio broadcaster Klara and Radio Netherlands Worldwide. More
Narcissus Flycatcher by Griffin C.S. CHENG - Click Image to enter Slide Show SlideShow | Image Information | Contact the Photographer Image information - Description Portfolio Griffin C.S. More
Creeper Narcissus Flycatcher | Siberian Ruby Throat | Ruddy Kingfisher | Blakiston's Fish Owl Japanese Crane | Precis Orithya | Ariadne Ariadne | Hypolimnas Misippus Pithecops Corvus | Hypolimnas Bolina | Salatura Genutia | Precis Almana Go back to Video Library Copyright 1978-2007 Aqua Photo Studio. Kazutoshi Hiyeda. All Rights Reserved. It is illegal to copy any photos and text in this website. More
Narcissus Flycatcher: On a branch of Japanese Spindle Tree, Ficedula narcissina, Euonymus sieboldianus Narcissus Flycatcher: Stretching wings on a Japanese Flowering Dogwood, Ficedula narcissina, Kousa Dogwood, Benthamidia japonica Narcissus Flycatcher: On a twig with a Japanese Stewartia flower, Ficedula narcissina, Stewartia pseudocamellia Miyako Kingfisher, Ryukyu Kingfisher, Halcyon miyakoensis Miyako Kingfisher Narcissus Flycatcher 1 Narcissus Flycatcher 2 Narcissus Flycatcher 3 Blue-and-White Flycatcher: Singing on the top of Rosegold Pussy Willow, Cyanoptila cyanomelana, More