Mugimaki Flycatcher
It is 13 to 13.5 centimetres long. It has a rattling call and often flicks its wings and tail. The adult male has blackish upperparts with a short white supercilium behind the eye, a white wing-patch, white edges to the tertials and white at the base of the outer tail-feathers. The breast and throat are orange-red while the belly and undertail-coverts are white. The female is grey-brown above with a pale orange-brown breast and throat. She lacks white in the tail, has one or two pale wingbars rather than a white wing-patch and has a supercilium that is either faint or absent entirely. Young males are similar to the female but have a brighter orange breast, white in the tail and a more obvious supercilium.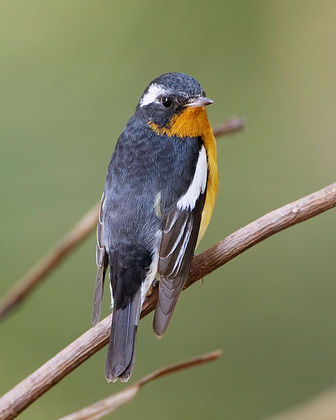 Picture of the Mugimaki Flycatcher has been licensed under a Creative Commons
Attribution-Share Alike
.
Original source
: Own work
Author
: JJ Harrison (http://www.noodlesnacks.com/)Camera location
The Mugimaki Flycatcher is classified as Least Concern. Does not qualify for a more at risk category. Widespread and abundant taxa are included in this category.

The Mugimaki Flycatcher (Ficedula mugimaki) is a small passerine bird of eastern Asia belonging to the genus Ficedula in the Old World flycatcher family, Muscicapidae. The name "mugimaki" comes from Japanese and means "wheat-sower". The bird is also known as the Robin Flycatcher. It is 13 to 13.5 centimetres long. It has a rattling call and often flicks its wings and tail. More
This Mugimaki Flycatcher was photographed on the Ebino Plateau highlands on the island of Kyushu, Japan. Photo taken with a Nikkor 300mm EDAF f4.0 lens on Kodachrome 200 film. More
English: Black-and-orange Flycatcher, Mugimaki Flycatcher, Robin Flycatcher Spanish: Papamoscas de Mugimak, Papamoscas de Mugimaki, Papamoscas Mugimaki Estonian: taiga-kärbsenäpp Finnish: Mantsuriansieppo, Mugimakisieppo French: Gobemouche des conifères, Gobemouche japonais, Gobemouche mugimaki Friulian: Regul Indonesian: Sikatan gunung, Sikatan Mugimaki Icelandic: Skógargrípur Italian: Balia di Mugimaki, Pigliamosche di Mugimaki, Pigliamosche mugimaki Japanese: ko-tsubame, mugimaki Japanese: コツバメ, ムギマキ Korean: 노랑딱새 Latin: Ficedula mugimaki More
For the purposes of our bird news services, Mugimaki Flycatcher is classed as Mega: species which have not yet occurred in the British Isles or are exceedingly rare, or are otherwise highly desirable. More
mugimaki flycatcherBack at Beidaihe the astonishing site of over 2500 White-winged Scoter in the bay off Lighthouse Point (perhaps as many as 4000) was difficult to comprehend; a male Chestnut Bunting was incredibly elusive – competing with Black-faced for the most secretive bunting. More
View all pictures of Mugimaki Flycatcher View all pictures of Mugimaki Flycatcher show section Products featuring Mugimaki Flycatcher (2) CD-ROM Guide to Rarer British Birds (CRRB: £19.50) Birding in China DVD (DVC: £12.50) show section External Links (0) We currently have no external links for this species. More