European Robin
The European Robin , most commonly known in Anglophone Europe simply as the Robin, is a small insectivorous passerine bird that was formerly classed as a member of the thrush family , but is now considered to be an Old World flycatcher . Around 12.5–14.0 cm in length, the male and female are similar in colouration, with an orange breast and face lined with grey, brown upperparts and a whitish belly. It is found across Europe, east to Western Siberia and south to North Africa; it is sedentary in most of its range except the far north.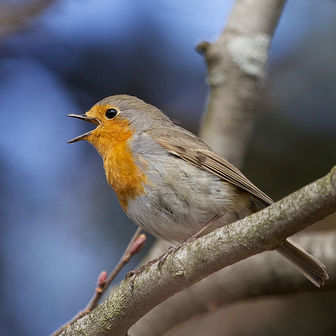 Picture of the European Robin has been licensed under a Creative Commons
Attribution-Share Alike
.
Original source
: originally posted to Flickr as Singing for spring - Version 2
Author
: Ernst ViknePermission(Reusing this file)This image, which was originally posted to Flickr.com, was uploaded to Commons using Flickr upload bot on 10:19, 16 April 2010 (UTC) by Snowmanradio (talk). On that date it was licensed under the license below. This file is licensed under the Creative Commons Attribution-Share Alike 2.0 Generic license.You are free:to share – to copy, distribute and transmit the work
The European Robin is classified as Least Concern. Does not qualify for a more at risk category. Widespread and abundant taxa are included in this category.

The European Robin (Erithacus rubecula), most commonly known in Anglophone Europe simply as the Robin, is a small insectivorous passerine bird that was formerly classed as a member of the thrush family (Turdidae), but is now considered to be an Old World flycatcher (Muscicapidae). Around 12.5–14.0 cm (5.0–5.5 in) in length, the male and female are similar in colouration, with an orange breast and face lined with grey, brown upperparts and a whitish belly. More
European robins have brown legs and their tail is bluntly square. They have large, black eyes and a small black bill. European robins have a lovely warm, warble that consists of a melodic rippling of notes. In autumn and winter, some say their song becomes more mournful and melancholy than it is in spring and summer. Their call is a sharp, highly pitched 'twick' or 'tick' that can be repeated in a series of rapid outbursts. More
The European Robin (Erithacus rubecula) or - in Europe - simply Robin is a small passerine bird that was formerly classed as a member of the thrush family, but is now considered to belong to the Old World flycatchers (Muscicapidae). European Robins and similar small European species are often called chats. It occurs all over Europe to Western Siberia, south to Algeria and on the Atlantic Ocean as far as the Azores and Madeira. In the south east, it reaches the Caucasus range. More
The European Robin was one of the many species originally described by Linnaeus in his 18th century work, Systema Naturae, under the name of Motacilla rubecula. Its specific epithet rubecula is a diminutive derived from the Latin ruber 'red'. The genus Erithacus was created by French naturalist Georges Cuvier in 1800, giving the bird its current binomial name of E. rubecula. More
song, the European Robin Erithacus rubecula is a familiar and much-loved species across most of the country - so well-known and well-regarded that it was chosen as Britain's National Bird in a public ballot in 1960, was overwhelmingly voted favourite garden bird in an online poll run by the The Royal Society for the Protection of Birds (RSPB) in 2004, and also won a Gold Medal Award after being voted Scotland's favourite bird in the RSPB Scotland Centenary Awards. More
European Robin is really the king of the gardens. Rather solitary outside the breeding season, it is very close to us in winter, begging some bread crumbs at the kitchen's door. It will consume also insects, worms, fruits, seeds, and will sing for us in at dawn as soon as the spring begins. Its melodious song charms us even if it awakes us! According to the areas, it is sedentary or migratory. More
* European robin, or robin redbreast (Erithacus rubecula). European robin, or robin redbreast (Erithacus rubecula). More
European RobinsThis tiny bird is a member of the thrush family, about 5 inches (13) cm long. It is very distinctive with its brown head and back, orange/red breast, pale belly, long legs and short tail. Robins are a common sight in the woodland, parks and gardens but they are very territorial. They feed on insects, fruits, seeds and worms. More
European Robin has been listed as one of the Natural sciences good articles under the good article criteria. If you can improve it further, please do so. If it no longer meets these criteria, you can delist it, or ask for a reassessment. More
The national bird of the United Kingdom, the European robin is a compact songbird and a common sight in many gardens, woodlands and backyards. Despite their amiable appearance, however, these can be very aggressive and territorial birds. More
and decorations like the European Robin does in Europe. The Australian "robin redbreast", more correctly the Scarlet Robin, is more closely related to the crows and jays than it is to the European Robin. Links * http://www.rspb.org.uk/birds/guide/r/robin/index.asp * http://www.bbc.co.uk/nature/wildfacts/factfiles/253.shtml * http://www.birdsofbritain.co.uk/bird-guide/robin.htm * http://www.digidylan.co.uk/pics_robin/robin_index.php * Listen to the robin at http://www.bbc.co.uk/nature/programmes/radio/dawn_chorus/video/robin_song. More
The European Robin - a symbol of Christmas - Here in the UK, few things say Christmas quite as much as the European robin. You'll find this favourite British bird on greetings cards, Christmas cakes, tree ornaments and decorations everywhere. In fact, the Christmas greetings card has its origins in Victorian England, so it is no surprise that the robin became one of the most popular Christmas motifs. More
A European robin, Erithacus rubecula An American robin, Turdus migratorius Pronunciation * (UK) IPA: /ˈrɒb.ɪn/, SAMPA: /"rQb.In/ * Audio (US) Play sound (file) Rhymes: -ɒbɪn * (GenAm) IPA: /ˈrɑb.ɪn/, SAMPA: /"rAb. More
European robin, or robin redbreast (Erithacus rubecula). The European robin, or robin redbreast, is a chat-thrush (subfamily Saxicolinae) that breeds throughout Europe, western Asia, and parts of North Africa. It is migratory in northern Europe but only partially so or sedentary farther south. It is a plump, small-billed bird, 14 cm (5.5 inches) long, with brownish olive upperparts, white belly, and rusty-orange face and breast. The European robin feeds mainly on insects. More
The European Robin - National Bird of Britain Britain chose the European Robin Erithacus rubecula as their national bird in the 1960s. The bird is lovely, has a beautiful singing voice, and is very protective over its territory. The bird is well known to gardeners, as it enjoys poking around for worms and insects in gardens. They enjoy fruits and berries as well. They are fairly small and both sexes look alike. Parents may raise up to 3 batches of young each year. More
The European Robin was featured in a main way in the movie Gladiator. At the very beginning of the movie, General Maximus is preparing for the battle. He comes across a European Robin, which sits and watches him for a while before flying away. Maximus watches it leave. With the fierce territoriality of this bird, it both represented the gardens of Maximus' home, and the determination of the Germans to protect their homeland. More about birding in Gladiator. More
European Robin on Birch = European Robin on Birch - Price: $110.00 ea - Stock#: W4193 Price: $110. More
European Robin on Bi... Condition: new Stock#: W4193 European Robin on Birch View PRICE: $110.00 Shipping is FREE! Return to go to Bovano of Cheshire Home Page http://www.bovano. More