Blue-throated Flycatcher
The Blue-throated Flycatcher is a small passerine bird in the flycatcher family Muscicapidae. It resembles Cyornis tickelliae but easily separated by the blue throat. The habitat of this species is a thicker forest than other species of flycatchers. The Blue-Throated Flycatcher is found all through the Himalayas, the plains and Western Ghats of India in the cold months, and also extends into Arkan and Tenasserim.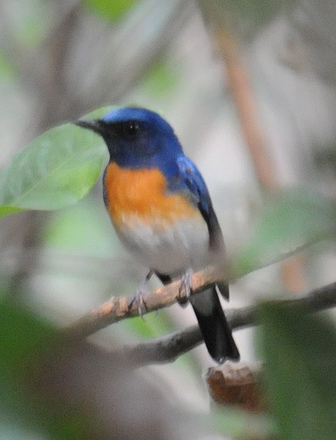 Picture of the Blue-throated Flycatcher has been licensed under a Creative Commons
Attribution
.
Original source
: Badjoby
Author
: Badjoby
The Blue-throated Flycatcher is classified as Least Concern. Does not qualify for a more at risk category. Widespread and abundant taxa are included in this category.

The Blue-throated Flycatcher (Cyornis rubeculoides) is a small passerine bird in the flycatcher family Muscicapidae. It resembles Cyornis tickelliae but easily separated by the blue throat. The habitat of this species is a thicker forest than other species of flycatchers. The Blue-Throated Flycatcher is found all through the Himalayas, the plains and Western Ghats of India in the cold months, and also extends into Arkan and Tenasserim. More
Blue-throated Flycatcher (Cyornis rubeculoides) which resembles this but has a blue throat. Habitat and distribution - The Tickell's Blue Flycatcher breeds in dry forest, scrub, bamboo and gardens. Behaviour and ecology - The metallic song of the bird includes a series of clicks followed by five or six notes that end abruptly. More
Blue-throated Flycatcher Forward | Print | Individual message | Show original | Report this message | Find messages by this author Dear friends, Shot at the Gorumara NP., W.B., on 10.03.2010 - Regards Biswapriya - You received this message because you are subscribed to the Google Groups "delhibirdpix" group. To post to this group, send email to delhibirdpix@googlegroups.com. To unsubscribe from this group, send email to delhibirdpix+unsubscribe@googlegroups.com. More
Blue-throated Flycatcher Forward | Print | Individual message | Show original | Report this message | Find messages by this author Hi, A male Blue-throated Flycatcher, Deulpur, Howrah dist. 13.2.2010. Regards, Kshounish Ray Blue-throated-Flycatcher-5442.jpg 224K Download Forward You must Sign in before you can post messages.To post a message you must first join this group.Please update your nickname on the subscription settings page before posting. More
Blue-throated Flycatcher Cyornis rubeculoides glaucicomans Blue-throated Flycatcher Photographer : More
Blue-throated Flycatcher Cyornis rubeculoides - Blue-throated Flycatcher Cyornis rubeculoides copyright Devashish Deb; 19 June 2006; Gaurikund, near Kedarnath, Uttaranchal Blue-throated Flycatcher Cyornis rubeculoides copyright Nikhil Devasar; April 2006; Sattal - Uttaranchal COPYRIGHT: delhibird - The Northern India Bird Network. All rights reserved. More
* Blue-throated Flycatcher, Cyornis rubeculoides : The Blue-throated Flycatcher is a small passerine bird in the flycatcher family Muscicapidae. It resembles Cyornis tickelliae but easily separated by the blue throat. More
Blue-throated Flycatcher (Cyornis rubeculoides) is a resident in Himalayas and north-east India. This bird winters in the hills of south-west India and east Himalayan foothills. More
Blue-throated Flycatcher Cyornis rubeculoides = Described by: Vigors (1831) Alternate common name(s): Blue-throated Niltava, Blue-throated Blue-flycatcher, Chinese Flycatcher, Chinese Blue-flycatcher Old scientific name(s): Niltava rubeculoides Photographs No photographs are available for this species Range Himalayas to e. China, w. and e. Indochina; Two populations; (1) Ne. Pakistan, n. and ne. India and Burma. Winters in s. India. More