White-throated Robin-Chat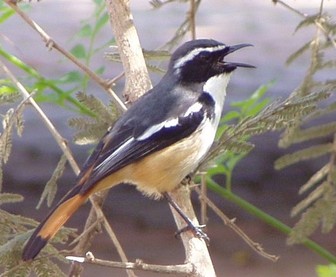 Picture of the White-throated Robin-Chat has been licensed under a Creative Commons
Attribution-Share Alike
.
Original source
: originally posted to Flickr as White-throated Robin-Chat (Cossypha humeralis)
Author
: Alan MansonPermission(Reusing this file)This image, which was originally posted to Flickr.com, was uploaded to Commons using Flickr upload bot on 22:01, 14 February 2009 (UTC) by Ltshears (talk). On that date it was licensed under the license below. This file is licensed under the Creative Commons Attribution-Share Alike 2.0 Generic license.You are free:to share – to copy, distribute and transmit the work
The White-throated Robin-Chat is classified as Least Concern. Does not qualify for a more at risk category. Widespread and abundant taxa are included in this category.

The White-throated Robin-chat (Cossypha humeralis) is a species of bird in the Muscicapidae family. It is found in Botswana, Mozambique, South Africa, Swaziland, and Zimbabwe. Its natural habitats are dry savanna and subtropical or tropical dry shrubland. References - * BirdLife International 2004. Cossypha humeralis. 2006 IUCN Red List of Threatened Species. Downloaded on 25 July 2007. More
* White-throated Robin-Chat, Cossypha humeralis * Blue-shouldered Robin-Chat, Cossypha cyanocampter * Gray-winged Robin-Chat, Cossypha polioptera * Rueppell's Robin-Chat, Cossypha semirufa * White-browed Robin-Chat, Cossypha heuglini * Red-capped Robin-Chat, Cossypha natalensis * Chorister Robin-Chat, Cossypha dichroa * White-headed Robin-Chat, Cossypha heinrichi * Snowy-crowned Robin-Chat, Cossypha niveicapilla * White-crowned Robin-Chat, Cossypha albicapilla More
White-throated Robin-chat Cossypha humeralis 2009 IUCN Red List Category (as evaluated by BirdLife International - the official Red List Authority for birds for IUCN): Least Concern Justification This species has a very large range, and hence does not approach the thresholds for Vulnerable under the range size criterion (Extent of Occurrence 30% decline over ten years or three generations). More
White-throated Robin-Chat in the undergrowth - Adult Photographer More
White-throated Robin-Chat | Cossypha humeralis = The White-throated Robin-Chat is a Southern African bird that belongs to the Muscicapidae bird family group which includes birds such as Thrushes, Robins, Chats, Old World Flycatchers. The description for the White-throated Robin-Chat (Latin name Cossypha humeralis) can be found in the 7th Edition of the Roberts Birds of Southern Africa. More
White-throated Robin-Chat Cossypha humeralis = Ngwenya, adjacent to Kruger National Park, South Africa - Oct 1, 2006 More
White-throated Robin-Chat Cossypha humeralis = Described by: Smith, A. More
White-throated Robin-Chat and White-browed Scrub-Robin being common throughout. Shrikes too are plentiful, with Southern Boubou, Gorgeous Bush-Shrike, Orange-breasted Bush-Shrike, Olive Bush-Shrike, Grey-headed Bush-Shrike, Black-backed Puffback, Black-crowned Tchagra and Brown-crowned Tchagra all being seen and heard regularly. Raptor species seen commonly include African Goshawk, Little Sparrowhawk and African Cuckoo Hawk. In the late evening Fiery-necked Nightjar and Freckled Nightjar are commonly heard, so too are African Wood-Owl and Spotted Eagle-Owl. More
White-throated Robin-Chat (Latin name Cossypha humeralis) is described in Roberts Birds of Southern Africa, 7th Edition. This bird has a unique Roberts number of 602 and you will find a full description of this bird on page 930 also a picture of the White-throated Robin-Chat on page 960. The White-throated Robin-Chat belongs to the family of birds classified as Muscicapidae. According to the Percy FitzPatrick Institute of African Ornithology the White-throated Robin-Chat is also known by these other names: African White-throated Robin. More
White-throated Robin-Chat Cossypha humeralis WT25207 WT26689 More