Cape Robin-Chat
It is a mainly resident breeder in southern and eastern Africa from Kenya south to Namibia, Zambia, Zimbabwe, South Africa, Lesotho, and Swaziland. It is a common species at forest edges and in scrub, fynbos, karoo, plantations, gardens and parks.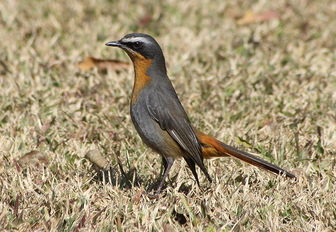 Picture of the Cape Robin-Chat has been licensed under a Creative Commons
Attribution-Share Alike
.
Original source
: Cape robin-chatUploaded by berichard
Author
: derekkeats
The Cape Robin-Chat is classified as Least Concern. Does not qualify for a more at risk category. Widespread and abundant taxa are included in this category.

The Cape Robin-Chat, Cossypha caffra, is a small passerine bird of the Old World flycatcher family Muscicapidae. It is a mainly resident breeder in southern and eastern Africa from Kenya south to Namibia, Zambia, Zimbabwe, South Africa, Lesotho, and Swaziland. It is a common species at forest edges and in scrub, fynbos, karoo, plantations, gardens and parks. Description - Rear view of juvenile The Cape Robin-Chat is 16–17 cm long. More
The Cape Robin-Chat! This announcement (heard on Cape Talk / Radio 702 this morning) comes just before the upcoming Bird Week (4 - 10 May 2009). More
For the purposes of our bird news services, Cape Robin-Chat is classed as Ungraded: species which are unlikely to appear as wild birds in Britain or Ireland hide section Most recent photos of Cape Robin-Chat (5) Hermanus Bay, South Africa Hermanus Bay, South Africa25/08/2009 Hermanus Bay, South Africa 25/08/2009 Augrabies Falls, Northern Cape, South Africa Augrabies Falls, Northern Cape, South Africa06/10/2008 Augrabies Falls, Northern Cape, South Africa 06/10/2008 Augrabies Falls, Northern Cape, South Africa More
A widespread bird in Southern Africa, Cape Robin-chats occur in scrub, forest edge, gardens and plantations, and along watercourses in dry country. More
The Cape Robin-Chat has a harsh, low 3 syllabled alarm note WA-dredra. The Afrikaans name "JAN Frederik" is a useful rendition if the syllables of the latter part run close together. The song consists of variable short passages of notes, always starts with low slurred whistle. This species nests from June to November in the South-western Cape and August to January elsewhere, but may nest at any time of the year. More
Cape Robin-Chat Cossypha caffra Cape Robin-Chat Cossypha caffra Cape Robin-Chat Cossypha caffra Distribution map for Cape Robin-Chat, range 208.014 Cape Robin-Chat IOC v2.4: 8476 Links will open countrypage in new window - Lesotho 20.04.1981 Birds p 14 More
Alternate common name(s): Cape Robin-chat, Cape Robin, Common Robin-chat, Robin-chat Old scientific name(s): None known by website authors Photographs Kenya - Aug, 2003 More
cape robin chat kruger national park birds The Cape Robin-Chat (Latin name Cossypha caffra) is described in Roberts Birds of Southern Africa, 7th Edition. This bird has a unique Roberts number of 601 and you will find a full description of this bird on page 928 also a picture of the Cape Robin-Chat on page 960. The Cape Robin-Chat belongs to the family of birds classified as Muscicapidae. According to the Percy FitzPatrick Institute of African Ornithology the Cape Robin-Chat is also known by these other names: Robin-Chat. More