Spotted Morning-Thrush
The Spotted Morning-thrush is a species of bird in the Muscicapidae family. It is found in Democratic Republic of the Congo, Ethiopia, Kenya, Somalia, Sudan, Tanzania, and Uganda. Its natural habitats are subtropical or tropical dry forests, dry savanna, and subtropical or tropical moist shrubland.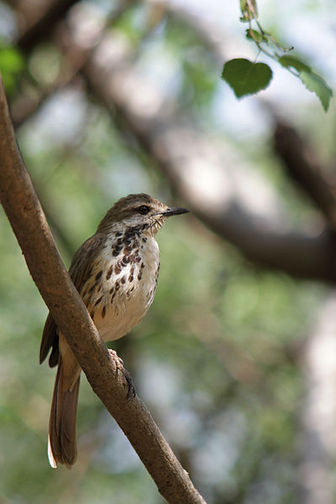 Picture of the Spotted Morning-Thrush has been licensed under a Creative Commons
Attribution
.
Original source
: Spotted Morning ThrushUploaded by Snowmanradio
Author
: Valentina Storti from Verona, Italia
The Spotted Morning-Thrush is classified as Least Concern. Does not qualify for a more at risk category. Widespread and abundant taxa are included in this category.

The Spotted Morning-thrush (Cichladusa guttata) is a species of bird in the Muscicapidae family. It is found in Democratic Republic of the Congo, Ethiopia, Kenya, Somalia, Sudan, Tanzania, and Uganda. Its natural habitats are subtropical or tropical dry forests, dry savanna, and subtropical or tropical moist shrubland. References - * BirdLife International 2004. Cichladusa guttata. 2006 IUCN Red List of Threatened Species. Downloaded on 25 July 2007. More
The Spotted Morning-thrush is found in eastern sub-Saharan Africa. These were seen at Lake Manyara and Olduvai Gorge in Tanzania. The Spotted-morning thrush is identified by its strongly spotted chest. Here also with rufous tail. This ID probably needs confirmation… Spotted Morning Thrush - Cichladusa guttataMore photos... More
For the purposes of our bird news services, Spotted Morning-thrush is classed as ungraded: species which are unlikely to appear as wild birds in Britain or Ireland (Note that rarity levels are currently applied nationally and may not reflect local variations in abundance.) hide section Most recent photos of Spotted Morning-thrush (2) Samatian Island Lake Baringo, Kenya Samatian Island Lake Baringo, Kenya09/04/2010 Samatian Island Lake Baringo, Kenya 09/04/2010 Lake Manyara N.P., Tanzania Lake Manyara N.P. More