Chat Flycatcher
The Chat Flycatcher is a species of bird in the Muscicapidae family. It is found in Angola, Botswana, Namibia, and South Africa. Its natural habitat is dry savanna.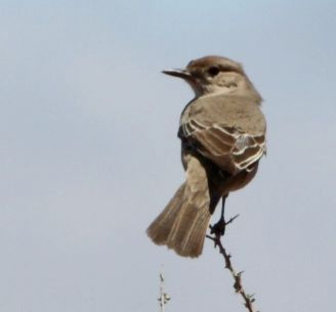 Picture of the Chat Flycatcher has been licensed under a Creative Commons
Attribution-Share Alike
.
Original source
: Alan Manson
Author
: Alan Manson
The Chat Flycatcher is classified as Least Concern. Does not qualify for a more at risk category. Widespread and abundant taxa are included in this category.

The Chat Flycatcher (Bradornis infuscatus) is a species of bird in the Muscicapidae family. It is found in Angola, Botswana, Namibia, and South Africa. Its natural habitat is dry savanna. References - * BirdLife International 2004. Bradornis infuscatus. 2006 IUCN Red List of Threatened Species. Downloaded on 25 July 2007. Stub icon This article about an Old World flycatcher is a stub. More
* Chat Flycatcher, Bradornis infuscatus * Mariqua Flycatcher, Bradornis mariquensis * African Grey Flycatcher, Bradornis microrhynchus * Genus Melaenornis * Angola Slaty Flycatcher, Melaenornis brunneus * White-eyed Slaty Flycatcher, Melaenornis fischeri More
Chat Flycatcher Bradornis infuscatus WT19464 WT19477 Brandvlei, South Africa; Nov 2006 (2) home family list next species back to flycatcher More
Bird Images from Southern Africa - Chat Flycatcher Bradornis infuscatus (697) - This conspicuous flycatcher often perches on telephone wires and is found in the Karoo and Namibia. More
Chat Flycatcher Bradornis infuscatus = Described by: Smith, A. (1839) Alternate common name(s): African Brown Flycatcher, Brown Bradornis, Brown Chat-flycatcher Old scientific name(s): Melaenornis infuscatus Photographs Etosha National Park, Namibia - Jul, 2004 More
Chat Flycatcher Bradornis infuscatus = Etosha National Park, Namibia - Jul, 2004 More
Chat Flycatcher - Bradornis infuscatus Gobemouche traquet = Gobemouche traquet Small-Headed Flycatcher.: Seen Yesterday. He Didn't Leave His Name. and Other Stories Gallery : © Yvonnik Lhomer Site web : Ypix Order : Passériformes Family : Muscicapidae Species : Chat Flycatcher Reference: yvlh10637 Other pictures Date taken : NC Copy forbidden without prior authorization. More
Chat Flycatcher Bradornis infuscatus African Grey Flycatcher Bradornis microrhynchus Ethiopian Grey Flycatcher Bradornis pumilus Marico Flycatcher Bradornis mariquensis Fiscal Flycatcher Sigelus silens Silverbird Empidornis semipartitus Streak-breasted Jungle Flycatcher Rhinomyias additus Russet-backed Jungle Flycatcher Rhinomyias oscillans Brown-chested Jungle Flycatcher Rhinomyias brunneatus Nicobar Jungle Flycatcher Rhinomyias nicobaricus Fulvous-chested Jungle Flycatcher Rhinomyias olivaceus Grey-chested Jungle Flycatcher Rhinomyias umbratilis Rufous-tailed Jungle Flycatcher Rhinomyias ruficauda Henna-tailed More
Rufous-eared Warbler, Chat Flycatcher, and African Rock Pipit. Habitats Flat karooveld and riverine bushes, cliffs and mountainous areas. Facilities Include a good network of roads, a bird hide, self-guided trails, 4 x 4 drive, night drives, accommodation and caravan park. Birding Maps, bird lists and directions are available at the reception. Bookings can also be made night drives. 1. Lammertjiesleegte circular drive (13 km and approx. More
the chat flycatcher, which is larger, all brown in colour other than pale wing-edges; the bluegrey flycatcher, which has blue grey upperparts and lighter grey underparts, and the spotted flycatcher which has a streaked crown, is larger and slimmer than the dusky flycatcher and is more widely spread. Habitat: Dusky flycatchers are found in evergreen and riverine forests, woodland thickets, plantations, parks and gardens. More