Madagascar Wagtail
Its natural habitats are subtropical or tropical seasonally wet or flooded lowland grassland and rivers.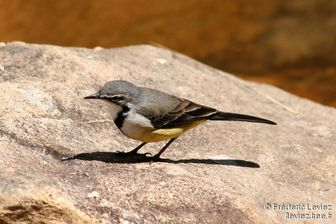 Picture of the Madagascar Wagtail has been licensed under a
GFDL
Original source
: Fred.leviez
Author
: Fred.leviez
Permission
: GNU Free Documentation License
The Madagascar Wagtail is classified as Least Concern. Does not qualify for a more at risk category. Widespread and abundant taxa are included in this category.

The Madagascar Wagtail (Motacilla flaviventris) is a species of bird in the Motacillidae family. It is endemic to Madagascar. Its natural habitats are subtropical or tropical seasonally wet or flooded lowland grassland and rivers. References - * BirdLife International 2004. Motacilla flaviventris. 2006 IUCN Red List of Threatened Species. Downloaded on 26 July 2007. Stub icon This Passeroidea-related article is a stub. More
* Madagascar Wagtail Motacilla flaviventris * Mountain Wagtail Motacilla clara The Mekong Wagtail was described as new to science only in 2001. References - * Voelker, Gary (2002): Systematics and historical biogeography of wagtails: Dispersal versus vicariance revisited. Condor 104(4): 725–739. DOI: 10.1650/0010-5422(2002)1042.0. More
* Madagascar Wagtail Motacilla flaviventris * Citrine Wagtail Motacilla citreola * Blue-headed Wagtail Motacilla flava * Grey Wagtail Motacilla cinerea * Mountain Wagtail Motacilla clara The Mekong Wagtail was described as new to science by Duckworth et al. (2001). Copyright: Wikipedia. This article is licensed under the GNU Free Documentation License. It uses material from Wikipedia. More
Madagascar Wagtail Motacilla flaviventris = near Andasibe, Madagascar - Dec, 2006 More
Madagascar Wagtail Motacilla flaviventris = Described by: Hartlaub (1860) Alternate common name(s): Madagascaran Wagtail Old scientific name(s): None known by website authors Photographs near Andasibe, Madagascar - Dec, 2006 More
Madagascar Wagtail - Motacilla flaviventris Bergeronnette malgache = Bergeronnette malgache Gallery : © Catherine Amat Order : Passériformes Family : Motacillidae Species : Madagascar Wagtail Reference: caam73867 Other pictures Date taken : 2005 Jul Geographic data Country : Madagascar (ma) Region : Faritany d' Antsiranana Place : Baie des dunes Latitude : 12° 16' 54'' More
* Madagascar Wagtail Motacilla flaviventris * White Wagtail Motacilla alba. Several races, including: * Motacilla alba alba * Motacilla alba yarrellii, the Pied Wagtail. * Grey Wagtail Motacilla cinerea * Blue-headed Wagtail Motacilla flava. Several races differing in head colour. - The Willie Wagtail (Rhipidura leucophrys) of Australia is unrelated. More
Madagascar Wagtail, Motacilla flaviventris Motacillidae (WAGTAILS & PIPITS) Madagascar Wagtail, Motacilla flaviventris This photo was taken in: Madagascar Notes on this photo: Madagascar Toamasina Province Perinet National Park The photo was taken by: Theo Groenestein , Madagascar reports Bird watching trip reports from Madagascar Birdtours.co. More