Cape Longclaw
The Cape Longclaw is a 19-20 cm long. The adult male has a grey head with a buff supercilium and a streaked blackish back. It has a bright orange gorget, black breast band and otherwise yellow underparts. The female is duller, having a yellow throat and much weaker breast band. The juvenile has a dirty yellow throat, indistinct breast band, and yellowish white underparts.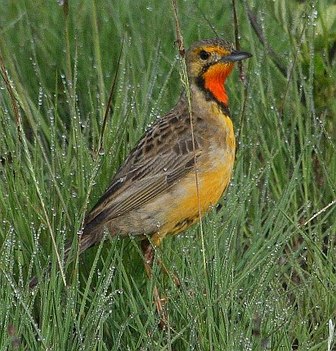 Picture of the Cape Longclaw has been licensed under a Creative Commons
Attribution-Share Alike
.
Original source
: Alan Manson
Author
: Alan Manson
The Cape Longclaw is classified as Least Concern. Does not qualify for a more at risk category. Widespread and abundant taxa are included in this category.

The Cape Longclaw or Orange-throated Longclaw, Macronyx capensis, is a passerine bird in the family Motacillidae, which comprises the longclaws, pipits and wagtails. It occurs in Southern Africa in Zimbabwe and southern and eastern South Africa. This species is found in coastal and mountain grassland, often near water. The Cape Longclaw is a 19-20 cm long. The adult male has a grey head with a buff supercilium and a streaked blackish back. It has a bright orange gorget, black breast band and otherwise yellow underparts. More
* Cape Longclaw, Macronyx capensis * Yellow-throated Longclaw, Macronyx croceus * Fuelleborn's Longclaw, Macronyx fuellebornii * Sharpe's Longclaw, Macronyx sharpei * Abyssinian Longclaw, Macronyx flavicollis * Pangani Longclaw, Macronyx aurantiigula * Rosy-throated Longclaw, Macronyx ameliae * Grimwood's Longclaw, Macronyx grimwoodi. References - * Perrins, Christopher (ed.) (2003). More
Grassbird, Cape Longclaw and African Stonechat. Raptors often appear along this stretch, the most common being jackal and Steppe Buzzard, Black-shouldered Kite, and sometimes African Goshawk. 6. Cape St Francis and Seal Point Nature Reserves. Both have rocky promontories, which jut into the sea. From these you can see Cape Gannet and terns diving for fish. African Black Oystercatcher, gulls, and cormorants are always there, and often skuas and Ruddy Turnstone can be seen. More
Cape longclaw, Strandfontein Sewerage Works, Western Cape, South Africa. Macronyx capensis (Cape longclaw, Orange-throated longclaw) Macronyx capensis (Cape longclaw, Orange-throated longclaw) Cape longclaw, Barberspan, South Africa. Cape longclaw juvenile, Strandfontein Sewage Works, South Africa. More
In southern Africa, the range of Cape Longclaw is predicted to retreat to upland areasParent Theme © Gerhard Theron Cape Longclaw is endemic to grasslands in southern Africa. Climate change modeling shows that the range is projected to retreat south and contract considerably. The species could become extinct in Botswana and may be largely confined to regions of higher ground in South Africa. More
The Cape Longclaw has a grey-brown back and wings, the feathers having pale edges, which creates a "scaly" appearance. It has bright, patterned underparts. The belly and lower breast are yellow, and a black bib separates the yellow belly from an orange throat. There is a yellow eyebrow extending from the base of the upper mandible to the back of the head. In flight, the tail is usually held spread out - and the white tips can be easily seen. More
Stamps showing Cape Longclaw Macronyx capensis Cape Longclaw Macronyx capensis Cape Longclaw Macronyx capensis Cape Longclaw Macronyx capensis Cape Longclaw Macronyx capensis Cape Longclaw Macronyx capensis Cape Longclaw Macronyx capensis 219.010 Cape Longclaw IOC v2.4: 9284 Links will open countrypage in new window - Burkina Faso 01.10.1998 Birds Sheet - Ciskei 04.12.1981 Birds - Lesotho 20.04. More
Cape Robin-Chat, Cape Longclaw and others are also to be found here. Finally we visit the Cape Recife Marine and Coastal Reserve, which incorporates beach, rocky outcrops, fresh-water ponds. dune fynbos and dune-land scrub. A wide variety of species ranging from beach and sea-birds, duck, marsh-dwellers and coastal scrub species should be seen. These include White-breasted, Reed and Cape Cormorant, Cape Gannet, Roseate, Swift, Caspian, Antarctic and the diminutive Damara Tern. More
Cape Longclaw - Macronyx capensis Sentinelle du Cap = Sentinelle du Cap Comment : They are common and live in coastal and upland grasslands. The species is endemic to Africa and usually found in pairs. Ils sont communs et vivent dans les zones herbeuses côtières ou d'altitude. Cette espèce est endémique d'Afrique. On les trouve habituellement en couples. More
Cape Longclaw - Macronyx capensis Sentinelle du Cap = Sentinelle du Cap Le guide ornitho : Les 848 espèces d'Europe en 4000 dessins Gallery : © Vatar Bourgogne Site web : escapades-ornitho Order : Passériformes Family : Motacillidae Species : Cape Longclaw Reference: evvb57081 Other pictures Exif data Model : NIKON CORPORATION NIKON D70 Exposure : 1/800 More
The Cape Longclaw (Macronyx capensis) is a passerine bird in the longclaw family Motacillidae, which also includes the pipits and wagtails. In Southern Africa it is more commonly known as an Orange-throated Longclaw. It is a 19-20cm long, cryptically colored African grassland bird. Usually found in pairs year round and is easily recognised by a bright orange gorget (both sexes). More
Cape Longclaw Macronyx capensis D15333 D15344 D15339 Wakkerstroom, South Africa; Dec 2008 (3) D12111 D12123 Springfontein, South Africa; Nov 2008 (2) WT04075 WT19881 nest More