Meadow Pipit
This is a widespread and often abundant small pipit. It is an undistinguished looking species on the ground, mainly brown above and buff below, with darker streaking on most of its plumage. It has pale pink legs and a thin bill. The call is a weak tsi-tsi. The simple repetitive song is given in a short song flight.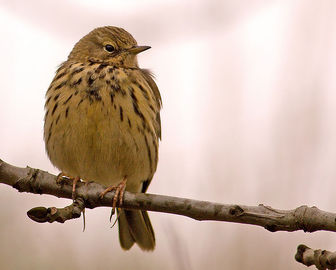 Picture of the Meadow Pipit has been licensed under a
GFDL
Original source
: English wikipedia
Author
: Myosotis Scorpioides and retouched by Papa Lima WhiskeyPermission(Reusing this file)wikipedia user Myosotis Scorpioides, the copyright holder of this work, hereby publishes it under the following license:Permission is granted to copy, distribute and/or modify this document under the terms of the GNU Free Documentation License, Version 1.2 or any later version published by the Free Software Foundation; with no Invariant Sections, no Front-Cover Texts, and no Back-Cover Texts. A copy of the license is included in the section entitled GNU Free Documentation License.www.gnu.org/copyleft/fdl.htmlGFDLGNU Free Documentation Licensetruetrue
Permission
: GNU Free Documentation License
The Meadow Pipit is classified as Least Concern. Does not qualify for a more at risk category. Widespread and abundant taxa are included in this category.

Meadow Pipit - Anthus pratensis Pipit farlouse = Pipit farlouse Gallery : © Alex et Marie Beauquenne Site web : favieres-photos-nature. More
The Meadow Pipit or Titlark, Anthus pratensis, is a small passerine bird which breeds in much of the northern half of Europe and Asia. It is migratory over most of its range, wintering in southern Europe, north Africa and southern Asia, but is resident in Ireland, Great Britain, and neighbouring coastal areas of western Europe. However, even here, many birds move to the coast or lowlands in winter. This is a widespread and often abundant small pipit. More
Meadow Pipit in Europe). The distances involved do not have to be that long; the Mountain Pipit of southern Africa breeds in the Drakensberg of South Africa and migrates north only as far as Angola and Zambia. Migration is usually undertaken in groups, and may happen both during the day and at night. There is some variation in this, for example the Sprague's Pipit of North America apparently only migrates by day. More
Meadow Pipits are relatively common inhabitants of the heather moorland on Cannock Chase. Similar in appearance to Tree Pipits, the two birds can be distinguished by behaviour and habitat. Both birds take off on short song flights, but Tree pipits will usually launch from a favoured treetop perch which they will generally return to, whereas the Meadow Pipit will usually launch from nearer the ground and will not generally return to a specific point. More
Synonym of meadow pipit in thesaurus Meadow pipit Translation = More Languages: Meadow pipit Translation On Other Language: English Spanish Croatian Meadow pipit in English meadow pipit n : a common pipit that is brown above and white below; widely distributed in northern and central europe and in asia meadow pipit (zo?l.), a small singing bird of the genus anthus, as a. More
A Meadow Pipit pictured in July 2008 The nest is on the ground. The Meadow Pipit's food is primarily insects with some seeds. This species is one of the hosts of the Common Cuckoo. In the UK this species is sometimes called a "mippit" by birders. References - * BirdLife International (2004). Anthus pratensis. 2006. IUCN Red List of Threatened Species. IUCN 2006. www.iucnredlist.org. More
meadow pipit, Anthus pratensis = Definition: meadow pipit, Anthus pratensis - a common pipit that is brown above and white below; widely distributed in northern and central Europe and in Asia Home of Wiki & Reference Answers, the world's leading Q&A siteReference AnswersEnglish▼English▼ Deutsch Español Français Italiano Tagalog * * Search unanswered questions... More
Meadow Pipit Anthus pratensis = * Home Expand Log in Menu item Register Menu item Log out Menu item Change login details Menu item Why register? Expand UK & Ireland Menu item Birding sites More
Aspects of the topic meadow pipit are discussed in the following places at Britannica. Assorted References * coevolutionary alternation (in community ecology: Coevolution of one species with several species) ...The cuckoos behave as brood parasites, laying their eggs in the nests of other avian species and depending on these hosts to raise their young. More
Meadow Pipits Anthus pratensis migrate south in autumn through Britain. More
Nominate for Meadow Pipit in the encyclopedia? Relevant to Meadow Pipit in the encyclopedia? Was in Meadow Pipit in the encyclopedia Yes No Yes Yes No Nominate to enable voting on this photo for the Meadow Pipit encyclopedia article You'll get 50 nominations tomorrow Cancel Submit Report NominateVote downVote upPhoto detailsFull window 00 Icon_wikipedia Wikipedia Article Meadow Pipit More
The Meadow Pipit looks like a Song Thrush, but is only slightly larger than a Great Tit. The male and female Meadow Pipits are alike. Typically, the upperparts are grey to olive-brown in colour with darker streaks. The underparts are pale grey or buff coloured with bold streaks and spots on the breast and flanks. The belly and outer tail feathers are white. The legs are a dull pink. Juvenile Meadow Pipits are pinkish-buff and lack the dark streaks on the flanks. More
This Meadow Pipit was photographed at Quendale, Mainland, Shetland, Scotland, Great Britain. Photo taken with a Nikkor 300mm EDAF-S f4 lens (EFL=450mm) on a Nikon D100 camera. More
The RSPBMeadow pipit with caterpillar in beakMoorland landscape with heather in August Meadow pipit on barbed wire fence * A * B * C * D * E * F * G * H * I * J * K * L More
Meadow Pipit, Isle of Man, Derbyhaven 08/05/04 © Pete Hadfield more pics on the website http://www.iombirding.co. More
meadow pipitn (Life Sciences & Allied Applications / Animals) a common European songbird, Anthus pratensis, with a pale brown speckled plumage: family Motacillidae (pipits and wagtails)ThesaurusLegend: Synonyms Related Words Antonyms Noun 1. More
shows that numbers of swifts and meadow pipits in Yorkshire have fallen.Mixed news for Yorkshire's birds by Huddersfield Daily Examiner (Huddersfield, England)Meadow pipits, probably raising a second brood by now, rose above the heather then disappeared from sight, wary of predators.Country diary by guardian.co.uk / guardian.co. More
Meadow Pipits have a narrow pointed beak - the sign of insect eaters. They eat spiders, moths beetles and flies etc. They show white outer tail feathers when flying (compare to wheatears and stonechats which also have white rumps in flight and are about the same size, but are otherwise visually very different). More
of meadow pipits have been sharply rising over the last week or so but this is by far the largest flock I have seen in the village in months. ...3 days later and a flock of 200+ were following the shore-line in the same area. More
Meadow pipit - Dictionary Definition and Overview = Meadow pipit : (noun) 1: a common pipit that is brown above and white below; widely distributed in northern and central Europe and in Asia Based on WordNet 2.0 - Pipit \Pip"it\, n. (Zol.) Any one of numerous species of small singing birds belonging to Anthus and allied genera, of the family Motacillid. More
The meadow pipit is a bird with a brown streaked back and crown and an off white or buff washed, heavily black-streaked breast and flanks. It has a pale beak and pale pinkish legs. There is a white moustache stripe on the face and just the hint of a white eyebrow stripe. There are a number of different, but quite similar, pipits in Britain and even a few rare visiting pipits which are also similar in appearance. More