White-banded Mockingbird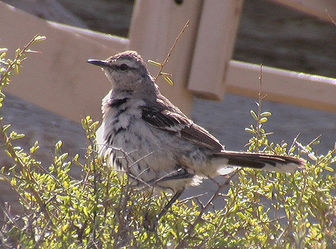 Picture of the White-banded Mockingbird has been licensed under a Creative Commons
Attribution
.
Original source
: originally posted to Flickr as Mimus triurus (White-banded Mockingbird)
Author
: Arthur ChapmanPermission(Reusing this file)This image, which was originally posted to Flickr.com, was uploaded to Commons using Flickr upload bot on 21:35, 13 November 2008 (UTC) by Ltshears (talk). On that date it was licensed under the license below.This file is licensed under the Creative Commons Attribution 2.0 Generic license.You are free:to share – to copy, distribute and transmit the work
The White-banded Mockingbird is classified as Least Concern. Does not qualify for a more at risk category. Widespread and abundant taxa are included in this category.

The White-banded Mockingbird (Mimus triurus) is a species of bird in the Mimidae family. It is found in Argentina, Bolivia, Brazil, Chile, Paraguay, and Uruguay. Its natural habitats are subtropical or tropical dry shrubland, subtropical or tropical high-altitude shrubland, and heavily degraded former forest. References - * BirdLife International 2004. Mimus triurus. 2006 IUCN Red List of Threatened Species. Downloaded on 26 July 2007. More
Results for: white-banded mockingbirdTranslations 1 - 30 of 875 English English Finnish Finnish white-banded mockingbird valkosiipimatkija, Mimus triurus blue-and-white mockingbird naamiomatkija, Melanotis hypoleucus banded white-eye vellalavellanrilli, Zosterops vellalavella white-banded tyrannulet valkojuovanapsija, Mecocerculus stictopterus white-banded swallow valkovyöpääsky, Atticora fasciata white-banded tanager lepinkäistangara, Neothraupis fasciata mockingbird More
View all pictures of White-banded Mockingbird View all pictures of White-banded Mockingbird show section External Links (0) We currently have no external links for this species. More
* White-banded Mockingbird Mimus triuris Genus Nesomimus (Galápagos Islands) * Española Mockingbird Nesomimus mcdonaldi * San Cristóbal Mockingbird Nesomimus melanotis * Galápagos Mockingbird Nesomimus parvulus * Floreana Mockingbird Nesomimus trifasciatus (extremely rare) See also - * Mimid External links - * Article connecting Galapagos mockingbird More