Chilean Mockingbird
Its natural habitats are subtropical or tropical dry shrubland and heavily degraded former forest. An example habitat is the dry shrub and forest of La Campana National Park.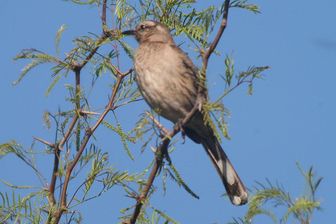 Picture of the Chilean Mockingbird has been licensed under a Creative Commons
Attribution-Share Alike
.
Original source
: Flickr here
Author
: Flickr user Alastair Rae . Photo uploaded to commons by user ltshears
The Chilean Mockingbird is classified as Least Concern. Does not qualify for a more at risk category. Widespread and abundant taxa are included in this category.

The Chilean Mockingbird (Mimus thenca) locally known as Tenca is a species of bird in the Mimidae family. It is endemic to Chile. Its natural habitats are subtropical or tropical dry shrubland and heavily degraded former forest. An example habitat is the dry shrub and forest of La Campana National Park. More
The Chilean Mockingbird (Mimus thenca) is a species of bird in the Mimidae family. It is endemic to Chile. Its natural habitats are subtropical or tropical dry shrubland and heavily degraded former forest. http://en.wikipedia.org/wiki/Chilean_Mockingbird The text in this page is based on the copyrighted Wikipedia article shown in above URL. It is used under the GNU Free Documentation License. You may redistribute it, verbatim or modified, providing that you comply with the terms of the GFDL. More
Although unremarkable in appearance, the Chilean mockingbird's song is considered to be the finest of any Chilean bird. The plumage is predominantly brownish-grey on the upperparts, with dark streaks on the head, neck and back. The underparts are ... More
Although unremarkable in appearance, the Chilean mockingbird's song is considered to be the finest of any Chilean bird (3). The plumage is predominantly brownish-grey on the upperparts, with dark streaks on the head, neck and back. The underparts are paler brownish-grey, becoming dirty white on the belly and buff on the flanks, with elongated brown markings. Perhaps the most distinctive features of this species are the white stripe, which runs above the eye, and the dark streak directly below, as well as the white-tipped tail feathers. More
Chilean Mockingbird Chiloe Wigeon Chimney Swift Chinstrap Penguin Chipping Sparrow Choiseul Crested Pigeon Chuck-will's-widow Cicadabird Cinereous Harrier Cinnamon Sparrow Cinnamon Teal Cirl Bunting Citron-crested Cockatoo Clapper Rail Clark's Grebe Clark's Nutcracker Clay-colored Robin Clay-colored Sparrow Cliff Flycatcher Cliff Swallow Coal Tit Collared Aracari Collared Pratincole Collared Scops Owl Collared Sunbird Comb Duck Comb-crested Jacana Common Black Hawk Common Bronzewing Common Bulbul Common Buzzard Common Crane Common Eider Common Fiscal Common Gallinule Common Grackle Common Ground Dove Common More
Chilean Mockingbird (Mimus thenca) by Daniel González Amat from Chile XC34448 :: Chilean Mockingbird (Mimus thenca) = Recording data Recordist Daniel González Amat Date 15-06-2008 Time 12:00 Country Chile Location Mahuida, La Reina, Santiago Longitude W70.31'2" Latitude S33. More
The Chilean Mockingbird (Mimus thenca) is a species of bird in the Mimidae family. pets No chilean mockingbird pets yet! pictures No chilean mockingbird pictures yet! videos No chilean mockingbird videos yet! owners No chilean mockingbird owners yet! blogs No chilean mockingbird blogs yet! This article is licensed under the GNU Free Documentation License. More