Chalk-browed Mockingbird
It has a large range , and although its population has not been thoroughly surveyed, it is believed to be large as it is reported as common in parts of its range. It has been classified as Least concern by the IUCN.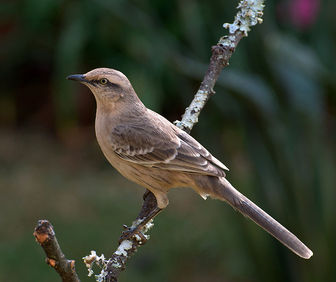 Picture of the Chalk-browed Mockingbird has been licensed under a Creative Commons
Attribution-Share Alike
.
Original source
: SABIÁ-DO-CAMPO ( Mimus saturninus )Uploaded by Snowmanradio
Author
: Dario Sanches from São Paulo, Brazil
The Chalk-browed Mockingbird is classified as Least Concern. Does not qualify for a more at risk category. Widespread and abundant taxa are included in this category.

The Chalk-browed Mockingbird, Mimus saturninus, is a bird found in most of Brazil, and parts of Bolivia, Uruguay, Paraguay, Argentina, and Suriname. It's a bird of open wooded areas, including urban and suburban gardens. It feeds on fruits, insects and small vertebrates. It has a large range (around 7,200,000 km²), and although its population has not been thoroughly surveyed, it is believed to be large as it is reported as "common" in parts of its range. More
Images Chalk-browed mockingbird perched on a branch During Charles Darwin's voyage aboard the Beagle, the eminent naturalist was clearly taken by a bird he described in Uruguay as "possessing a song far superior to that of any other bird in the country". This bird was the chalk-browed mockingbird, a ... More
Chalk-browed mockingbird perched on a branch Chalk-browed mockingbird perched on a branchPrint factsheet Facts - Kingdom Animalia Phylum Chordata Class Aves Order Passeriformes Family Mimidae Genus Mimus (1) Size Length: 23. More
The Chalk-browed Mockingbird is found in semi-open areas and near habitations from north-east Brazil to Bolivia, Paraguay, Uruguay and northern Argentina. The name comes from the broad white supercilium which is highlighted by the black line through the eye. Text, in english, from the site: www.treknature.com/gallery/South_America/Brazil/photo5834.... More
Chalk-browed Mockingbird and Rufous-bellied Thrush was 0.4 and 0.6,respectively. Considering nest depredation and desertion,reproductive success of Shiny Cowbirds in these species was similar or higher than that reported for hosts smaller in size than the parasite. Our results indicate that host quality is not only determined by differences in body size between host and parasite and that other factors like,nest concealment,antiparasitic defenses and nest survivorship should be considered. |Intranet| © Copyright 2004. More