Blue Mockingbird
The Blue Mockingbird is uniformly blue on its back, tail, wings, head and underbelly. This color is a result of feather structure rather than pigment, and therefore can look gray in the shade. It has a black mask surrounding its reddish-brown eyes. It has a rather long, slightly graduated tail, and dark blue streaks over its breast. Its bill is long, thin and slightly curved, and its legs and feet are black.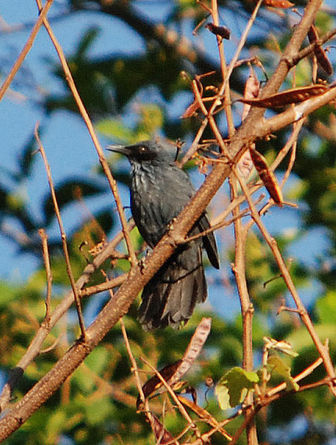 Picture of the Blue Mockingbird has been licensed under a Creative Commons
Attribution-Share Alike
.
Original source
: originally posted to Flickr as DSZ00318a
Author
: Jerry OldenettelPermission(Reusing this file)This image, which was originally posted to Flickr.com, was uploaded to Commons using Flickr upload bot on 18:01, 14 April 2008 (UTC) by Ltshears (talk). On that date it was licensed under the license below. This file is licensed under the Creative Commons Attribution-Share Alike 2.0 Generic license.You are free:to share – to copy, distribute and transmit the work
The Blue Mockingbird is classified as Least Concern. Does not qualify for a more at risk category. Widespread and abundant taxa are included in this category.

The Blue Mockingbird (Melanotis caerulescens) is a species of bird in the Mimidae family. It is endemic to Mexico, but has occurred as a vagrant in the southern United States. Its natural habitats are subtropical or tropical dry forests, subtropical or tropical moist montanes, and heavily degraded former forest. The Blue Mockingbird is uniformly blue on its back, tail, wings, head and underbelly. This color is a result of feather structure rather than pigment, and therefore can look gray in the shade. More
The Blue Mockingbird has a large range, estimated to be 480,000 square kilometers. This bird is native to the United States and Mexico and prefers habitats ranging from forests to shrublands or terrestrial areas and conditions ranging from tropical to subtropical and moist or dry. The global population of the bird has not been determined but it is not believed to meet criteria for the IUCN Red List. The Blue Mockingbird currently has an evaluation level of Least Concern. More
* Blue Mockingbird at El Dorado Park in Long Beach, California. * Mexico Bird Conservation- Blue Mockingbird. * The Nature Writers of Texas- Welcome to the House of the Blue Mockingbird; Wednesday, December 17, 2003; Ron Smith, Valley Morning Star, December 17, 2003, © 2004 Stub icon This songbird-related article is a stub. You can help Wikipedia by expanding it. More
The blue mockingbird is endemic to Mexico, and is known for its distinctive blue-grey plumage, black mask around its face, and red eye. They are found in many forms of forest in Mexico, such as montanes, degraded forest and subtropical and dry forests. It is the male mockingbird that calls more frequently than the female (and more often at night, sometimes during a full moon), it has a varied song with different notes and often sounds of mimicry incorporated into it. More
Blue Mockingbird (Melanotis caerulescens), Slaughter Ranch, Douglas, Cochise County This Blue Mockingbird was discovered by Richard Webster on 4 February 2009 at the Slaughter Ranch east of Douglas. It was photographed by Michael Moore on 05 February 2009, by Oliver Niehuis and Doug Danforth on 6 February 2009 and by Ken Kertell on 11 February 2009. There are two previous accepted records for Arizona and two for Texas. More
The Blue Mockingbird (Melanotis caerulescens) is a species of bird in the Mimidae family. It is found in Mexico and the United States. Its natural habitats are subtropical or tropical dry forests, subtropical or tropical moist montanes, and heavily degraded former forest. More
* Blue Mockingbird at the Slaughter Ranch in SE AZ1:07 * Ajouter à la file d'attente Ajoutée à la file d'attente Blue Mockingbird at the Slaughter Ranch in SE AZ323 vuesrixandzax * Camino de Santiago Film Preview8:31 * Ajouter à la file d'attente Ajoutée à la file d'attente More
blue mockingbird - mockingbird of MexicoMelanotis caerulescensoscine, oscine bird - passerine bird having specialized vocal apparatusgenus Melanotis, Melanotis - a genus of Mimidae How to thank TFD for its existence? Tell a friend about us, add a link to this page, add the site to iGoogle, or visit webmaster's page for free fun content. More
The Blue Mockingbird Melanotis caerulescens can be found throughout parts of Mexico and has been recorded in the United States as a rare vagrant. This photo was taken in Weslaco Texas 567 Blue Mockingbird 03 The Blue Mockingbird has a large range but is shy and can be hard to see. Below is a range map found through NatureServe, a non-profit conservation organization whose mission is to provide the scientific basis for effective conservation action. More
Blue Mockingbird at Pharr - shared the cornucopia of fresh fruit. A Northern Mockingbird frequently shared the dining area with its southern cousin. Before leaving Mr. Williams' yard, we took a few minutes to watch an Eastern Screech-Owl warming himself by sticking his face outside of the hole in a nesting cavity in a creative nesting box – a length of wood from a dead palm tree. More
There are two accepted records of Blue Mockingbird for Arizona. The species has also been documented near Las Cruces, New Mexico. The New Mexico record is currently under review. There has also been one documented in southern California that is believed to be an escaped cage bird. Blue Mockingbirds are known to have an altitudinal migration in northeastern Mexico, but do not breed at lower elevations. More
Blue Mockingbird Melanotis caerulescens El Dorado Park, Long Beach Los Angeles County, California 17-19 December 1999 Joseph Morlan - Photo More
Blue Mockingbird is mostly a resident from Mexico from southern Sonora and southern Tamaulipas to Oaxaca (ABA Checklist, 2008). Photo is courtesy of Oliver Niehuis. Blue Mockingbird_OliverNiehus_6Feb09 Blue Mockingbird is normally a sedentary species found in brushy riparian areas, dense thorn-scrub, forest edge, low tropical deciduous woodlands, and in understory beneathtaller oak or pine. However, all of the U.S. records are several hundred kilometers outside the known breeding range (HBW Vol. 10). More
Blue Mockingbird Designs in your extended network Posted at 5:09 AM Oct 4, 2007 view more Blue Mockingbird Designs's Latest Blog Entry Blue Mockingbird Designs's Blurbs About me: Etsy: Your place to buy & sell all things handmade bluemockingbirds.etsy.com Etsy: Your place to buy & sell all things handmade bluemockingbirds.etsy. More
Meaning 1 of Blue mockingbirdblue mockingbird, Melanotis caerulescens oscine, oscine bird * Songbird1.) Songbird, songster - (any bird having a musical call) Songbird, Songster1.) Songwriter, songster, ballad maker - (a composer of words or music for popular songs) 2.) Songster - (a person who sings) Songster - Any bird having a musical call * Honey eater1. More
- Blue Mockingbird Melanotis caerulescens - Blue-and-white Mockingbird Melanotis hypoleucus Genus Mimodes - Socorro Mockingbird Mimodes graysoni Genus Mimus - Brown-backed Mockingbird Mimus dorsalis - Tropical Mockingbird Mimus gilvus - Bahama Mockingbird Mimus gundlachii - Long-tailed Mockingbird Mimus longicaudatus - Large-billed Mockingbird Mimus magnirostris - Patagonian Mockingbird Mimus patagonicus - Northern Mockingbird Mimus polyglottos - Chalk-browed Mockingbird Mimus saturninus - Chilean Mockingbird Mimus More
* Blue mockingbird (Melanotis caerulescens) Blue mockingbird (Melanotis caerulescens) * * * REFERENCED IN * RELATED TO Aspects of the topic "mockingbird" are discussed in the following places at Britannica Assorted References * songbird (in songbird (bird)) Other The following is a selection of More