New Holland Honeyeater
The breeding behaviour of the New Holland Honeyeater has been relatively well documented. In southern and eastern Australia, breeding commonly occurs during autumn and spring, although certain coastal populations may breed at any time of the year given suitable conditions including sufficient food and absence of adverse weather. In Western Australia, New Holland Honeyeaters have been observed to breed once annually from July to November, when nectar is abundant . They appear to be a socially monogamous bird with no sign of co-operative breeding, but this observation is yet to be examined genetically . In breeding territories, males spend a large proportion of their time defending the nest and food resources, while the females invest a large proportion of their time in reproductive labour including nest construction, incubation, and a majority of the nestling care . However, these roles are not completely strict . It is also common for females to utilise food resources that are in close proximity to the nest,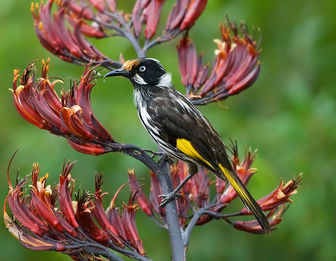 Picture of the New Holland Honeyeater has been licensed under a Creative Commons
Attribution-Share Alike
.
Original source
: Own work
Author
: JJ Harrison (http://www.noodlesnacks.com/)Permission(Reusing this file)Own work, share alike, attribution required (Creative Commons CC-BY-SA-2.5)
The New Holland Honeyeater is classified as Least Concern. Does not qualify for a more at risk category. Widespread and abundant taxa are included in this category.

New Holland Honeyeater, at nest. New Holland Honeyeater, at nest. Photo: Norman Chaffer Estate © Australian Museum New Holland Honeyeater. Image from: John Gould (1804-81) The birds of Australia 1840-48. 7 vols. 600 plates Artists: J. Gould and E. Gould; Lithographer: E. Gould. New Holland Honeyeater. Image from: John Gould (1804-81) The birds of Australia 1840-48. 7 vols. 600 plates Artists: J. Gould and E. Gould; Lithographer: E. Gould. Photo: Research Library © Australian Museum New Holland Honeyeater at nest. More
particular the trees of the Parklands, the New Holland Honeyeater is our focus this season. It is a medium-sized Honeyeater with a boldly streaked black and white body. The back is dark and there are bold yellow wing panels, as well as yellow in the base of the outer tail feathers and a white tip in the outer tail. On the black head there are white eyebrows, white whisker tufts and white ear tufts. More
New Holland Honeyeater Phylidonyris novaehollandiae More
The New Holland Honeyeater (Phylidonyris novaehollandiae) is a honeyeater species found throughout southern Australia. It was the first bird to be scientifically described in Australia, and was initially named Certhia novaehollandiae (Latham 1781, 1790; for a general discussion, see Calaby 1999). It is around eighteen centimetres long, is mainly black, with a white iris, white facial tufts and yellow margins on its wing and tail feathers. It is a very active bird and it rarely sits long enough to give an extended view. More
New Holland honeyeaters (Philidonyris novaehollandiae) are not usually coy birds but they were playing hard to get. I managed to take a couple of artistic shots (where 'artistic' is a value less than or equal to 'crap'). They are abundant along the southern coast of Australia from Brisbane to Perth. Although they do occur inland, they are very common on in coastal heathland. The Australian Museum has an MP3 file of the call. More
When danger approaches a New Holland Honeyeater, such as a bird of prey, a group of Honeyeaters will form together and give a warning call. Sexes are similar in looks with the exception that females are, on average, slightly smaller. Young Honeyeaters (<1 year old) have similar colouring but have grey eyes and a yellow gape and "whiskers" near the nares. The breeding behaviour of the New Holland Honeyeater has been relatively well documented. More
the end of their beaks, New Holland Honeyeaters are able to probe for nectar in the deep flowers of Banksias and Grevilleas. Identification The New Holland Honeyeater is mostly black and white, with a large yellow wing patch and yellow sides on the tail. It has a small white ear patch, a thin white whisker at the base of the bill and a white eye. This honeyeater is an active bird, and rarely sits still long enough to give an extended view. More
New Holland HoneyeaterThe New Holland Honeyeater (Phylidonyris novaehollandiae) is found throughout southern Australia. Description: It is around eighteen centimetres long, is mainly black, with a white iris, white facial tufts and yellow margins on its wing and tail feathers. It is a very active bird and it rarely sits long enough to give an extended view. More
The New Holland Honeyeater is 17-18.5 cm long. It is mostly black and white, with a large yellow wing patch and yellow sides on the tail. It has a small white ear patch, a thin white whisker at the base of the bill and a white eye. This honeyeater is an active bird, and rarely sits still long enough to give an extended view. The voice comprises a loud 'chik', a fainter 'pseet' and some chattering notes. More
This New Holland Honeyeater Phylidonyris novaehollandiae was caught red-handed enjoying some Callistemon (bottlebrush) in a front garden near Mogo on the NSW Far South Coast. Image captured with a Canon EOS1000D with a 150-500 @ 500 handheld. Steve is the Principal Ecologist at EnviroKey, a specialist ecological consultancy that undertakes surveys, research and education programs across Australia. More
The New Holland Honeyeater is usually seen feeding on the nectar of blossoming trees and on small flying insects. For the latter, it will flit from its tree branch to catch the insect in mid-air, then come to a micro-second halt while it reverses its flight to return to its tree. More
The New Holland Honeyeater is an active bird, and rarely sits long enough to provide an extended view. I had one shot of this one, then the opportunity was gone. In this shot we see the Honeyeater feeding on a Crimson Bottlebrush near Wentworth Falls in the Blue Mountains. They are considered a common bird throughout much of southern Australia (though I More
New Holland Honeyeaters in our garden. It was one of those occasions when I say to myself, 'That's good.' I think I'll print out a copy and mount it in a picture frame. Category: Garden birds, Honeyeaters « Bossy New Holland HoneyeatersSkylarking around » 5 Responses to "New Holland Honeyeater" 1. Dot Crane says: Friday September 12th, 2008 at 6:17 am New Holland Honeyeaters. More
New Holland Honeyeaters mostly eat the nectar of a flower as well as fruit, insects and spiders. They sometimes feed alone but they usually gather in large groups. New Holland Honeyeater, Tasmania New Holland Honeyeater, Tasmania Wikimedia Commons has media related to: New Holland Honeyeater (Phylidonyris novaehollandiae) References - * BirdLife International (2004). Phylidonyris novaehollandiae. 2006 IUCN Red List of Threatened Species. IUCN 2006. More