White-cheeked Honeyeater
The White-cheeked Honeyeater is a medium-sized black and white honeyeater, with a long, sturdy bill that curves downwards. It has large bright yellow tail and wing panels, with a large conspicuous white cheek patch on a mainly black head. The eye is dark brown. Young birds are duller and paler with softer, fluffier plumage. Gregarious, active and noisy with swift, erratic flight.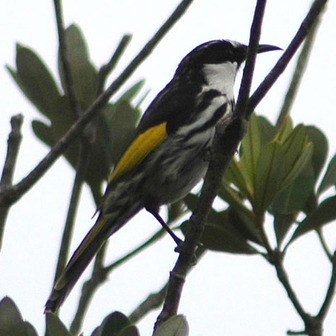 Picture of the White-cheeked Honeyeater has been licensed under a Creative Commons
Attribution-Share Alike
.
Original source
: Own work
Author
: Brett DonaldOther versionshigh resolution version available from author
The White-cheeked Honeyeater is classified as Least Concern. Does not qualify for a more at risk category. Widespread and abundant taxa are included in this category.

White-cheeked Honeyeater at nest. White-cheeked Honeyeater at nest. Photo: Purnell Collection © Australian Museum White-cheeked Honeyeater. White-cheeked Honeyeater. Photo: K Vang and W Dabrowka / Bird Explorers © K Vang and W Dabrowka / Bird Explorers White-cheeked Honeyeater perched on a branch. White-cheeked Honeyeater perched on a branch. More
White-cheeked Honeyeater Phylidonyris nigra More
The White-cheeked Honeyeater (Phylidonyris nigra) inhabits the east coast and the south-west corner of Australia. It has a large white patch on its cheek, a brown eye, and a yellow panel on its wing. More
White-cheeked Honeyeater (Phylidonyris nigra) 00:32 - 3 years ago White-cheeked Honeyeater (Phylidonyris nigra) Filmed at Point Lookout, North Stradbroke Island Dec 1994 using Canon EX1 Hi8 and Sigma 400mm lens. White-cheeked Honeyeater (Phylidonyris nigra) Filmed at Point Lookout, North Stradbroke Island Dec 1994 using Canon EX1 Hi8 and Sigma 400mm...all » White-cheeked Honeyeater (Phylidonyris nigra) Filmed at Point Lookout, North Stradbroke Island Dec 1994 using Canon EX1 Hi8 and Sigma 400mm lens.« Download video - iPod/PSPDownload is starting. More
The White-cheeked Honeyeater visits Thylogale for the summer, seen above feeding on the flowers of Banksia. The eastern race is found from the Atherton Tablelands in North Queensland to Wallaga Lake in New South Wales. Can nest anytime depending on nectar source. In eastern Australia the White-cheeked Honeyeater is a common resident of coastal heaths and woodlands with a dense understorey of flowering plants. Also visits gardens with abundant nectar producing plants. More
Original File Name: White-cheeked Honeyeater, Phylidonyris nigra. More
White-cheeked HoneyeaterThe White-cheeked Honeyeater (Phylidonyris nigra) inhabits the east coast and the south-west corner of Australia. It has a large white patch on its cheek, a brown eye, and a yellow panel on its wing. Description The White-cheeked Honeyeater is a medium-sized black and white honeyeater, with a long, sturdy bill that curves downwards. It has large bright yellow tail and wing panels, with a large conspicuous white cheek patch on a mainly black head. More
White-cheeked Honeyeater Phylidonyris nigra = * Home Expand Log in Menu item Register Menu item Log out Menu item Change login details Menu item Why register? Expand UK & Ireland Menu item Birding sites More
White-cheeked Honeyeater (Phylidonyris nigra) Photo by Roger McNeill North Queensland, Australia - August 2005 - Found along Australia's east coast and southern Western Australia. This bird can be found inhabiting coastal heaths searching for nectar and insects. Often found around banksias. More
white-cheeked Honeyeater Phylidonyris nigra = white-cheeked Honeyeater Phylidonyris nigra by pseudomugil.A common honeyeater found in heath and other areas where there are lots of flowers in Eastern and south western Australia To take full advantage of Flickr, you should use a JavaScript-enabled browser and install the latest version of the Macromedia Flash Player. Would you like to comment? Sign up for a free account, or sign in (if you're already a member). More
The White-cheeked Honeyeater (Phylidonyris nigra), is endemic to eastern and south-western Australia, ranging from east of the Great Divide in Queensland through coastal New South Wales, becoming scattered south to Jervis Bay. It is also found in south-western Western Australia and from Perth northwards to Murchison River. It is usually found in moist heath lands, as well as around wetlands and in forests or woodlands with a heath under storey. Found in both temperate and subtropical zones. More