Lewin's Honeyeater
The name of this bird commemorates the Australian artist John Lewin.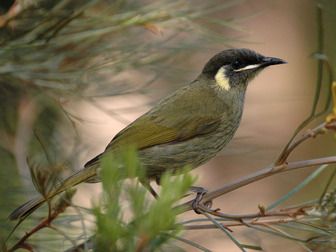 Picture of the Lewin's Honeyeater has been licensed under a Creative Commons
Attribution-Share Alike
.
Original source
: Own work
Author
: Aviceda
The Lewin's Honeyeater is classified as Least Concern. Does not qualify for a more at risk category. Widespread and abundant taxa are included in this category.

The Lewin's Honeyeater is found from the McIlwraith Ranges on Cape York Peninsula to Melbourne in Victoria. The birds found at the McIlwraith Range is a different race to the ones found elsewhere. They are the largest, darkest and the most widespread member of the trio of honeyeaters. The other two, Graceful and Yellow-spotted, are smaller and with a different shaped yellow earmark. Often called The Banana Bird because of their fondness for ripe bananas. More
The tip of the Lewin's Honeyeater's tongue is divided into four tiny sections which resemble a feathery 'paintbrush' allowing it to lap up large quantities of nectar at a time. More
The Lewin's Honeyeater, Meliphaga lewinii, is a bird that inhabits the ranges along the east coast of Australia. It has a semicircular ear patch, pale yellow in colour. The name of this bird commemorates the Australian artist John Lewin. Tweed Valley, NSW Description The Lewin's Honeyeater is small to medium in size (20cm - 22cm). It is dark greenish grey in colour, with a creamy yellow gape (fleshy corners of the mouth). More
* Honeyeater A Lewin's Honeyeater feeding on some banana Lake Eacham National Park, Queensland, Australia becky1950 3 May 2009 45 weeks ago 4 * Friendly to say the least around the campsite at O'Reilly's Lamington National Park, Queensland, Australia AdsBowley 2 September 2006 9 weeks ago 3 Sounds 1 recording * Juvenile calls while perched on More
The Lewin's Honeyeater is very common and found here on the Sunshine Coast. In the aviary we have Leroy and Lester (pictured) who are constantly following staff around to see what treats they have for them. Striped Honeyeater Striped honeyeaters are found in Eastern Australia from Cape York into South Australia and Northern NSW. They can be found in woodlands and open forests often along rivers as well as mangroves. More
Lewin's Honeyeater Size: 21cm Habitat: Located down the eastern coast of Australia. Inhabiting rainforests and thick eucalypt forests. Feeds on fruits and insects. Notes: Olive green with dark head, white patch behind ear and grey underbelly. Breeds Spring-Summer. For more information on Lewin's Honeyeater see references. Page | 1 | honeyeater.jpg honeyeater2.jpg honeyeater3.jpg honeyeater4.jpg BF8C6926. More
On DisplayOur Amazing Lewin's Honeyeater(s) are currently on display Lewin's Honeyeater Diaries » More Of Our Birds... Our Honeyeaters » Regent Honeyeater » Lewin's Honeyeater - Visit our events page... More
The Lewin's Honeyeater is 20-22cm in length. It is dark greenish grey in colour, with creamy yellow corners of the mouth. It also has large, yellowish crescent-shaped ear patches, a very svelte body type and pointy black beak. The male Scarlet Honeyeater is 10-11 cm long with a bright red head, breast, back and rump, black tail and wings. Its wing feathers have white margins with a white abdomen. The female, however, is a pale brown with a whitish abdomen. More