Fuscous Honeyeater
Its natural habitat is subtropical or tropical dry forests.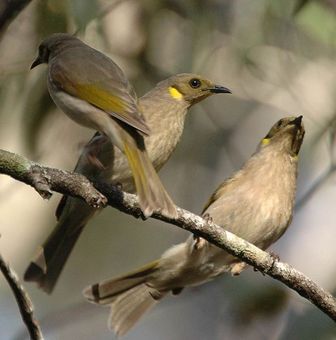 Picture of the Fuscous Honeyeater has been licensed under a Creative Commons
Attribution-Share Alike
.
Original source
: Own work
Author
: Aviceda
The Fuscous Honeyeater is classified as Least Concern. Does not qualify for a more at risk category. Widespread and abundant taxa are included in this category.

Fuscous Honeyeater at nest. Fuscous Honeyeater at nest. Photo: Purnell Collection © Australian Museum Distribution map of Lichenostomus fuscus Distribution map of Lichenostomus fuscus Map © Birds Australia Birdata Did you know? Fuscous Honeyeaters are often found in association with rosellas, as well as with other nectar-eating honeyeaters e.g. White-naped Honeyeaters, aerial-feeding insect-eating birds e.g. Willie Wagtails, Restless Flycatchers and Dusky Woodswallows, and larger insect-eaters e.g Grey Shrike-thrushes. More
Photo shows a Fuscous Honeyeater on the left and a White-naped Honeyeater on the right. Posted by Picasa posted by tippytommi at 11:23 PM | 0 comments Weather in Capertee Valley was windy and very cloudy in the morning. Despite this, a group of 3 RHE was spotted without much difficulty at the 'Glenowland Creek' along Glenowland Road, Glen Alice. One bird tried to follow the other one and fanned out its yellow outer tail when they were on same perch. More
The Fuscous Honeyeater (Lichenostomus fuscus) is a species of bird in the Meliphagidae family. It is endemic to Australia. Its natural habitat is subtropical or tropical dry forests. References - * BirdLife International 2004. Lichenostomus fuscus. 2006 IUCN Red List of Threatened Species. Downloaded on 26 July 2007. More
A Fuscous Honeyeater (Lichenostomus fuscus), captured yesterday in the Kamarooka Forest. EXIF: Canon EOS 30D : 1/250 sec : f/5.6 : 400 mm : ISO 100 Categories: Photoblogs.org - The Photoblogging Resource View My Profile coolphotoblogs.com Birding Top 500 Counter VFXY Photos Vazaar photo blogs, top photoblogs 3761635 visitors | 1000 photos | RSS 2. More