Blue-faced Honeyeater
Originally described as Gracula cyanotis by ornithologist John Latham in 1802, though he also considered Merops and Turdus .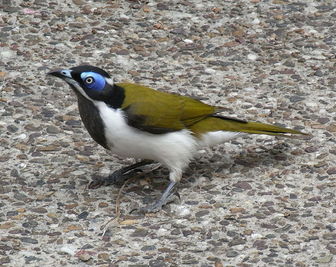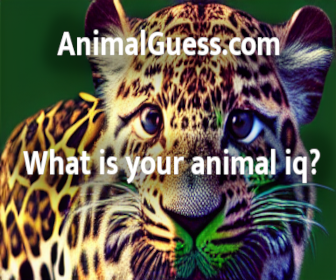 Picture of the Blue-faced Honeyeater has been licensed under a Creative Commons
Attribution-Share Alike
.
Original source
: Own work
Author
: QuartlCamera location
The Blue-faced Honeyeater is classified as Least Concern. Does not qualify for a more at risk category. Widespread and abundant taxa are included in this category.

The Blue-faced Honeyeater (Entomyzon cyanotis), also colloquially known as Bananabird, is a passerine bird of the Honeyeater family Meliphagidae commonly found around the northern and eastern coasts of Australia and New Guinea. The only member of its genus, it is most closely related to honeyeaters of the genus Melithreptus. Three subspecies are recognised. It is large for a honeyeater and easily identified by its bare blue face-patch. Found in open woodland, parks and gardens, its diet is made up of nectar and invertebrates. More
Blue-faced Honeyeaters are regular customers at the bottlebrush trees in our garden near Narrabri, New South Wales. They come in groups of 2 or more and make themselves heard upon arrival (and during their stay). Also sighted on a trip to the east of the dividing range, in the area from Armidale to Dorrigo, New South Wales. They are also a dominant species throughout the eastern half of Queensland, where we have seen them in July 2009. More
The inquisitive and friendly Blue-faced Honeyeater, Entomyzon cyanotis, is common on the northern and eastern coasts of Australia and in New Guinea. Their preferred habitats include woodlands, pandanus, paperbarks, mangroves, watercourses, parks and gardens. Description: It is large honeyeater and can easily be identified by its bare blue face-patch.The head and throat are otherwise predominantly blackish with a white stripe around the nape (lower back of the neck) and another from the cheek. More
The Blue-faced Honeyeaters were particularly good friends with Fatty the King Magpie (and Maggie's foster dad), his Queen Molly and their family and could often be seen sitting next to them on the trees sharing a yarn. Although these birds are shier than their Noisy cousins and are not as chatty with us, we have been very fortunate in witnessing some very interesting events about their interaction and relationship with the magpies. More
The Blue-faced Honeyeater is one of the first birds heard calling in the morning, often calling 30 minutes before sunrise. Alternative Name/s Banana-bird Identification The Blue-faced Honeyeater is a large black, white and golden olive-green honeyeater with striking blue skin around the yellow to white eye. The crown, face and neck are black, with a narrow white band across the back of the neck. More
Blue-faced Honeyeater: Entomyzon cyanotis (blauwwang-honingeter) Canon EOS 20D ,Canon EF 70-200mm f/2.8L IS USM 1/160s f/6.3 at 180.0mm iso400 with Flash full exif other sizes: small medium large original previous | next More
Blue-faced honeyeaters at Edinburgh Zoo Blue-faced honeyeater at Edinburgh ZooHere at Edinburgh Zoo we have two female blue-faced honeyeaters. The two sisters arrived in September 2005 from Antwerp Zoo, Belgium. They both hatched in January 2005. Where it can be found at Edinburgh Zoo Our honeyeaters can be found in Rainbow Landings. More
The Blue-faced Honeyeater is a large black, white and golden olive-green honeyeater with striking blue skin around the yellow to white eye. The crown, face and neck are black, with a narrow white band across the back of the neck. The upperparts and wings are a golden olive green, and the underparts are white, with a grey-black throat and upper breast. The blue facial skin is two-toned, with the lower half a brilliant cobalt blue. More
Blue-faced Honeyeater at nest. Blue-faced Honeyeater at nest. Photo: SG Lane Collection © Australian Museum Blue-faced Honeyeater. Blue-faced Honeyeater. Photo: Purnell Collection © Australian Museum Distribution map of Entomyzon cyanotis Distribution map of Entomyzon cyanotis Map © Birds Australia Birdata Did you know? The Blue-faced Honeyeater is one of the first birds heard calling in the morning, often calling 30 minutes before sunrise. More
A brightly colored bird, the blue-faced honeyeater is named for the vibrant blue markings that surround its eyes. The species also displays a black face, breast and neck, which are offset by its white stomach and mustard-colored markings on the wings and back. - Range The blue-faced honeyeater can be found in northern and eastern Australia and southern New Guinea. More
A fact from Blue-faced Honeyeater appeared on Wikipedia's Main Page in the Did you know? column on 10 July 2007. The text of the entry was as follows: "Did you know * ...that the Blue-faced Honeyeater of eastern and northern Australia is also known as the "Bananabird" for its fondness for that fruit?" Wikipedia Retrieved from "http://en.wikipedia. More
Blue-faced Honeyeater (Entomyzon cyanotis) Range: AU more info Photo by Tom Friedel Sizes: Request 1912x1728 At the time this photo was uploaded we had very little Australian or Asian representation, so the weak zoo photo was uploaded to begin builing the infrastructure. More
The Blue-faced Honeyeater (Entomyzon cyanotis) is commonly found around the northern and eastern coasts of Australia. They live throughout woodland, pandanus, paperbarks, mangroves, watercourses, parks and gardens. They are commonly known to suck the nectar out of grevillea trees and are very common around the backyard. Their diet consists of pollen, berries, nectar, cultivated crops (e.g. bananas), but the bulk of their diet consists of insects. More
Blue-faced Honeyeater (Entomyzon cyanotis) = Blue-faced Honeyeater (Entomyzon cyanotis) by Craig Jewell. Blue-faced Honeyeater on our rickety front fence ___________________________ Large Image Can Be Viewed Here ¯¯¯¯¯¯¯¯¯¯¯¯¯¯¯¯¯¯¯¯¯¯¯¯¯¯¯ To take full advantage of Flickr, you should use a JavaScript-enabled browser and install the latest version of the Macromedia Flash Player. More
Blue-faced Honeyeater - Entomyzon cyanotis - A blue-faced Honeyeater examines a hanging basket for a tasty morsel Appearing fascinated by the mulch, a blue-faced Honeyeater examines a hanging basket for a tasty morsel - some protein to supplementthe nectar and fruit from other plants. Although a homneyeater, these birds feed mostly on insects and regularly inspect the mulch in our hanging baskets which they seem to prefer to foraging on the ground. More
The Blue-faced Honeyeater (Entomyzon cyanotis) is a highly gregarious species, congregating in flocks that contain up to seven to twelve birds. During the breeding season, nestlings are fed by parents as well as others whose eye bare skin is coloured pale green; presumably these are offspring from the previous season. More