White helmet-shrike
It is found in Angola, Benin, Botswana, Burkina Faso, Burundi, Cameroon, Central African Republic, Chad, Democratic Republic of the Congo, Ivory Coast, Eritrea, Ethiopia, Gambia, Ghana, Guinea, Guinea-Bissau, Kenya, Malawi, Mali, Mauritania, Mozambique, Namibia, Niger, Nigeria, Rwanda, Senegal, Sierra Leone, Somalia, South Africa, Sudan, Swaziland, Tanzania, Togo, Uganda, Zambia, and Zimbabwe. Its natural habitats are subtropical or tropical dry forests, dry savanna, moist savanna, and subtropical or tropical dry shrubland.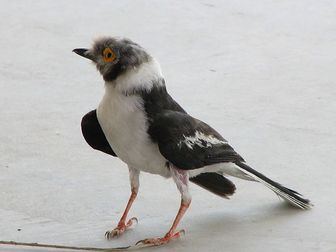 Picture of the White helmet-shrike has been licensed under a Creative Commons
Attribution-Share Alike
.
Original source
: Flickr here
Author
: Flickr user Alastair Rae . Photo uploaded to commons by user ltshears
The White helmet-shrike is classified as Least Concern. Does not qualify for a more at risk category. Widespread and abundant taxa are included in this category.

white helmet-shrikes are distinguished by their helmet-like ruff of stiff white feathers around their bills and foreheads that blend into a long, erect crest. They range in size from 7.4 to 9.8 inches (19 to 25 centimeters) and typically weigh between 0.9 and 1.3 ounces (25 to 37 grams). More
Photos: The White Helmet-shrike Prionops plumatus was photographed in Kruger Nat'l Park, South Africa, on 28 July 1996. The Chestnut-fronted Helmet-shrike P. scopifrons was in the Sokeke Forest of coastal Kenya, 28 Nov 1981. Kim Franklin painted the Yellow-crested Helmet-Shrike; from Shrikes & Bush-Shrikes (2000) by Tony Harris (Princeton Univ. Press). The Retz's Helmet-shrike Prionops retzii was at Xaro Lodge in northern Botswana on 23 July 2005. The Common Woodshrike Tephrodornis pondicerianus was at Sultanpur Jheel, Haranya, India, on 11 Mar 2001. More
This bird is known as White Helmet-Shrike in the Roberts 6th Edition. There have been no changes in the Latin name for the White-crested Helmet-Shrike between the Roberts 6th and Roberts 7th Edition The White-crested Helmet-Shrike is known in Afrikaans as Withelmlaksman. The White-crested Helmet-Shrike has a height of 19 cms and weighs around 33 gms. The head is coloured grey while the bill is coloured black. The Prionops plumatus has a white coloured throat, orange legs and a grey coloured back. More
English White Helmet-shrike, Helmet Shrike, Curly-crested Helmet-shrike, Long-crested Helmet Shrike French Bagadais bouclé German Brillenwürger Swedish Långtofsad hjälmtörnskata, Glasögonhjälmtörnskata Dutch Kuif-helmklauwier Italian Averla dall'elmo crestalunga World: Africa: Wide distribution S of 15°N. Absent from the equatorial lowland forests in the W and also from the arid SW. Kenya: Found mostly below 1800m in areas with suitable habitat (dry bush and wooded areas). More