Crimson-breasted Gonolek
This shrike is extremely nimble and restless, its penetrating whistles being heard far more often than the bird is seen, its bright colour notwithstanding. The sexes have the same colouration and are indistinguishable from each other. A yellow-breasted form is occasionally seen, and was at first thought to be a separate species. Young birds have a mottled and barred buff-brown appearance with a pale bill.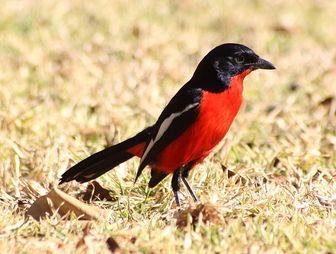 Picture of the Crimson-breasted Gonolek has been licensed under a Creative Commons
Attribution-Share Alike
.
Original source
: Crimson-breasted Gonolek (formerly Crimson-breasted Shrike)Uploaded by snowmanradio
Author
: Derek Keats from South AfricaOther versions
The Crimson-breasted Gonolek is classified as Least Concern. Does not qualify for a more at risk category. Widespread and abundant taxa are included in this category.

The Crimson-breasted Gonolek's preferred habitat is drier thornbush areas, in thickets and riparian scrub. It makes small seasonal migrations, preferring lower altitudes during cold periods. References - * Shrikes of Southern Africa - Tony Harris & Graeme Arnott (Struik Winchester 1988) ISBN 0 947430 08 3 * Merkle Tobias (2006): Territoriality, breeding biology and vocalisations of the Crimson-breasted Shrike. More
series of English names including Crimson-breasted Gonolek (in Clements), Crimson-breasted Shrike and Crimson-breasted Boubou. A bird of the arid savanna, it features on stamps from 10 African countries. On the stamp from Niger it is simply and aptly described as 'Gonolek rouge et noir'. Guides to the Birds of Southern Africa continue to refer to Burchell's Coucal (Centropus burchelli) as a separate species. Clements, however, currently considers it to be one of the four races of the White-browed Coucal (namely Centropus superciliosus burchelli). More
Results for: crimson-breasted gonolekTranslations 1 - 30 of 322 English English Finnish Finnish crimson-breasted gonolek tulilepinkäinen, Laniarius atrococcineus crimson-breasted woodpecker punarintatikka, Dendrocopos cathpharius crimson-breasted finch verisirkkunen, Rhodospingus cruentus crimson-breasted flowerpecker rubiinikukastaja, Prionochilus percussus papyrus gonolek papyruslepinkäinen, Laniarius mufumbiri yellow-crowned gonolek guineanlepinkäinen, Laniarius barbarus black-headed gonolek More