Woodchat Shrike
The Woodchat breeds in southern Europe, the Middle East and northwest Africa, and winters in tropical Africa. It breeds in open cultivated country, preferably with orchard trees and some bare or sandy ground.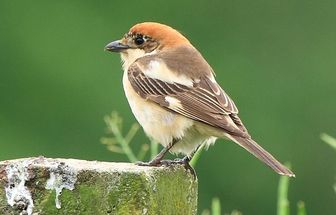 Picture of the Woodchat Shrike has been licensed under a Creative Commons
Attribution-Share Alike
.
Original source
: Lanius_senator01.jpg
Author
: Lanius_senator01.jpg: chausinho
The Woodchat Shrike is classified as Least Concern. Does not qualify for a more at risk category. Widespread and abundant taxa are included in this category.

The Woodchat Shrike (Lanius senator) is a member of the shrike family Laniidae. The Woodchat breeds in southern Europe, the Middle East and northwest Africa, and winters in tropical Africa. It breeds in open cultivated country, preferably with orchard trees and some bare or sandy ground. This migratory medium-sized passerine eats large insects, small birds and frogs. Like other shrikes it hunts from prominent perches, and impales corpses on thorns or barbed wire as a "larder". More
Woodchat Shrike at Church Cove. Finally caught up with the Shrike at Church Cove today. We haven't done any birding as Sue's been laid up with the 'flu, and we were worried it might have gone. We have included the Dunnock because we think it is a very under-rated bird and we didn't want him to feel second best to the near-by Shrike. More
* Woodchat Shrike videos, photos & sounds on the Internet Bird Collection * Oiseaux, pictures (French) * Ageing and sexing (PDF) by Javier Blasco-Zumeta This entry is from Wikipedia, the leading user-contributed encyclopedia. More
The Woodchat Shrike winters in sub-Saharan Africa across a wide band from Niger in the east to the Sudan in the west. This information is taken from the BirdFile on the appropriate BirdGuides DVD-ROM. As well as video and sounds, our CD- and DVD-ROMs contain additional text on Voice, Sexing, Ageing, Food, Nests and Eggs and more. More
Woodchat shrikes have often been observed taking trapped small birds in mist-nets. A migrant shrike seeking temporary refuge aboard a ship soon began searching behind rope coils to seize fellow travelling willow warblers. Although the same size as a red-backed shrike, the woodchat gives an impression of being smaller and more compact. In bright sunlight the Waxham visitor displayed a black forehead and broad patch around each eye contrasted with a fiery chestnut-red cowl on the rear crown and upper mantle. More
Woodchat Shrike 04/06/07 © Gavin Haig Woodchat Shrike 04/06/07 © Gavin Haig Back | Home More
SmugMugHome Login Help View Cart Woodchat Shrike Woodchat Shrike, Lanius senator niloticus gallery pages: 1 Khor al Beida, 31.03.2009 © Tommy Pedersen Khor al Beida, 31.03.2009 © Tommy Pedersen Green Mubazzarah, 23.03.2009 © Huw Roberts Green Mubazzarah, 23.03.2009 © Huw Roberts Dubai Pivot Fields, 06.03.2009 © Mike Barth Dubai Pivot Fields, 06.03.2009 © Mike Barth Dubai Pivot Fields, 06.03.2009 © Mike Barth Dubai Pivot Fields, 06.03.2009 © Mike Barth Al Mamzar Park, 30.04. More
• Search for Woodchat Shrike Photos in The Galleries • The new taxonomy of the "Isabelline Shrike" complex by Brian J Small • Male ficedula flycatcher identification by Brian J Small • New Advances in the Field Identification of Dowitchers by Cin-Ty Lee • Field identification, distribution, and vagrancy patterns of the Buff-bellied Pipit Complex by Cin-Ty Lee • ID Discussion Photo Gallery • More Advanced ID Articles Interviews Keep Browsing More
* Woodchat Shrike at Church Cove, Lizard - video foo... * "Birds and Birding in Cornwall" evening event at S... More
Norwich, a Balearic woodchat shrike and a purple heron in Cornwall, and two blue rock thrushes in Powys, Wales, and Selsey Bill, West Sussex, and a short-toed eagle in Somerset. More
juvenile woodchat shrike was another reminder of southern climes.travel/countr y: John Dempsey on country matters ... Daysix by Daily Post (Liverpool, England)there were sightings of many Mediterranean species, including a little crake, a collared pratincole, two short-toed larks, a tawny pipit, a Sardinian warbler and a woodchat shrike. More
vues chippler01 — 3 avril 2010 — Male Woodchat Shrike at Church Cove, The Lizard, 3/4/2010 chippler01 — 3 avril 2010 — Male Woodchat Shrike at Church Cove, The Lizard, 3/4/2010Catégorie : Animaux Tags :Woodchat Shrike church cove lizard cornwall birds rare bird britain british england rarity cornish wildlife Chargement… J'aime Enregistrer dans Partager E-mail Skyrock Facebook Twitter MySpace Live Spaces Blogger orkut Buzz reddit Digg Chargement… Connectez-vous ou inscrivez-vous dès maintenant ! Publier un commentaire Commentaires de l'utilisateur ayant mis More
Woodchat ShrikeCatégorie : Animaux Tags :Woodchat Shrike BIRD RARE UK BRITIAN WILDLIFE DIGISCOPING SONG beautiful bird shrike photograph Chargement… J'aime Enregistrer dans Partager E-mail Skyrock Facebook Twitter MySpace Live Spaces Blogger orkut Buzz reddit Digg Chargement… Connectez-vous ou inscrivez-vous dès maintenant ! Publier un commentaire Afficher tous les commentaires » Répondre Chargement… Résultats pour : Chargement… File d'attente (0) Chargement… More