Brown Shrike
This shrike is mainly brown on the upper parts and the tail is rounded. The black mask can be paler in winter and has a white brow over it. The underside is creamy with rufous flanks and belly. The wings are brown and lack any white mirror patches. Females have fine scalloping on the underside and the mask is dark brown and not as well marked as in the male. Subspecies lucionensis has a grey crown shading into the brown upperparts and the rump appears more rufous than the rest of the upperback.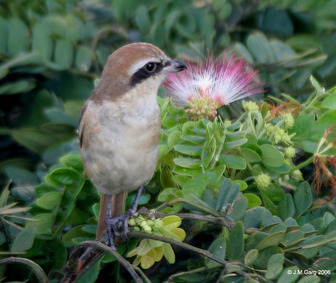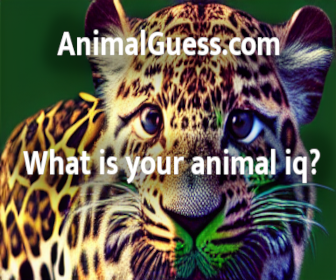 Picture of the Brown Shrike has been licensed under a
GFDL
Original source
: Own work
Author
: J.M.Garg
Permission
: GNU Free Documentation License
The Brown Shrike is classified as Least Concern. Does not qualify for a more at risk category. Widespread and abundant taxa are included in this category.

The Brown Shrike, Lanius cristatus is a bird in the shrike family that is found mainly in Asia. It forms a superspecies with the closely-related Red-backed Shrike, L. collurio, and Isabelline Shrike, L. isabellinus. Like most other shrikes, it has a distinctive black "bandit-mask" through the eye. and is found mainly in open scrub habitats, where it perches on the tops of thorny bushes in search of prey. More
Brown Shrike: Call is a harsh "chack" and song is a scratchy warble. Similar Species Brown Shrike: Other North American shrikes are gray and white. . Home | Search | Browser | Expert | Forum | Store | My Whatbird | Help | Site Map © 2002 - 2007 www.whatbird.com All rights reserved. No part of this web site may be reproduced without written permission from Mitch Waite Group. More
Brown Shrike: Asian species casually occurring in Alaska from the western Aleutians, St. Lawrence Island, and Anchorage; fall and winter records from California. Preferred habitats include lowlands, farmlands, downlands, and orchards with thickets and scrub. Voice Text "Chack" Interesting Facts * The Brown, Red-backed, and Isabelline shrikes were once regarded as part of a large super-species. * In 1977 & 1979 the Dutch ornithologist K. More
The Brown Shrike is a migratory species and ringing studies show that they have a high fidelity to their wintering sites, returning to the same locations each winter. They begin establishing wintering territories shortly on arrival and their loud chattering or rattling calls are distinctive. Birds that arrive early and establish territories appear to have an advantage over those that arrive later in the winter areas. More
The Brown Shrike, Lanius cristatus, is a small passerine bird in the shrike family. It was formerly often considered conspecific (of, or belonging to, the same species) with the closely-related Red-backed Shrike, L. collurio, and Isabelline Shrike, L. isabellinus. Distribution / Range This bird breeds across central and eastern Asia. It is migratory, wintering south to India, southeast Asia and Indonesia. More
For the purposes of our bird news services, Brown Shrike is classed as Mega: species which have not yet occurred in the British Isles or are exceedingly rare, or are otherwise highly desirable. More
Brown Shrike in Korea !! (NM had written to JR: "I can understand why both the females might be (largely) phoenicuroides ...but especially female two would surely very likely be overlooked as a bright-tailed Brown here in Korea, despite its pinkish bill-base). More
prompted by noting differences between Brown Shrike seen in the field and descriptions of the species contained in available literature, and by subsequent discussion over the possible difficulty of some individual's separation from Isabelline Shrike L. isabellinus (with lesser attention given to Red-backed Shrike L. collurio, a species first recorded in South Korea in September 2004. Go to Red-backed Shrike for details). More
These pages were instigated by the discovery of a Brown Shrike in Nova Scotia in November & December, 1997. This bird was the first individual of this species to be found in Canada, and only the North American record outside of Alaska and California. More
Brown shrikes massacred in south Taiwan = PINGTUNG, Taiwan - The county of Pingtung may have turned itself into a killing field of brown shrikes. An endangered species, the brown shrike migrates from China to winter in Taiwan. The Hengchun peninsula is its favorite wintering habitat. Gourmets in southern Taiwan seem to like to eat brown shrikes (see photo), however. More
The Brown shrike has an average body length of 20cm. Their backs are grayish-brown, their abdomens are off-white, and their wings and tails are covered with a mixture of dark brown and reddish-brown feathers. The distinctive black stripe over their eyes and their curved beaks are their most distinguishing characteristics. Behavior: Brown shrikes are common winter visitors to Taiwan. Carnivorous birds, they like to store food between metal wire mesh or among tree branches. More
SmugMugHome Login Help View Cart Brown Shrike - lucionensis Brown Shrike, Lanius cristatus ssp's gallery pages: 1 Khalidiyah, 11.05.2007 © Ian Boustead - adult male - subspecies lucionensis Khalidiyah, 11.05.2007 © Ian Boustead - adult male - subspecies lucionensis Khalidiyah, 11.05.2007 © Ian Boustead - adult male - subspecies lucionensis - same bird as above Khalidiyah, 11.05. More
The Brown Shrike, Lanius cristatus is a small passerine bird in the shrike family. It was formerly often considered conspecific with the closely-related Red-backed Shrike, L. collurio, and Isabelline Shrike, L. isabellinus. This bird breeds across central and eastern Asia. It is migratory, wintering south to India, southeast Asia and Indonesia. A wide range of habitats is used for breeding, from taiga and deciduous forest to semi-desert. It builds its nest in a tree or bush, laying 2-6 eggs. More
Brown Shrike - Definition = Brown Shrike Scientific classification Kingdom: Animalia Phylum: Chordata Class: Aves Order: Passeriformes Family: Laniidae Genus: Lanius Species: cristatus Binomial name Lanius cristatus More
vues feaspetrol — 13 octobre 2009 — The first Brown Shrike for the "London area" and it's still a mega bird in Britain. Only my second after the adu... feaspetrol — 13 octobre 2009 — The first Brown Shrike for the "London area" and it's still a mega bird in Britain. Only my second after the adult at Flamborough Head, this bird is a first winter. It has been seen by hundreds of birders during it's stay. More