Bull-headed Shrike
It is 19-20 cm long. The male has a brown crown, white eyebrow and black mask. The back is grey-brown while the wings are dark with a white patch. The flanks are rufous and the rest of the underparts are whitish with fine barring. Females are similar but duller and browner with a brown mask and no white wing-patch. The species has harsh grating and chattering calls and will also mimic other birds.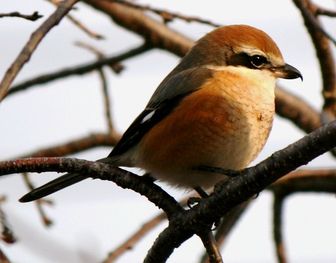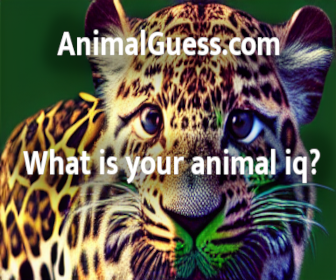 Picture of the Bull-headed Shrike has been licensed under a Creative Commons
Attribution-Share Alike
.
Original source
: Own work
Author
: Alpsdake
The Bull-headed Shrike is classified as Least Concern. Does not qualify for a more at risk category. Widespread and abundant taxa are included in this category.

The Bull-headed Shrike (Lanius bucephalus) is a passerine bird of eastern Asia belonging to the shrike family Laniidae. It is 19-20 cm (approx. 7.48-7.9 inches) long. The male has a brown crown, white eyebrow and black mask. The back is grey-brown while the wings are dark with a white patch. The flanks are rufous and the rest of the underparts are whitish with fine barring. Females are similar but duller and browner with a brown mask and no white wing-patch. More
Almost immediately Jemi spotted the Bull-headed Shrike, which flew to the top of a wooden telegraph pole before disappearing. Twenty minutes later it reappeared on a pole above some unsold peach trees. I got a few photos from beside an empty greenhouse. The bird vanished again and we drifted up to the front of Tai Yeung Che village. More
Bull-headed Shrike by Ayuwat Jearwattanakanok Photographer: Ayuwat Jearwattanakanok Location: Ritsumeikan Asia Pacific University, Oita, Japan Date Taken: 07/Feb/2009 Upload On: 12/Sep/2009 Rating: ****** Photographer: Ayuwat Jearwattanakanok Bull-headed Shrike by Ayuwat Jearwattanakanok Location: Ritsumeikan Asia Pacific University, Oita, Japan Date Taken: 07/Feb/2009 Upload On: 11/Sep/2009 Rating: ****** Bull-headed Shrike is found in the following countries: More
Young Bull-headed Shrike in the garden of Toru Iwata at Takasago City, Hyogo Prefecture, Japan, in the summer of 2009. These photos are posted with Toru Iwata's permission. Scroll down for 3 photos. The Bull-headed Shrike is the most common shrike in Japan. It is a habitat generalist inhabiting clearings, cultivated fields, urban parks and gardens. Its population is stable. Another Japanese shrike, the Brown Shrike, is declining because it is a habitat specialist. More
This Bull-headed Shrike was photographed on the island of Kyushu, Japan. Photo taken with a Nikkor 300mm EDAF f4.0 lens on Kodachrome 200 film. More