Long-tailed Meadowlark
It is 25 to 28 cm long with a fairly long tail and a long, pointed bill. The male is mostly dark brown with blackish streaking. The breast and throat are bright red and there is a white spot on the face near the base of the bill. The bold supercilium is white behind the eye and red in front of it. Females are paler than the males. The red markings are restricted to a wash on the belly and the supercilium and throat are buff.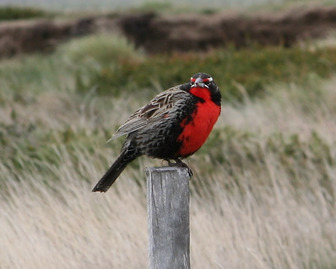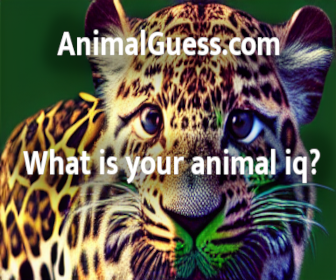 Picture of the Long-tailed Meadowlark has been licensed under a Creative Commons
Attribution-Share Alike
.
Original source
: Flickr here
Author
: Flickr user Alastair Rae . Photo uploaded to commons by user ltshears
The Long-tailed Meadowlark is classified as Least Concern. Does not qualify for a more at risk category. Widespread and abundant taxa are included in this category.

The Long-tailed Meadowlark (Sturnella loyca) is a passerine bird of southern South America and the Falkland Islands, belonging to the meadowlark genus Sturnella in the icterid family. It is 25 to 28 cm long with a fairly long tail and a long, pointed bill. The male is mostly dark brown with blackish streaking. The breast and throat are bright red and there is a white spot on the face near the base of the bill. More
Long-tailed meadowlarks typically perch in trees in flocks and behave more like many other blackbirds rather than other meadowlarks, which characteristically spend most of their time on the ground. In winter, solitary or found in small groups. FEEDING ECOLOGY AND DIET Forage on ground where they take seeds and insects. REPRODUCTIVE BIOLOGY Monogamous. More
The long-tailed meadowlark occurs in Argentina, Chile, the Falklands Islands, and the South Georgia and the South Sandwich Islands (2) (5). View a distribution map for this species at UNEP World Conservation Monitoring Centre. Habitat - Found in arid-grassy areas, especially with scattered scrub, and in pastures and cultivated meadows (2). More
For the purposes of our bird news services, Long-tailed Meadowlark is classed as Common: common species, including species that are certain or probable escapees from captivity when occurring in the British Isles. (Note that rarity levels are currently applied nationally and may not reflect local variations in abundance. More
This photograph of a Long-tailed Meadowlark was taken as we hiked near the shore on George Island on the morning of January 5, 2007. This island is situated at the southern entrance to Falkland Sound and, along with nearby Barren Island, forms the southernmost working farm on the Falkland Islands. George Island is free of introduced rodents and provides visitors with a good range of wildlife. This male Long-tailed Meadowlark was feeding on the ground. More
long-tailed meadowlark on Flickr - Photo Sharing! = http://www.flickr.com - loica chilena (sturnella loyca) | vector illustration Tags: Birds Animals Illustration Wings Vector Photography Photos Photo Submitted 14 days ago by Vinoth27 | Webmaster: unknown Claim DomainReport | RSS: Subscribe to the Arts & Culture RSS feed. More