Carib Grackle
There are eight races, of which the most widespread is the nominate Q. l. lugubris of Trinidad and the South American mainland. This form was introduced to Tobago in 1905 and is now common there.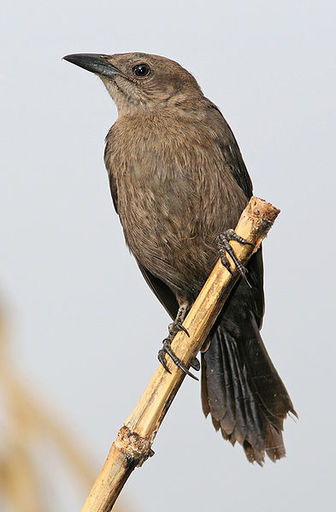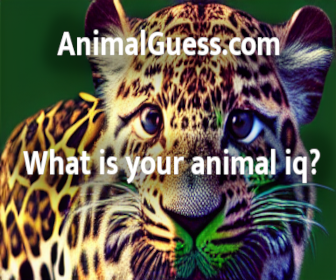 Picture of the Carib Grackle has been licensed under a Creative Commons
Attribution
.
Original source
: Own work
Author
: http://www.birdphotos.comSee below. Attribution should appear on same page as photo.
The Carib Grackle is classified as Least Concern. Does not qualify for a more at risk category. Widespread and abundant taxa are included in this category.

The Carib Grackle, Quiscalus lugubris, is a New World tropical blackbird, a resident breeder in the Lesser Antilles and northern South America east of the Andes, from Colombia east to Venezuela and northeastern Brazil. There are eight races, of which the most widespread is the nominate Q. l. lugubris of Trinidad and the South American mainland. This form was introduced to Tobago in 1905 and is now common there. More
Male Carib Grackle hoping for breakfast. Photo Allison Wells This slender, glossy blackbird has a pointed bill, long tail, and distinctive yellowish iris. Females are slightly smaller than males and are brownish overall, with duller undersides. Carib Grackles frequently are looking for a free lunch at the open-air restaurants at the resorts. Their piercing call also makes them hard to miss. More
The adult male Carib Grackle is 27cm long with a long wedge-shaped tail, although the latter is not so long as with other grackles. Its plumage is entirely black with a violet iridescence, its eyes are yellow, and it has a strong dark bill. The adult female is 23cm long, with a shorter tail and brown plumage, darker on the upperparts. Young males are shorter tailed than adult males and have some brown in the plumage. More
Carib Grackle is a common and abundant New World tropical blackbird. Adult male shows entirely black plumage, with slight purplish gloss. Tail is relatively long, but less than in other grackles' species. Its tail is graduated and wedge-shaped. The strong bill is black, with slightly down curved culmen at the tip. Eyes are bright yellowish-white. Legs and feet are black. Adult female has duller plumage, showing dark sooty brown colour on upper parts. More
* Carib Grackle, Quiscalus lugubris * Genus Hypopyrrhus * Red-bellied Grackle, Hypopyrrhus pyrohypogaster * Genus Lampropsar * Velvet-fronted Grackle, Lampropsar tanagrinus * Genus Macroagelaius * Golden-tufted Grackle, Macroagelaius imthurni * Mountain Grackle, Macroagelaius subalaris * also Tristram's Starling or Tristram's Grackle More
The Carib Grackle is a highly gregarious species, foraging on the ground for insects, other invertebrates or scraps. It can become very tame and bold, entering restaurants to seek food, normally feeding on leftovers. It will form groups to attack potential predators, such dogs, mongooses or humans, and at night it roosts colonially. The Carib Grackle's song is a mixture of harsh and more musical ringing notes, with a bell-like tickita-tickita-tickita-ting and a rapid chi-chi-chi-chi being typical. More
indicates that Carib Grackle numbers on the ABC's are almost non-existent. Granted it is an older reference, but I do not recall seeing any on Curacao. I was surprised to note the Grackles were pretty abundant on Aruba, especially at any resort with well watered grounds and lush landscaping. More
The Carib Grackle looks like a mini crow perching in tree cover with a strikingly businesslike beak and an intelligent bright eye. Grackle colorations make them easy sightings for bird watchers and colorists. A problem that is faced by many Grackles is related to their eating habits. Venezuela Grackles have been heavily fed parasites with their meals of shared worms and ticks from the scrubland wild, causing many problems for this particular bird. Other Grackle varieties in the region face the same issues. More
The Carib Grackle is a member of the Oriole family and is commonly known as simply a "Blackbird". It is also called the Lesser Antillean Grackle, while its Latin Name is Quiscalus lugubris. It is a glossy black bird with a long slender curved black bill. The iris of the eye is yellowish white and the tail is long and keel shaped ("V" shaped). Females are slightly larger and less glossy while juveniles are dull brown with dark brown eyes. More
Carib Grackle, Quiscalus lugubris Icteridae (TROUPIALS & ALLIES) Carib Grackle, Quiscalus lugubris This photo was taken in: Martinique This photo was taken with: Canon S2 IS Notes on this photo: During the first day in Martinique, this grey bird escaped ID. By association with the black males, I quickly surmised that it is the female Carib Grackle. More
The Carib Grackle is common resident of all the countries in its range and is generally observed in groups. It is a noisy bold bird that spends a large amount of time strutting on the ground with its head held high. It is almost omnivorous eating fruits, insects, seeds, frogs, lizards, snails and discarded human food such as bread, beans, french fries and meat. More
The Carib Grackle is a highly gregarious species, foraging on the ground for insects, other invertebrates or scraps. It can become very tame and bold, entering restaurants to seek food, normally feeding on leftovers. It will form groups to attack potential predators, such dogs, mongooses or humans, and at night it roosts colonially. More
Carib Grackle (Quiscalus lugubris) Wilgowron Carib Grackle (Quiscalus lugubris) photo More material of this species * 4A male bird pe...Venezuela, Dec 2008 philgunson * 3.8Male on a rockColombia, Jul 2009 mauricio rueda * 3.7A bird on the ...Barbados, Brucy Laurent * 3.7Lateral view o...Barbados, Apr 2009 Mikko Pyhälä * 3.6Lateral close-...Barbados, Apr 2009 Mikko Pyhälä * 3.3female with ne... More
Carib Grackle C20706 (Quiscalis lugubris) Tobago, West Indies, Rated size A5 More
Carib Grackle is a very bold bird that will fly onto hotel dining room tables; is mild scavenger visiting garbage containers for discarded human food such as bread, beans, french fries and meat; also feeds on fruits, seeds, insects, frogs, lizards and snails; seen variously throughout Gardens; click here to listen to its call (compliments of 3-Rivers Eco-Lodge). References: Arlington James, Stephen Durand and Bertrand Jno.Baptiste. Dominica More
Carib Grackle (Quiscalus lugubris)I was trimming trees in front of the house a three days ago and accidentally drew the anger of a flock of Carib Grackles. A nest had fallen and they were protecting the nest - when I gently moved the branch holding the nest, the dive bombing began - and somewhere around 30-50 of the birds came from all around to protect those two nestlings. I was buzzed by the birds and decided that they weren't going to give up. More
Carib Grackle Quiscalus lugubris = * Home Expand Log in Menu item Register Menu item Log out Menu item Change login details Menu item Why register? Expand UK & Ireland Menu item Birding sites More
Carib Grackle adult perching on palm frond RM image taken at Sufriere, St. Lucia. More
Carib Grackle - Quiscalus lugubris Quiscale merle = Quiscale merle Kansas Breeding Bird Atlas Gallery : © Damien Laversanne Order : Passériformes Family : Icteridae Species : Carib Grackle Reference: lada65488 Other pictures Date taken : 2009 Mar Geographic data Country : French Guiana (fg) Region : Department of Guiana Place : Cayenne More