Brown-and-yellow Marshbird
The Brown-and-yellow Marshbird is a species of bird in the Icteridae family. It is found in Argentina, Brazil, Paraguay, and Uruguay. Its natural habitats are swamps and pastureland.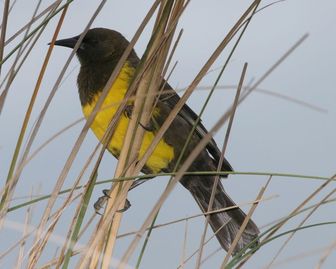 Picture of the Brown-and-yellow Marshbird has been licensed under a Creative Commons
Attribution-Share Alike
.
Original source
: originally posted to Flickr as Brown-and-yellow Marshbird (Pseudoleistes virescens)
Author
: Lip Kee YapPermission(Reusing this file)This image, which was originally posted to Flickr.com, was uploaded to Commons using Flickr upload bot on 13:43, 18 November 2008 (UTC) by Snowmanradio (talk). On that date it was licensed under the license below. This file is licensed under the Creative Commons Attribution-Share Alike 2.0 Generic license.You are free:to share – to copy, distribute and transmit the work
The Brown-and-yellow Marshbird is classified as Least Concern. Does not qualify for a more at risk category. Widespread and abundant taxa are included in this category.

Brown-and-yellow marshbirds forage almost exclusively on the ground, often at the edge of a marsh or in a plowed field. They thrust their bills into the ground and gape to expose food (invertebrates and seeds). REPRODUCTIVE BIOLOGY Monogamous. Nests are placed in marshes, but often in vegetation at the edge of marshes; they also nest in wet roadside ditches. Females build the nest that often is placed in the center of a tuft of pampas grass. More
The Brown-and-yellow Marshbird (Pseudoleistes virescens) is a species of bird in the Icteridae family. It is found in Argentina, Brazil, Paraguay, and Uruguay. Its natural habitats are swamps and pastureland. References - * BirdLife International 2004. Pseudoleistes virescens. 2006 IUCN Red List of Threatened Species. Downloaded on 27 July 2007. External links - * Photo-High Res-(Close-up)-Article & specifics – oiseaux. More
Brown-and-yellow Marshbird A lot of calls Pseudoleistes virescens (0:32) Alvaro Riccetto XC5750 ??-03-2006, Uruguay Brown-and-yellow Marshbird song? and calls Pseudoleistes virescens (0:47) Fernando Jacobs XC13083 29-04-2007, Brazil Brown-and-yellow Marshbird calls and song? Pseudoleistes virescens (0:22) Fernando Jacobs XC14751 05-08-2007, Brazil Brown-and-yellow Marshbird calls Pseudoleistes virescens More
View all pictures of Brown-and-yellow Marshbird View all pictures of Brown-and-yellow Marshbird show section External Links (0) We currently have no external links for this species. More
The Brown-and-yellow Marshbird (Pseudoleistes virescens) is a nonterritorial blackbird with helpers at the nest that inhabits temperate marshy areas and humid grasslands of Argentina, Uruguay, and Brazil. We estimated nesting success of marshbirds throughout the breeding season (late September to mid-December) and analyzed the effects of brood parasitism and nest-site selection (i.e. nesting substrate) on daily survival rates at different stages of the nesting cycle. More
View all pictures of Brown-and-yellow Marshbird View all pictures of Brown-and-yellow Marshbird show section External Links (0) We currently have no external links for this species. If you know of a relevant site, why not recommend it? show section Reader comments (0) No comments so far Help Post comment Back to top Back to top © BirdGuides Ltd 2010 · BirdGuides Ltd, PO Box 4104, Sheffield S25 9BS Sales: or tel. More
The Brown-and-yellow Marshbird has a yellow breast and the rest of the bird is dark brown - it has no yellow on its back unlike the Yellow-rumped Marshbird. The Brown-and-yellow Marshbird is found only in the very south of Brazil, and neighbouring countries. More photos... More
A study of brown-and-yellow marshbird nests found that about three-quarters of 74 marshbird nests observed were parasitised by M. bonariensis. Hatchling failure was twice as high in parasitised nests (43.1% compared to 21.1%). The marshbirds More
The Brown-and-yellow Marshbird ((Pseudoleistes virescens) is distributed in north-east Argentina, Uruguay and south Brazil. It is found in open country such as grassland and marshes and has adapted to agricultural land. It prefers wet sites. It is mainly olive-brown in colour with bright yellow on the lower breast and belly. The bill is long, thin and black. (Source: www.arthurgrosset.com/sabirds/brown-and-yellowmarshbird. More