Crested Oropendola
It is a common bird, seen alone or in small flocks foraging in trees for large insects, fruit and some nectar. The male is 46 cm long and weighs 300g; the smaller female is 37 cm long and weighs 180g.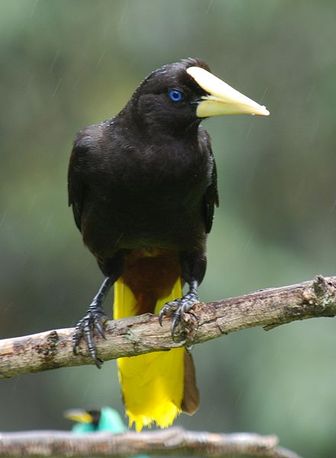 Picture of the Crested Oropendola has been licensed under a Creative Commons
Attribution
.
Original source
: Crested Oropendola (Psarocolius decumanus)
Author
: The Lilac Breasted Roller from Sullivan's Island, United StatesPermission(Reusing this file)See license
The Crested Oropendola is classified as Least Concern. Does not qualify for a more at risk category. Widespread and abundant taxa are included in this category.

The Crested Oropendola, Psarocolius decumanus, is a New World tropical icterid bird. It is a resident breeder in lowland South America east of the Andes, from Panama and Colombia south to northern Argentina, as well as on Trinidad and Tobago. If the genus Gymnostinax for the Montezuma Oropendola and its closest relatives were considered valid, this species would probably belong in that genus (Price & Lanyon 2002). More
Crested OropendolaFour somewhat different species were formerly separated in the genus Gymnostinops. More
It is sometimes confused with the Crested Oropendola which has a long yellow tail, while the Yellow-rumped Cacique has a relatively short black tail with yellow on the undertail coverts. In a manner similar to the crested oropendola, when singing the male bows, raises his rump and vibrates his wings. Skutch describes the songs as Chee cha chu chu-a series of full liquid notes descending in pitch, perhaps the bird More
Aspects of the topic crested oropendola are discussed in the following places at Britannica. Assorted References * description (in oropendola (bird)) The most widely distributed species is the crested oropendola (Psarocolius decumanus), found from Panama to Argentina. More
The Crested Oropendola is a blackbird that makes a pendulous nest. This bird lives in flocks in South American rain forests, grasslands, coastal areas, and marshes. Anatomy: The Crested Oropendola is a black bird with long, bright yellow tail feathers and a paler yellow bill. This bird is from 13 to 17 inches long. Males are much larger than females. Diet: Oropendola are omnivores, eating tiny animals (like insects) and plant material (seeds, fruit, nectar, etc.). More
Crested Oropendola FC81 View Next Item » Review this item Review this item Click to send this page through emailShare this Page with a friend Send as e-card Click for Printer Friendly VersionPrinter Friendly Version Water Color on Old Urdu Paper, Manual Calligraphy on both sides 4.8" X 8.2" Price: $55. More
Crested oropendola (Psarocolius decumanus) by London Hanson.Crested Oropendola (Psarocolius decumanus) Very humid in that exhibit. To take full advantage of Flickr, you should use a JavaScript-enabled browser and install the latest version of the Macromedia Flash Player. Comments view profile London Hanson says: Rainforest by London Hanson Posted 9 months ago. More
The Crested Oropendola is a medium sized blackbird that has a citron yellow beak and electric yellow tail feathers. It ranges in length from thirteen to seventeen inches long. The males are clearly larger than the females. Churchill's mating call: DISTRIBUTION and HABITAT: Crested Oropendolas can be found in South America. Specifically, in the Amazon River Basin region or other tropical areas. They occur in temperate forests, jungles, grasslands, savannas, and marshes. More
Crested OropendolaThis bird belongs to the family Icteridae, which means "jaundiced ones" in both Greek (ikteros) and Latin (ictericus). This is because yellow feathers are found somewhere on the body of every species in the family. STATUS: Not endangered, although populations are scattered and its tropical habitat is diminishing due to human encroachment. HABITAT: They are found throughout South America, primarily the Amazon River Basin region and other tropical areas. More
This Crested Oropendola was photographed at the ProAves El Dorado Reserve, Sierra Nevada de Santa Marta, Department Magdalena, Colombia. Photo taken with a AF-S VR Nikkor 300mm f/2.8G IF-ED lens + Nikkor TC14E II 1.4x Teleconverter (EFL=630mm) on a Nikon D300 camera. More
With weavers and with Crested Oropendolas, this means that the older, more experienced birds, who build the best nests, are the most prized partners. At this point the similarity ends, because in Africa the males build the nests, while in Trinidad and Tobago the females build the nests, and the males just hang around making a lot of noise and displaying themselves. I was told that this behavior perfectly describes males in Trinidad, and not just male Oropendolas, either. More
Crested Oropendola closeup in bush Here's the most unusual Crested Oropendola behavior you'll ever see - an Oropendola approaching a group of humans. The reason for this very uncharacteristic behavior? We're at the Asa Wright Nature Centre, and this bird has dropped in for a free lunch at the feeding tables. As someone noted, after 35 years of watching other birds get something for nothing, even an Oropendola will give it a try. More
Republiek and the sound of a Crested Oropendola, recorded by Alexandre Renaudier in French Guyana near Awala-Yalimapo in June 2008. More