Chestnut-capped Blackbird
The Chestnut-capped Blackbird is a species of bird in the Icteridae family. It is found in Argentina, Bolivia, Brazil, French Guiana, Paraguay, and Uruguay. Its natural habitats are swamps and pastureland.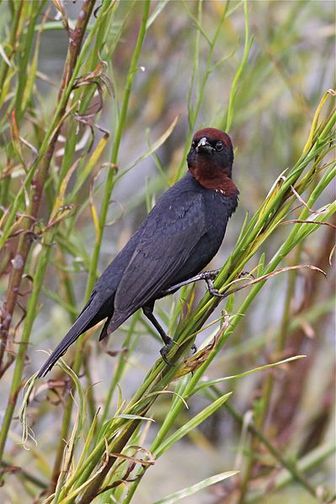 Picture of the Chestnut-capped Blackbird has been licensed under a Creative Commons
Attribution
.
Original source
: originally posted to Flickr as Chestnut-capped Blackbird
Author
: dfaulderPermission(Reusing this file)This image, which was originally posted to Flickr.com, was uploaded to Commons using Flickr upload bot on 14:40, 27 February 2010 (UTC) by Snowmanradio (talk). On that date it was licensed under the license below.This file is licensed under the Creative Commons Attribution 2.0 Generic license.You are free:to share – to copy, distribute and transmit the work
The Chestnut-capped Blackbird is classified as Least Concern. Does not qualify for a more at risk category. Widespread and abundant taxa are included in this category.

The Chestnut-capped Blackbird (Chrysomus ruficapillus) is a species of bird in the Icteridae family. It is found in Argentina, Bolivia, Brazil, French Guiana, Paraguay, and Uruguay. Its natural habitats are swamps and pastureland. References - * BirdLife International 2004. Chrysomus ruficapillus. 2006 IUCN Red List of Threatened Species. Downloaded on 25 July 2007. Stub icon This Icteridae-related article is a stub. More
The Chestnut-capped Blackbird is found in freshwater marshes and reedy lake margins from French Guiana south to Argentina. Male Chestnut-capped Blackbirds are black overall, with a chestnut crown and throat. Females are a dull nondescript brown overall, and can be differentiated from the similar female Shiny Cowbird (Molothrus bonariensis) by their smaller size and their proportionately shorter tail. Chestnut-capped Blackbirds are gregarious at all seasons. When breeding, these blackbirds form large nesting colonies. More
The Chestnut-capped Blackbird is often seen around Lagoa do Peixe in large groups of several dozen birds, standing in fields or perched by roadsides or in trees. The adult male is quite easily recognisable - all black with dark red throat and cap. But the red is very dark and can be difficult to see. The females and juveniles are more difficult, mostly brown with the red replaced by ochre. More