Bay-winged Cowbird
The Bay-winged Cowbird , also known as the Baywing, is a species of bird in the Icteridae family. It is monotypic within the genus Agelaioides, but has traditionally been placed in the genus Molothrus. It is found in the northern half of Argentina, Bolivia, Uruguay, Paraguay and southern and central Brazil, with an isolated population in north-eastern Brazil. The latter population is sometimes considered a separate species, the Pale Cowbird or Pale Baywing . The Bay-winged Cowbird has been recorded as a vagrant in Chile.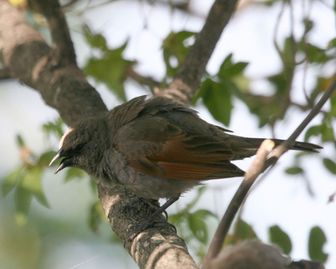 Picture of the Bay-winged Cowbird has been licensed under a Creative Commons
Attribution-Share Alike
.
Original source
: originally posted to Flickr as Bay-winged Cowbird (Agelaioides badius)
Author
: Lip Kee YapPermission(Reusing this file)This image, which was originally posted to Flickr.com, was uploaded to Commons using Flickr upload bot on 15:10, 18 November 2008 (UTC) by Snowmanradio (talk). On that date it was licensed under the license below. This file is licensed under the Creative Commons Attribution-Share Alike 2.0 Generic license.You are free:to share – to copy, distribute and transmit the work
The Bay-winged Cowbird is classified as Least Concern. Does not qualify for a more at risk category. Widespread and abundant taxa are included in this category.

The Bay-winged Cowbird has been recorded as a vagrant in Chile. Description and behavior - A. b. fringillarius. It has a total length of approximately 18 cm (7 in). It is overall ashy-brown with contrasting black lores and rufous wings. The taxon fringillarius has more black in the face and is overall more rufescent (less ashy). It is social and commonly seen in small groups. More
Traditionally, the Bay-winged Cowbird (Agelaioides badius) has been considered the "primitive," non-parasitic cowbird and has been known as Molothrus badius. Friedmann's (1929) view of cowbird taxonomy, and of the evolution of brood parasitism within the icterid blackbirds, had rooted phylogenies of the cowbirds with this species. The Bay-winged Cowbird sometimes is a nest parasite, a behavior considered by Friedmann to be a precursor to brood parasitism. More
The non-brood parasitic Bay-winged Cowbird was formerly placed in this genus; it is now Agelaioides badius. These birds feed on insects, including the large numbers that may be stirred up by cattle. In order for the birds to remain mobile and stay with the herd, they have adapted by laying their eggs in other birds' nests. The cowbird will watch for when its host lays eggs, and when the nest is left unattended, the female will come in and lay its own eggs. More
The Bay-winged Cowbird is "... locally common in semiopen areas, agricultural terrain and light woodland." (Ridgely and Tudor 2009, p. 668). In Cear More
The Bay-winged Cowbird (Agelaioides badius) is a species of bird in the Icteridae family. It is monotypic within the genus Agelaioides. It is found in Argentina, Bolivia, Brazil, Chile, Paraguay, and Uruguay. Its natural habitats are pastureland and heavily degraded former forest. http://en.wikipedia.org/wiki/Bay-winged_Cowbird The text in this page is based on the copyrighted Wikipedia article shown in above URL. It is used under the GNU Free Documentation License. More
The Bay-winged Cowbird is predominantly grey with rufous wing edges and black eye and bill. These individuals were seen in a small copse near pastures. These are not "true" Cowbirds, in that they are not brood parasitic or in the genus Molothrus. The Bay-winged Cowbird is found in the southern countries of South America and Boliva. In Brazil in Rio Grande do Sul and the Pantanal, the latter being a more rufous type.More photos... More
exception to this is found with the bay-winged cowbird, which raises its young More