Streaked Xenops
The Streaked Xenops is typically 4.8 in long, weighs 0.44 oz , and has a stubby wedge-shaped bill. The head is dark brown with a whitish supercilium and malar stripe. The upperparts are brown, becoming rufous on the tail and rump, and there is a buff bar on the darker brown wings. The underparts are white-streaked olive brown. Males and females looks alike. Visually inconspicuous, it is easier located by its chattering call, a series of 5 or 6 metallic zeet notes.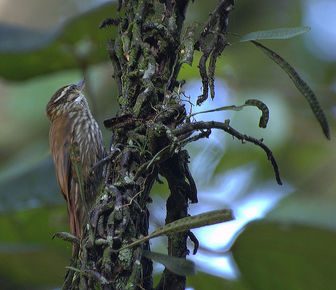 Picture of the Streaked Xenops has been licensed under a Creative Commons
Attribution-Share Alike
.
Original source
: BICO-VIRADO-CARIJÓ ( Xenops rutilans )
Author
: Dario Sanches from SÃO PAULO, BRASIL
The Streaked Xenops is classified as Least Concern. Does not qualify for a more at risk category. Widespread and abundant taxa are included in this category.

English: Streaked Xenops · Français : Sittine striée · Wikispecies-logo.svg Wikispecies has information related to: Xenops rutilans * ITIS link: Xenops rutilans Temminck, 1821 * IUCN link: Xenops rutilans Temminck, 1821 (Least Concern) Xenops rutilans.jpg Retrieved from "http://commons.wikimedia. More
The Streaked Xenops, Xenops rutilans, is a passerine bird which breeds in the tropical New World from Costa Rica and Trinidad south to Bolivia and northern Argentina. Like the closely related true woodcreepers, it is a member of the South American bird family Furnariidae. The Streaked Xenops is typically 4.8 in (12.2 cm) long, weighs 0.44 oz (12.6 g), and has a stubby wedge-shaped bill. The head is dark brown with a whitish supercilium and malar stripe. More
The Streaked Xenops builds its nest by simply placing a few stems and roots in a hole 1.5-4.5 m high in a tree. The normal clutch is two white eggs, incubated by both sexes. This species is a resident breeder in forest habitats. BN0096. More
The Streaked Xenops is often difficult to see as it forages on bark, rotting stumps or bare twigs. It feeds on arthropods, including the larvae of wood-boring beetles. It moves in all directions on the trunk like a treecreeper, but does not use its tail as a prop. It regularly joins mixed-species feeding flocks. The Streaked Xenops builds its nest by simply placing a few stems and roots in a hole 1.5-4.5 m high in a tree. More