Chotoy Spinetail
The Chotoy Spinetail is a species of bird in the Furnariidae family, the ovenbirds. It is monotypic within the genus Schoeniophylax. It is found in Uruguay, Paraguay, Bolivia, regions of northern Argentina, and extreme southern Brazil, including the Pantanal. Its natural habitats are subtropical or tropical moist shrubland and heavily degraded former forest.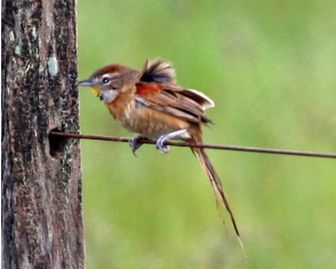 Picture of the Chotoy Spinetail has been licensed under a Creative Commons
Attribution-Share Alike
.
Original source
: originally posted to Flickr as Chotoy Spinetail (Schoeniophylax phryganophilus)
Author
: Lip Kee YapPermission(Reusing this file)This image, which was originally posted to Flickr.com, was uploaded to Commons using Flickr upload bot on 13:29, 18 November 2008 (UTC) by Snowmanradio (talk). On that date it was licensed under the license below. This file is licensed under the Creative Commons Attribution-Share Alike 2.0 Generic license.You are free:to share – to copy, distribute and transmit the work
The Chotoy Spinetail is classified as Least Concern. Does not qualify for a more at risk category. Widespread and abundant taxa are included in this category.

Chotoy Spinetail ( Synallaxis phryganophila) Clements 3rd edition: Chotoy Spinetail ( Synallaxis phryganophila) Clements 4th edition: Chotoy Spinetail ( Schoeniophylax phryganophila) Clements 5th edition (as published): Chotoy Spinetail ( Schoeniophylax phryganophila) Clements 5th edition (incl. 2000 revisions): Chotoy Spinetail ( Schoeniophylax phryganophila) Clements 5th edition (incl. 2001 revisions): Chotoy Spinetail ( Schoeniophylax phryganophila) Clements 5th edition (incl. More
The Chotoy Spinetail (Schoeniophylax phryganophilus) is a species of bird in the Furnariidae family, the ovenbirds. It is monotypic within the genus Schoeniophylax. It is found in Uruguay, Paraguay, Bolivia, regions of northern Argentina, and extreme southern Brazil, including the Pantanal. Its natural habitats are subtropical or tropical moist shrubland and heavily degraded former forest. References - * BirdLife International 2004. Schoeniophylax phryganophilus. More
Chotoy Spinetail - Photo copyright Edson EndrigoChotoy SpinetailPhoto copyright Edson Endrigo ... Bahia Spinetail - Photo copyright Arthur GrossetBahia Spinetail Photo copyright Arthur Grosset Sooty-fronted Spinetail - Photo copyright Alec Earnshaw Sooty-fronted Spinetail Photo copyright Alec Earnshaw Pale-breasted Spinetail - Photo copyright Cagan SekerciogluPale-breasted Spinetail Photo copyright Cagan Sekercioglu ... More
views of these and also Chotoy Spinetail that had only been glimpsed in flight the previous day. Chotoy Spinetail Chotoy Spinetail Several more roadside stops were made before reaching Punta Lara reserve where we were to spend several hours exploring the boardwalk. Rufous-sided Crakes responded very well to the tape, but the views obtained were very brief, despite the birds coming very close. More