Freckle-breasted Thornbird
The Freckle-breasted Thornbird is a species of bird in the Furnariidae family. It is found in Argentina, Bolivia, Brazil, and Uruguay. Its natural habitats are subtropical or tropical moist lowland forests, subtropical or tropical dry shrubland, and subtropical or tropical moist shrubland.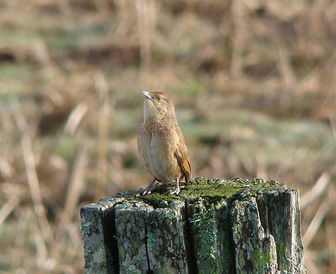 Picture of the Freckle-breasted Thornbird has been licensed under a Creative Commons
Attribution-Share Alike
.
Original source
: Tio-tio (Phacellodomus striaticollis striaticollis)
Author
: Cláudio Dias Timm from Rio Grande do SulCamera location
The Freckle-breasted Thornbird is classified as Least Concern. Does not qualify for a more at risk category. Widespread and abundant taxa are included in this category.

Freckle-breasted Thornbird - Phacellodomus striaticollis Freckle-breasted Thornbird Phacellodomus striaticollis Costanera Sur reserve, Buenos Aires, Argentina. Endemic to the pampas region of southern Brazil, Uruguay, and northeastern Argengina. (S5) Firewood-gatherer - Anumbius annumbi Firewood-gatherer Anumbius annumbi Serra da Canastra NP, Minas Gerais state, Brazil. The thornbirds and cacholotes also build huge stick nests, but this little bird got a special the special name. More
The Freckle-breasted Thornbird (Phacellodomus striaticollis) is a species of bird in the Furnariidae family. It is found in Argentina, Bolivia, Brazil, and Uruguay. Its natural habitats are subtropical or tropical moist lowland forests, subtropical or tropical dry shrubland, and subtropical or tropical moist shrubland. References - * BirdLife International 2004. Phacellodomus striaticollis. 2006 IUCN Red List of Threatened Species. Downloaded on 26 July 2007. More
Stamps showing Freckle-breasted Thornbird Phacellodomus striaticollis Freckle-breasted Thornbird Phacellodomus striaticollis 110.004 Freckle-breasted Thornbird IOC v2.4: 4386 Links will open countrypage in new window - Uruguay 27.09. More