Black-and-yellow Grosbeak
Male at Bhandak Thaatch in Kullu-Manali Distt. of Himachal Pradesh, India.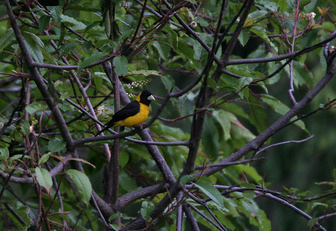 Picture of the Black-and-yellow Grosbeak has been licensed under a
GFDL
Original source
: J.M.Garg
Author
: J.M.Garg
Permission
: GNU Free Documentation License
The Black-and-yellow Grosbeak is classified as Least Concern. Does not qualify for a more at risk category. Widespread and abundant taxa are included in this category.

The Black-and-Yellow Grosbeak (Mycerobas icterioides) is a species of finch in the Fringillidae family. It is found in Afghanistan, India, Nepal, and Pakistan. Its natural habitat is temperate forests. References - * BirdLife International 2004. Mycerobas icterioides. 2006 IUCN Red List of Threatened Species. Downloaded on 10 July 2007. Gallery - Male at Bhandak Thaatch (8500 ft.) in Kullu-Manali Distt. More
Black-and-yellow Grosbeak (Mycerobas icterioides) is a local resident in western Himalayas. More
icteroides, the black-and-yellow grosbeak, found in the Western Himalayas; P. affinis, the allied grosbeak, found in Nepal, Sikkim, Tibet, and Western China; and P. carneipes, the white-winged grosbeak, which occurs all along the higher Himalayas. There is only one Indian species of the other genus; this is known as the spotted-winged grosbeak (Mycerobas melanoxanthus), the localities in which this occurs are said to be "the Himalayas from the Hazara country to Sikkim at considerable elevations and Manipur. More
The Black-And-Yellow Grosbeak (Mycerobas icterioides), is a species of finch in the Fringillidae family. It is found in Afghanistan, India, Nepal, and Pakistan. Its natural habitat is temperate forests. More